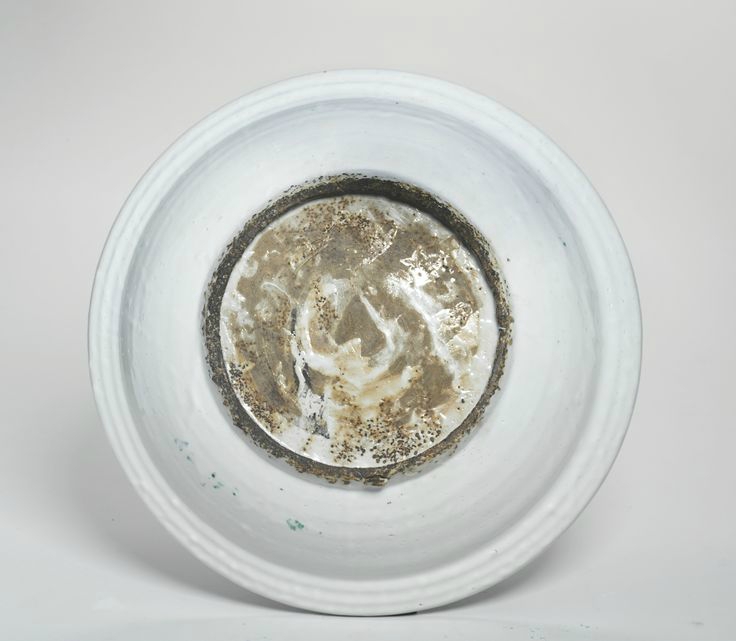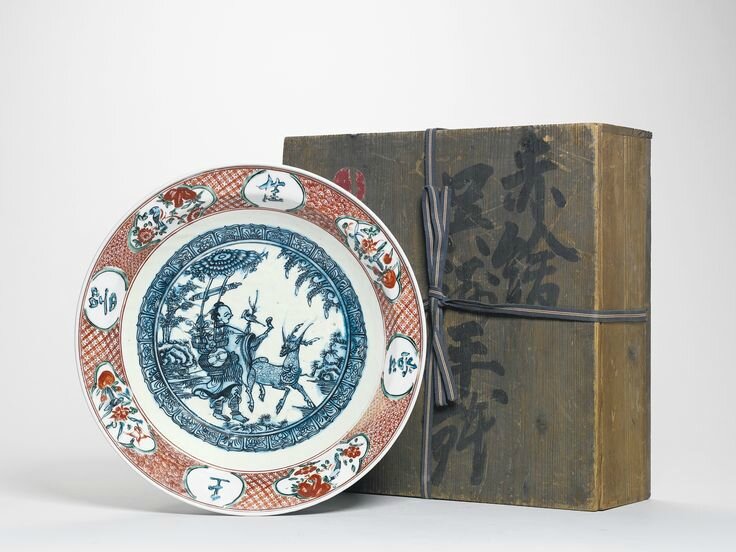 A large polychrome 'Zhangzhou' 'Magu' dish, Late Ming dynasty, 16th-17th century. Estimate 8,000 — 12,000 USD. Photo Sotheby's.
steeply rounded sides rising to a broad everted rim, brilliantly painted in turquoise, black, iron-red and green enamels, the center with a with a depiction of Magu wearing the characteristic apron of leaves and bearing a large basket containing lingzhi and a jar of longevity wine, the goddess also holds a gardening hoe in one hand, a deer accompanies the deity, all within a landscape setting of rockwork, bamboo and other foliage, encircled by a lappet band enclosing flowers, the cavetto painted with four large lobed reserves of birds and flowers, alternating with roundels or turquoise characters reading yu tang jia qi, (a beautiful object for the Jade Hall) on an iron-red diaper ground of cash and cross-hatch, the underside plain, Japanese wood box dated Taisho 8th year, Kanazawa Awagasaki, Fujiemon Kiya. Diameter 15 3/4 in., 40 cm
Notes: Dishes painted with the same scene include one illustrated in Toji Taikei, vol. 45, Tokyo, 1976, no. 6; and in Sekai toji zenshu, vol. 14, Tokyo, 1976, p. 121, col. pl. 123; and in Swatow Wares of the Seikado Collection, Tokyo, 1997, no. 34, p. 41. A variant of this dish, depicting coiled chilong within the roundels along the rim, from the Toguri Collection sold in our London rooms, 9th June 2004, lot 44.
Sotheby's. Chinese Art through the Eye of Sakamoto Gor – Ceramics, New York, 17 mars 2015, 10:00 AM