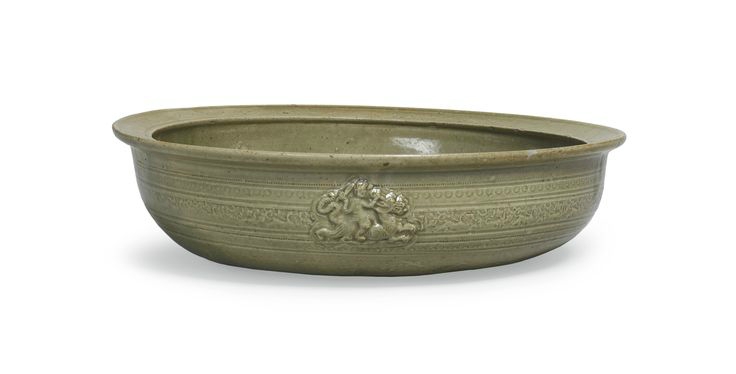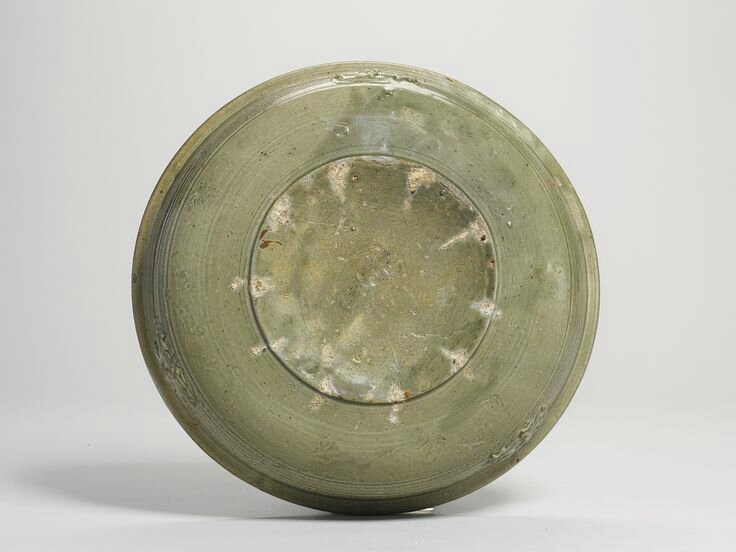 A 'Yue' celadon-glazed basin, Western Jin dynasty (265-420). Estimate 5,000 — 7,000 USD. Photo Sotheby's.
the shallow rounded sides rising to a flat everted rim, the exterior with a complex series of five rouletted bands comprising an intricate band of confronting mythical beasts within a spiraling meander, between narrower bands of small striations and florets, all interrupted by three applied medallions each depicting a figure mounted on a striding bixie, the interior freely incised with a small central spiral encircled by combed waves, all resting on a plain base, concave at the center with multiple spur marks, Japanese wood box. Diameter 13 1/8 in., 33.3 cm
Notes: The present basin is a fine example of this type of shallow vessel. The intricacy of the impressed design around the exterior is notable. The three appliques of men mounted on beasts are exceptional and infuse the elegant form with a lively immediacy. Similar basins usually feature a simple exterior decoration and are set with applied lion-mask handles. Some rest on three low feet, other examples have a large splayed foot and some, like the present, were fired on spurs. A basin bearing many similarities but lacking the figural medallions of the present piece, uncovered in Hangzhou and now in the Zhejiang Provincial Museum, is illustrated in "Céladon grès des musées de la province du Zhejiang Chine", Paris, 2005,Catalogue, p. 87, no. 24. Another similar to the last from the Percival David Collection is illustrated in Regina Krahl and Jessica Harrison-Hall, Chinese Ceramics: Highlights of the Sir Percival David Collection, London, 2009, p. 9, fig, 1.
Sotheby's. Chinese Art through the Eye of Sakamoto Gor – Ceramics, New York, 17 mars 2015, 10:00 AM