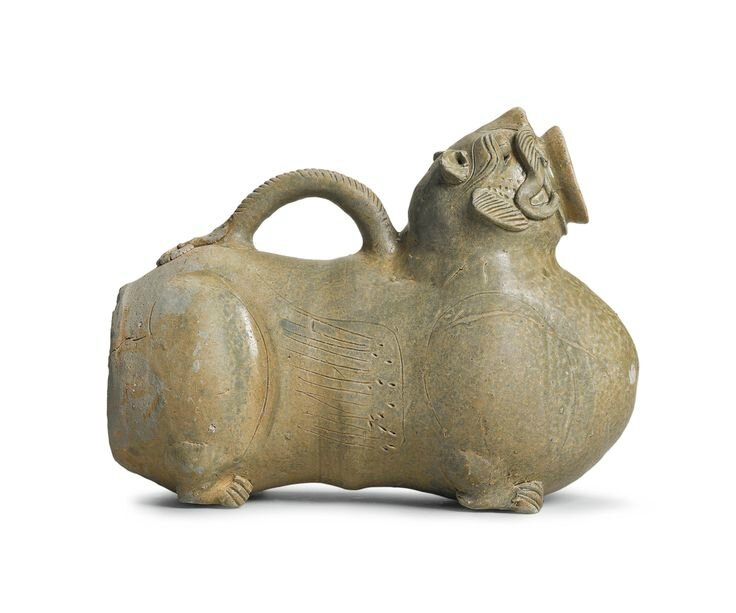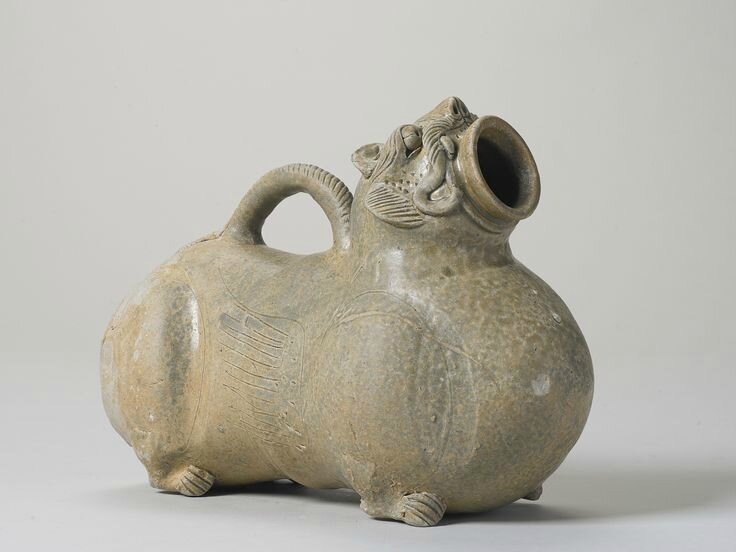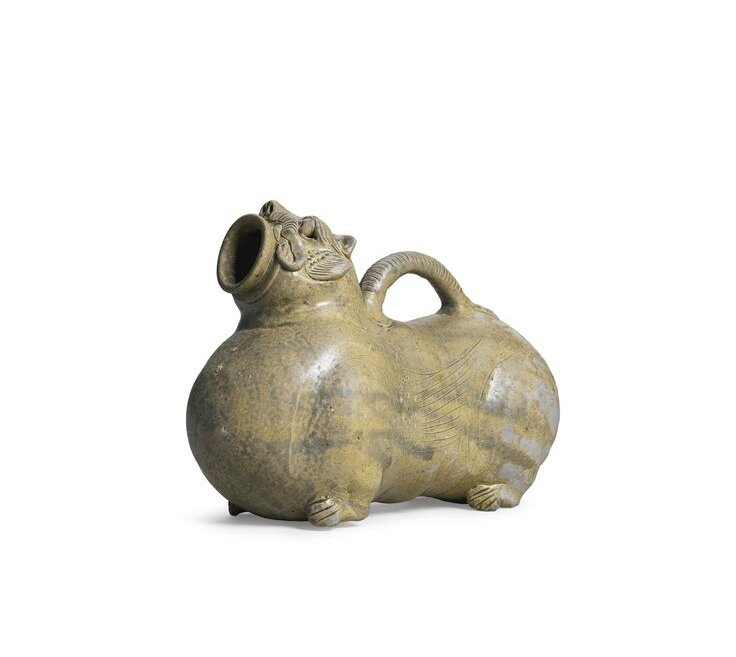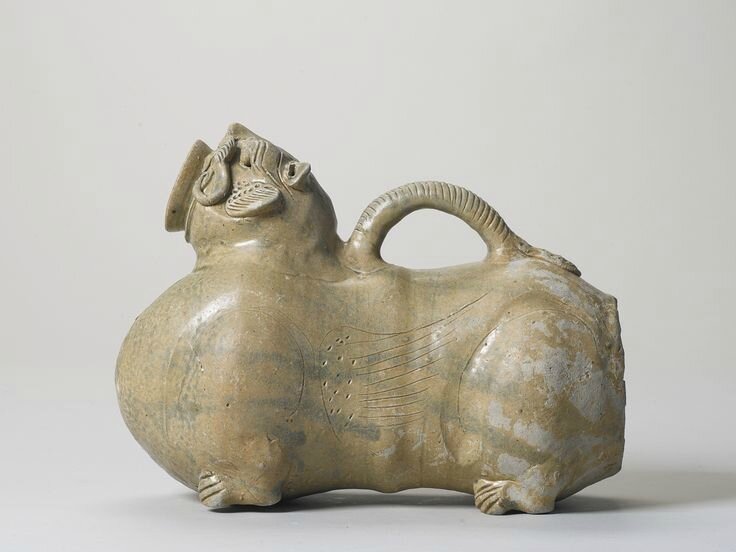 A 'Yue' celadon-glazed figural vessel, Western Jin dynasty (265-420). Estimate 15,000 — 20,000 USD. Photo Sotheby's.
well-modeled as a recumbent winged lion, and detailed with combed, impressed and applied decoration, the face modeled in a grimace with large protruberant eyes under heavy brows, stippled whiskers to either side of the gaping mouth, forming a large aperture, and a rope-twisted tail arched at the top to form a loop handle, the wings simply incised on the full sides, all under a thin olive-green glaze, Japanese wood box. Length 9 3/4 in., 24.7 cm
Notes: This practical form of figural vessel dates back to least to the Western Han dynasty when examples in bronze and lacquer were produced. It was during the 3rd and 4th centuries at the Yue kilns of Zhejiang province that these delightful zoomorphic forms were fully developed. Frogs, rams, and varying chimera were transformed into wine ewers, water pots, candle holders and water droppers; all of which proved popular with the literati.
For a similar example see Regina Krahl, Yueguetang, A Collection of Chinese Ceramics in Berlin, Berlin, 2000, p. 68, no. 46 where the author cites another similar example excavated from a tomb at Fenghuangshan, Shaoxing, Zhejiamg province and dated to 313 AD. A very similar vessel from the Zhejiang Provincial Museum was exhibited in Greenwares from Zhejiang,Hong Kong, 1993, cat. no.18. Other illustrated examples in museum collections include The Nanjing Museum, Celadons of the Six Dynasties from Jiangxu, Beijing, pl. 50; the Shanghai Museum, Complete Series on Chinese Art: Arts and Crafts Section: 1. Ceramics, vol. 1, Shanghai, 1988, pl. 193; The Metropolitan Museum of Art, Suzanne G. Valenstein, A Handbook of Chinese Ceramics, New York, 1989, p. 52, no. 43.
Sotheby's. Chinese Art through the Eye of Sakamoto Gor – Ceramics, New York, 17 mars 2015, 10:00 AM