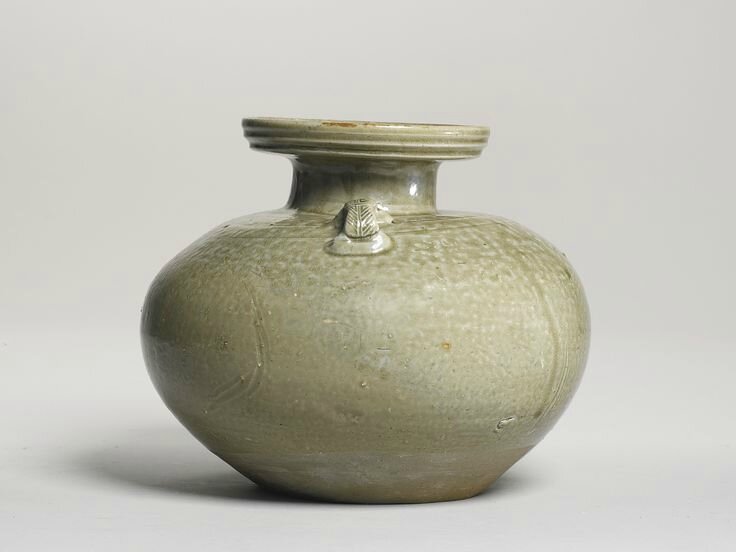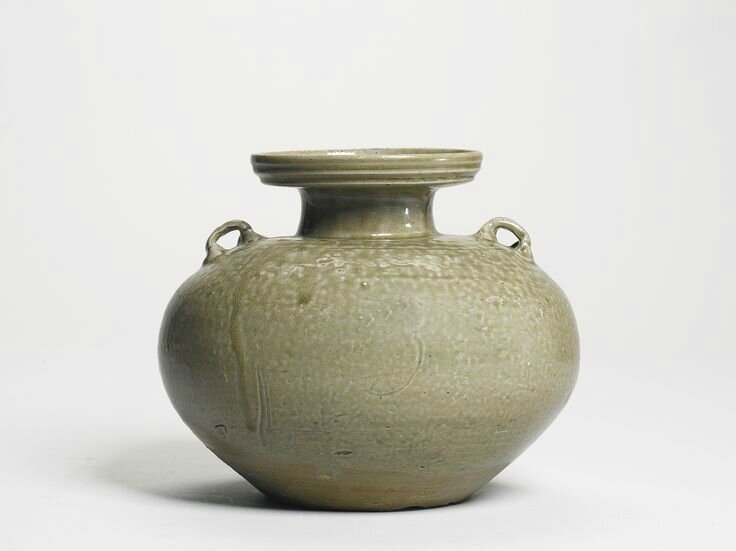 A 'Yue' celadon-glazed stoneware jar, Western Jin dynasty (265-420). Estimate 10,000 — 15,000 USD. Photo Sotheby's.
the tapered ovoid body rising to a short neck with wide stepped and galleried rim, a band of incised lines encircling the shoulder, set to either side with loop handles impressed with a geometric pattern, covered with a lustrous grayish-green glaze stopping well above the foot revealing the pale gray body, Japanese wood box. Height 7 3/4 in., 19.7 cm
Notes: The distinctive form with its rounded ovoid body and pronounced wide mouth was a favorite of the Yue kilns. While the proportions do not vary dramatically, there can be a range of decoration. The present example is of a more spare type while others can have additional handles, applied masks and impressed patterns around the shoulder. Similar excavated jars from a Western Jin tomb include one dated to 280 AD at Cixi, Zhejiang province and illustrated in a line drawing in Lin Shimin1999, p. 50, fig. 7 (4). Two others discovered in Zhejiang province include one from a tomb dated to 287 at Jiudingshan, Lianghui and illustrated in Zhejiang jinian ci, 2000, pl. 26 and another from a tomb dated to 305 AD at Paitouzhen, Zhuji county, ibid., pl. 71.
Sotheby's. Chinese Art through the Eye of Sakamoto Gor – Ceramics, New York, 17 mars 2015, 10:00 AM