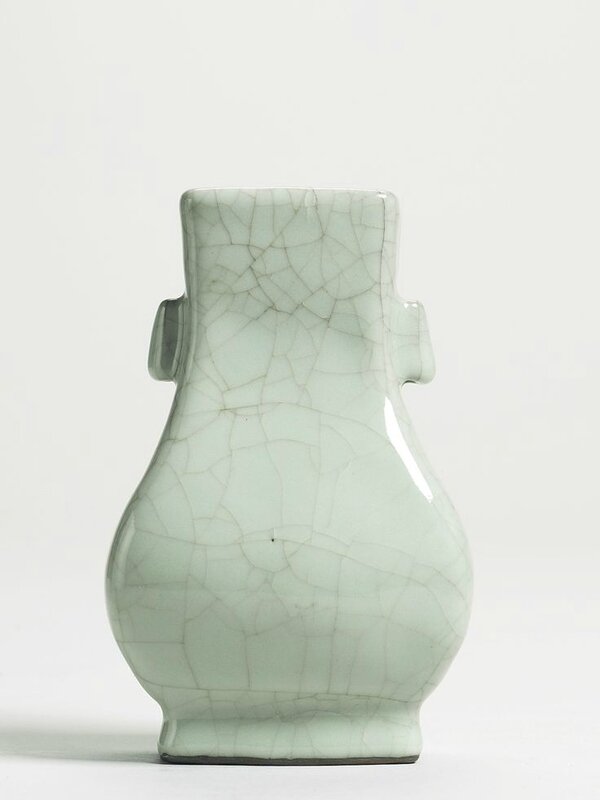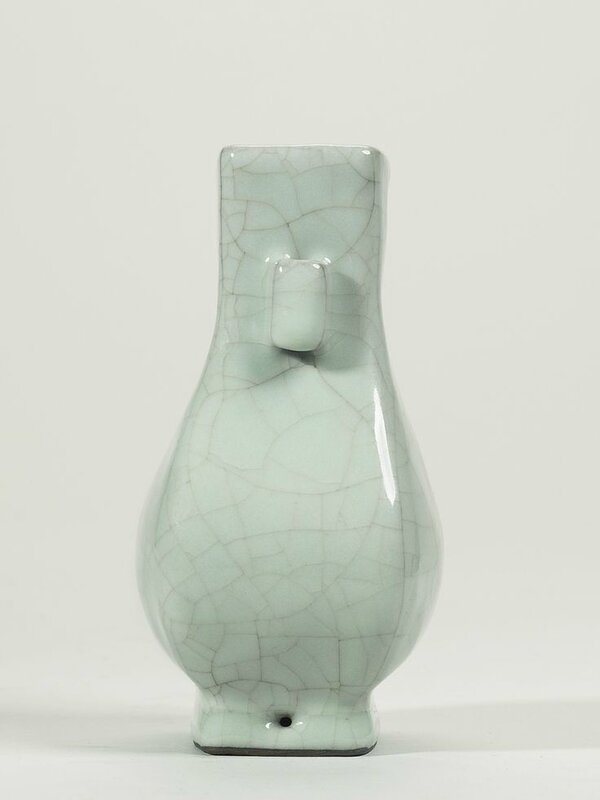 A 'Guan'-type faceted vase, fanghu, Qing dynasty, 18th century. Estimate 20,000 — 30,000 USD. Photo Sotheby's.
of rectangular section, the pear-shaped body flanked by tubular handles on the waisted neck, covered overall in a thick bluish-gray glaze suffused with a pale golden crackle, the splayed base with a small elliptical aperture to either short end, the footrim covered in a brown wash in imitation of the famous Song dynasty Guan ware, Japanese wood box. Height 5 5/8 in., 14.2 cm
Provenance: Collection of Sir John Figgess (1909-1997), by repute.
Notes: This attractive vase is made in imitation of the highly-treasured Guan ware of the Southern Song dynasty. The thick luminous crackled glaze complements the simple faceted form and brown-washed foot. The form derives originally from archaic ritual bronze vessels of the Shang and Zhou dynasties. An archaic revival during the Song dynasty inspired the ceramic renditions; a period Guan ware crackle-glazed fanghu is illustrated in Gakuji Hasebe, Ceramic Art of the World: Sung Dynasty, Tokyo, 1977, vol. 12, p. 207, no. 205. The National Palace Museum retains four 18th century Guan-type vases of the same form but bearing lengthy Qianlong imperial inscriptions and are illustrated in Obtaining Refined Enjoyment: The Qianlong Emperor's Taste in Ceramics, National Palace Museum, Taipei, 2011, cat. nos. 83-86. Vases of the same type were also made with various Qing dynasty imperial seal marks. An example with a Qianlong seal mark sold in our Hong Kong rooms, 20th-21st May 1987, lot 511 and again in these rooms 11th-12th September 2012, lot 54 and another sold in our London rooms 16th May 2012, lot 166.
Sotheby's. Chinese Art through the Eye of Sakamoto Gor – Ceramics, New York, 17 mars 2015, 10:00 AM