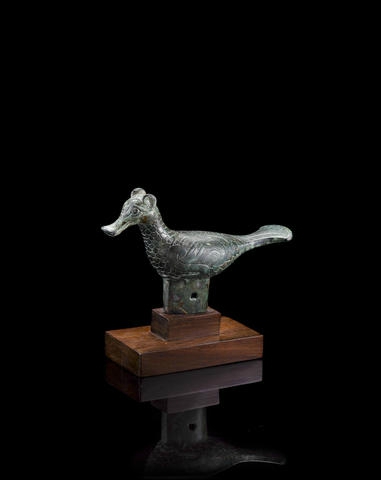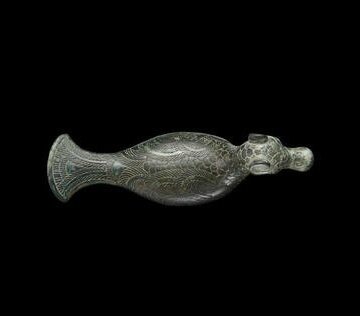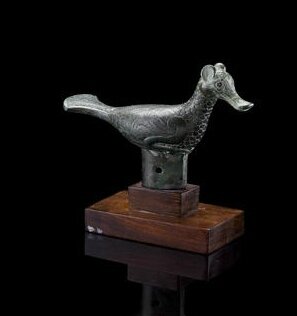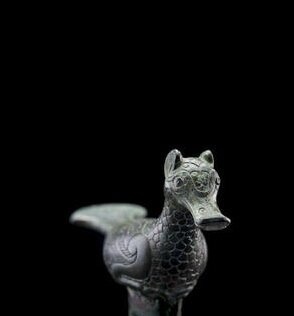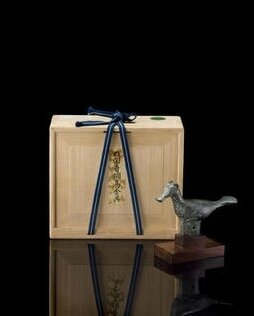 A rare cast bronze finial, dingshi, Warring States period. Estimate US$ 8,000 - 12,000 (€7,100 - 11,000). Photo: Bonhams.
Formed as a mythical bird in a resting pose, the finial delicately decorated with naturalistic wings, scales and feathers and a projecting axe-head form tail balanced by a broad beak extending from the head adorned with stylized ears/horns, all supported by the elegantly curved legs ending in splayed claws and a slightly tapering socket with an aperture for mounting, the surface with natural green patina and encrustation. 5 3/8in (13.5cm) high x 3 1/2in (8.6cm) long
Provenance: Eskenazi Ltd., London, 1998
Sothebys, New York, 20 March, 2002
Published: Giuseppe Eskenazi, Animals and Animal designs in Chinese Art, New York, March 1998: catalogue no 4
Notes: This finial follows a Zhou period tradition of portraying bird forms in highly imaginative fashion, which can also be observed in a fancifully conceived duck-shaped ritual wine vessel, he, in the Harvard Art Museum collection. The stylized ears/horns are a particular feature of Zhou fowl. A similar finial, published in Arts of Ancient China, J.J. Lally & Co., New York, 1990, listed as catalog item no.8, is accompanied by a description that notes 'it was the custom for men who achieved seventy years of age to be granted a royal staff (wang chang) decorated with a finial in the form of a dove. The man who displayed a dove-form finial on his walking staff was then afforded great respect and was entitled to special privileges in deference to his age.' The present fitting is significantly more elaborate and well crafted than the more commonly seen dove fittings. Similar bird-form finials are in the collections of the Museum of Fine Arts, Boston and the Asian Art Museum, San Francisco.
Bonhams. EIGHT TREASURES FROM A PRIVATE AMERICAN COLLECTION. 16 Mar 2015 11:45 EDT - NEW YORK