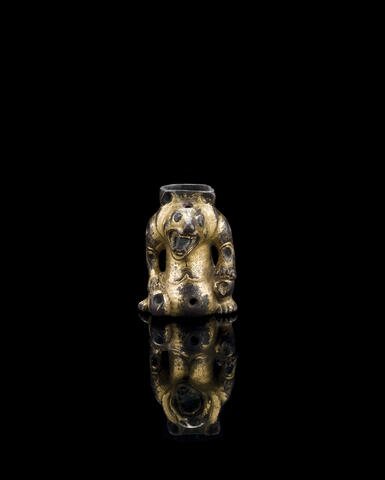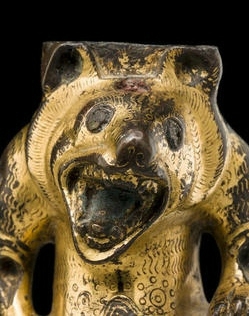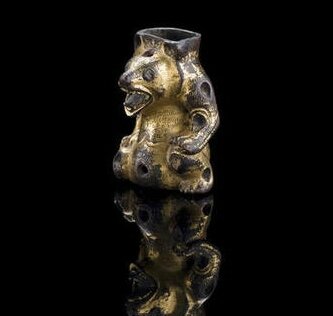 Lot 2004. A gilt bronze support fitting, Han dynasty; 2 ½ in (6.6cm) high. Estimate US$ 20,000 - 30,000 (€18,000 - 26,000). Sold for US$ 52,500 (€43,999). Photo: Bonhams.
Hollow cast, of tubular structure and finely executed, formed as a bear crouching on its knees, its clawed paws resting on its haunches, the head cocked to the left with jaws agape, the lips drawn back in a fierce display of well-articulated teeth, the eyes wide, the body delicately incised to illustrate the beast's thick pelt, with eight cavities for the insertion of stone inlay and with an irregularly shaped aperture above the head for attachment to a larger article, the fitting retaining most of its gilding.
Provenance: Eskenazi Ltd., London, 1998, item #c314
Notes: It is known that, in the Han dynasty, tubular animal-form fittings such as the present example, served as feet for the legs of small furniture and vessels. This particular example stands out among analogous fittings for how successfully the artisans capture the proportions of the ferocious beast's body, the articulation of the arms and claws. The folds of the animal's skin and pelt make for a realistic rendering of the bear. The makers have engraved the surface with a variety of shapes and marks to denote the varying textures of the bear's fur, particularly noticeable at the navel, where delicate whorls highlight the anatomy. The fitting is a fine example of the centrality of naturalistic animal forms in Han visual culture, where depictions of bears, as symbols of strength, enjoyed a popularity in this period such that it was never equaled in subsequent ages. Beyond gilt bronze fittings, bears are also observed in Han art as integral supports for bronze, lacquer and ceramic vessels, as solid-cast bronze sculptural mat-weights, in molded ceramic tiles, in textiles and as carved jade and hardstone figures.

See a pair of similar fittings from the Avery Brundage Collection, now in the collection of the Asian Art Museum, San Francisco (item #B66B13). The Palace Museum retains in its collection an intact suite of Han vessels supported by gilt-bronze bear-form fittings bearing extensive original inscriptions locating the source of production at present day Sichuan and dating the group to 45AD. See Wan-Go Weng and Yang Boda. The Palace Museum: Peking; Treasures of the Forbidden City, London, 1982, number 76, page 143.
Bonhams. EIGHT TREASURES FROM A PRIVATE AMERICAN COLLECTION. 16 Mar 2015 11:45 EDT - NEW YORK