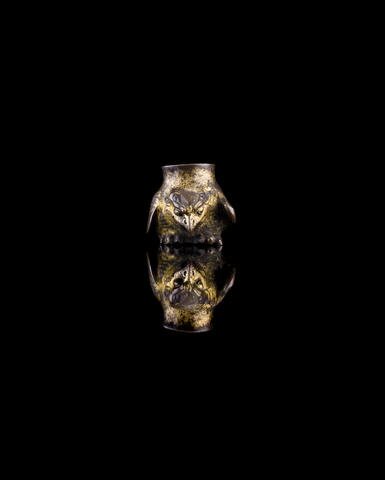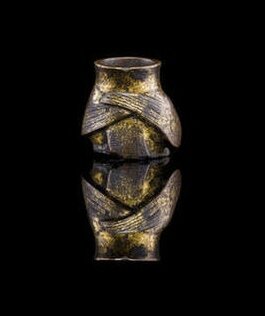 Lot 2005. A small gilt bronze support fitting, Han dynasty; 1 1/2in. (3.5cm) high. Estimate US$ 10,000 - 15,000 (€8,800 - 13,000). Sold for US$ 20,000 (€16,761). Photo: Bonhams.
Tubular and hollow-cast as a bird-like, winged creature with realistically rendered feathers and wings, clawed feet and a projecting, gaping beak, the animal crouching in a natural stance, the fitting supporting a round, lipped sockel, the bronze retaining most of its original gilt.
Provenance: Eskenazi Ltd., London, 7 March 1985
Notes: Stylized, animal-form supports made for decorative and ritual objects began to proliferate in the Shang dynasty, especially as components of the feet for fang ding. Subsequently in the Western Zhou dynasty, zoomorphic designs became widespread in bronzes vessels, however it is not until the Eastern Zhou and Han dynasties that we begin to encounter bronze support fittings that are truly naturalistic, as in the case of the present lot. The creature's anatomy and stance, the manner in which the head tilts downward and the wings splay outward, illustrate the artisan's observation of birds at rest in their environment. For a discussion of how Han dynasty religion looked to natural phenomena as omens from the spirit realm and animals' role as intermediaries between man and Heaven, see Wu Hung, A Sanpan Shan Chariot Ornament and the Xiangrui Design in Western Han Art, Archives of Asian Art, Vol. 37 (1984), pp.38-59. The support elements of Han furniture and most importantly, vessels, were very often rendered in the shape of animals: feet were often created in the shape of bears, as illustrated in lot 2004, and employed on lian. This particular gilt bronze fitting is unusual in that it depicts a bird-like creature, a rare subject matter among analogous fittings.

In this bronze support fitting, we find scrolling horn-like protuberances above the face, eyes and beak, dramatically rendered to lend the animal a fearsome facial expression. In A Study on the Auspicious Animal Motifs of Han Textiles in Ancient China, (http://www.silkroadfoundation.org/newsletter/vol11/SilkRoad_11_2013_zhang.pdf, 12/19/2014), Professors Zhang Wen, Xu Chunzhong, Wu Zhuo and Qiu Yiping explore the Han interest in mythical creatures that were composites of multiple animals. They reference a he bronze ritual vessel in the collection of the Shanghai Museum, created in the form of a 'leopard bird.' The Shanghai Museum bronze contains striking similarities to the present fitting, displaying wings, over-sized claws and a striking beaked head with imposing expression. A somewhat less naturalistic head decorates a gilt bronze bird vessel, dated Eastern Zhou, that was offered at Christie's London, June 6 1994, lot 72. A pair of bronze oval bowls on bird-form supports, dated to the Eastern Zhou dynasty, is in the collection of the Miho Museum. See also an anthropomorphic Northern Qi stone caryatid from Xiangtangshan, depicting a crouching griffon with a closely related face, published by J.J. Lally & Co. in Chinese Works of Art: May 27 to June 18, 1988, New York, 1998.
Bonhams. EIGHT TREASURES FROM A PRIVATE AMERICAN COLLECTION. 16 Mar 2015 11:45 EDT - NEW YORK