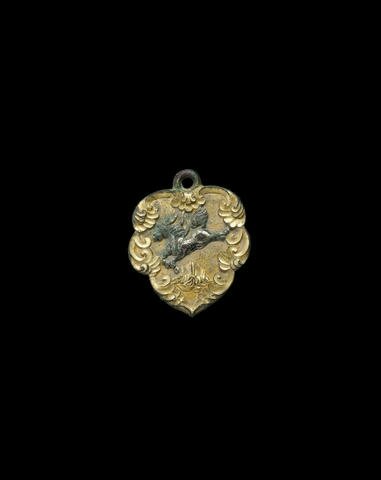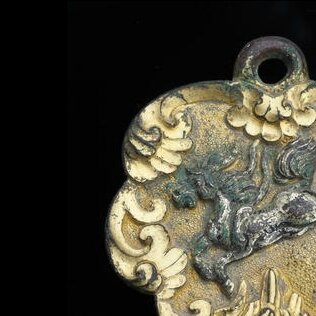 A silvered and gilt bronze horse harness ornament, xingye, Tang dynasty. Estimate US$ 8,000 - 12,000 (€7,100 - 11,000). Photo: Bonhams.
Finely cast in the shape of an apricot leaf, with scrolling, fluted, petal-like borders enclosing a central cartouche depicting a muscular horse, the steed's form silvered, its mane fluttering in the wind, galloping through the sky above a three-peaked mountain surrounded by crashing waves, all on a delicately crenulated ground, the ornament bearing a loop for suspension from a harness. 3 15/16in (9.4cm) high
Provenance: Eskenazi Ltd., London, 1987
Published: Giuseppe Eskenazi, Tang, London, 1987, catalog item #10
Notes: Apricot-form ornaments such as this were produced in large sets to hang pendant from the leather harnesses of horses ridden by Tang royalty, aristocrats and officials of exalted rank. Few xingye have come to auction recently in the West. This piece stands apart from other known examples in combining both silvering and gilt, along with an exceptional degree of delicate design and craftsmanship. The Tang dynasty was a period that saw significant technological and aesthetic advances in the areas of silver and gold production. The fine quality of the casting and the elegant design in this xingye suggest that it was made for a particularly privileged individual. See a very closely related example, possibly from the same workshop, published in line-drawing form by Huo Wei in Tubo Horse Tack and East-West Cultural Exchange, Kaogu, 2009 vol. 11.

Horses first became an important engine of Chinese military conquest in the Han dynasty. Mounted armies subsequently led the Tang emperors to consolidate more territory than had ever been united under imperial Chinese rule; Tang art reflects the culture's reverence for the horse as a mythic and powerful creature of legitimation. For a discussion of similar xingye, as well as the importance of the horse to the imperial state's maintenance of its far-flung borders see Sun Ji, Horse Tack and Ornament in the Tang Dynasty, Wenwu, 1981, pp. 82-88. In the present ornament, we see a spectacular steed, soaring through the sky above rocky mountains, standing firm amid violently crashing waves. While the horse symbolizes strength and power, the mountains and waves symbolize the stability and constancy of the emperor's rule amid the tumult of the world. Together, in the context of a luxurious harness ornament in gold and silver, these images imply the horse's role as a military tool in maintaining imperial order. This superb xingye is a testament to the highly developed horse culture of the Tang period.
Bonhams. EIGHT TREASURES FROM A PRIVATE AMERICAN COLLECTION. 16 Mar 2015 11:45 EDT - NEW YORK