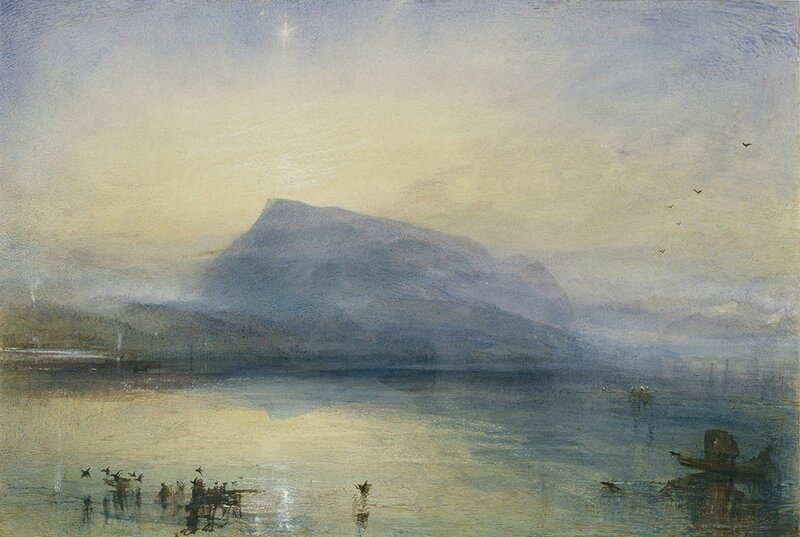 The Blue Rigi, Sunrise, 1842, J. M. W. Turner, watercolor. Courtesy of Tate: Purchased with assistance from the National Heritage Memorial Fund, the Art Fund (with a contribution from the Wolfson Foundation and including generous support from David and Susan Gradel, and from other members of the public through the Save The Blue Rigi appeal), Tate Members, and other donors 2007. Photo © Tate, London 2014
LOS ANGELES, CA.- One of the most influential painters of nature who ever lived, Joseph Mallord William Turner (English, 1775–1851) was especially creative and inventive in the latter years of his life, producing many of his most famous and important paintings after the age of 60. On view at the J. Paul Getty Museum February 24, 2015, through May 24, 2015, J.M.W.Turner: Painting Set Free brings together more than 60 key oil paintings and watercolors from this culminating period of his career, and is the West Coast's first major exhibition of Turner's work.
"J.M.W. Turner is the towering figure of British 19th century art, a ground-breaking innovator in his own day whose relevance and status as a seeming harbinger of 20th century 'modernism' has made him an inspiration to generations of later artists up to the present day. A successful and well-known public figure in his own day, Turner produced some of his most innovative and challenging work during the last 16 years of his life," explains Timothy Potts, director of the J. Paul Getty Museum. "He was frequently mocked and misunderstood for his choice of unusual subject matters, his experimentation with different canvas formats, and his pioneering free and spontaneous techniques in both oil and watercolor. While Turner could not knowingly have anticipated future artistic trends, he is seen today by many as a prophet of modernism because of his rough, gestural brushwork and quasi-abstract subject matter. His work captured the natural landscape's atmosphere and color like no other artist before him, and conveyed the awe-inspiring power of the elements as never before. This exhibition celebrates Turner as the most innovative and experimental artist of his time, and I have no doubt that it will be inspiring to a new generation of artists working in California today."
"The exhibition shows an artist at the top of his game, totally at ease with his media, and still keen to push boundaries and challenge assumptions. We see how Turner was modern in his own time, but the results are astonishing even for us today," said Julian Brooks, one of the exhibition curators.
Norham Castle, Sunrise, about 1845, J. M. W. Turner, oil on canvas. Courtesy of Tate: Accepted by the nation as part of the Turner Bequest 1856. Photo © Tate, London 2014
The Sea
In his later years, Turner's continuing fascination with the sea reached a zenith. Although he respected existing conventions of marine painting, particularly its 17th-century Dutch roots, he consistently moved beyond them, turning the water into a theater for drama and effect. At the Royal Academy exhibitions, he confounded viewers with his bold portrayals of modern maritime action—whales and their hunters battling for survival—while striving to capture the mysterious depths and forces of the elements. Never having witnessed a whale hunt himself, he included a reference to "Beale's Voyage" in the catalogues, acknowledging that his source of inspiration was Thomas Beale's Natural History of the Sperm Whale (1839). (Herman Melville consulted the same book when writing Moby - Dick , published in 1851.)
Turner was especially captivated by the particular combination of light and color he found in Venice, and revisited the city several times. He traveled lightly, usually alone, making few concessions to his age or failing strength, and drew constantly in his sketchbooks. Turner's many images of Venice were among his most potent late works, influencing later artists such as James Abbott McNeill Whistler (American, 1834-1903) and Claude Monet (French, 18401926).
For Turner, watercolor was the perfect medium to capture Venice's aqueous and luminous effects. While based on on-the-spot sketches done there in 1840, Turner's later paintings of Venice drew out the city's essence and spirit rather than its exact topography. His Venice was often touched with a melancholy that echoed the romantic fatalism popularized by writers such as Lord Byron, offering a warning from history to Britain's rise as a commercial empire.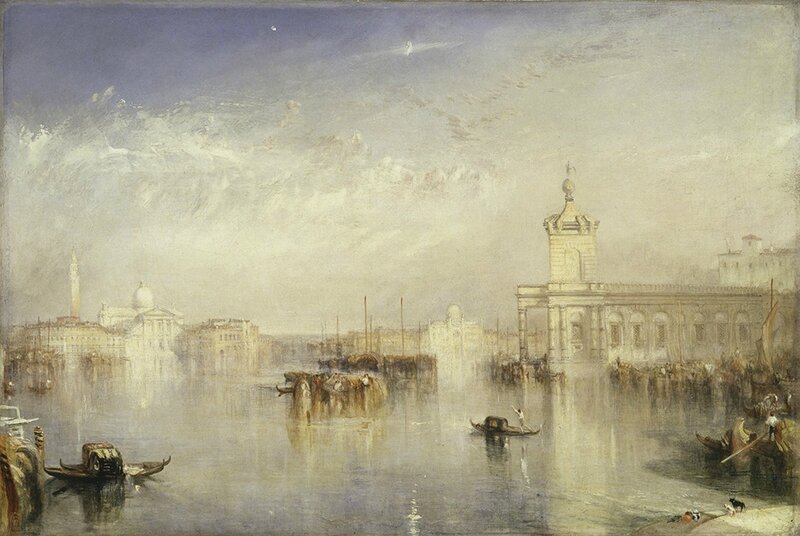 The Dogano, San Giorgio, Citella, from the Steps of the Europa, exhibited 1842, J. M. W. Turner, oil on canvas. Courtesy of Tate: Presented by Robert Vernon 1847. Photo © Tate, London 2014
Poetry
Turner was deeply interested in poetry and often paired his paintings with lines of text in order to elucidate their themes. In some cases he authored the poems himself but often he quoted celebrated 18th- and 19th-century British poets such as Thomas Gray and, most especially, Lord Bryon. Throughout the Getty exhibition, many of the lines of poetry or prose that he chose or wrote are reunited with his pictures on the gallery walls. For example, the lines " The moon is up, and yet it is not night/ The sun as yet disputes the day with her" from Byron's Childe Harold 's Pilgrimage (1812–18) were chosen, and slightly altered by Turner to accompany two paintings: Modern Rome - Campo Vaccino , exhibited 1839, and Approach to Venice , exhibited 1844, which both feature the setting sun and a rising moon but also evoke the rise and fall of empires.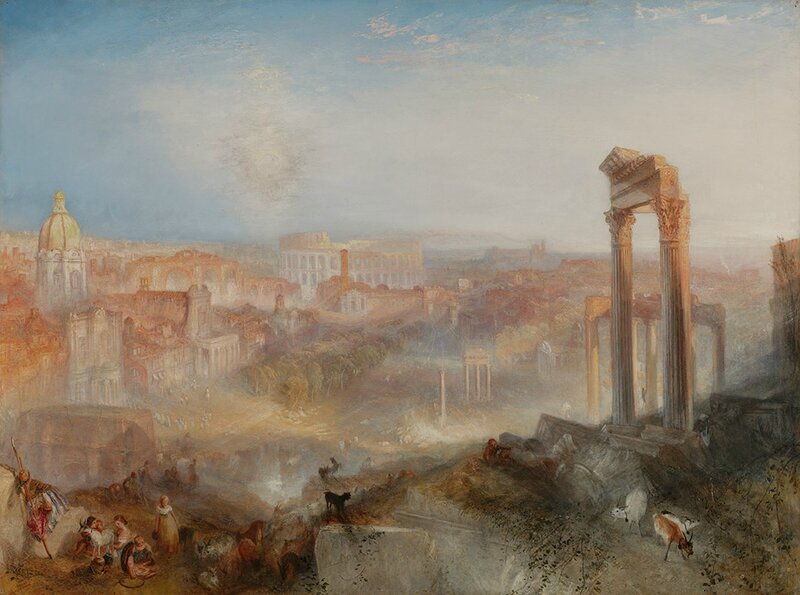 Modern Rome-Campo Vaccino, exhibited 1839, J. M. W. Turner, oil on canvas. The J. Paul Getty Museum.
Contemporary Events
Much of Tuner's later work reflects on contemporary events including the modern state of Italy, the legacy of the Napoleonic Wars, and the spectacular fires that ravaged the Palace of Westminster and the Tower of London in 1834 and 1841, respectively. In addition, Turner was the first major European artist to engage with innovations such as steam power, as seen in Snow Storm: Steam - Boat off a Harbour's Mouth , 1842, which shows this much-vaunted new technology at the mercy of the awesome power of the elements.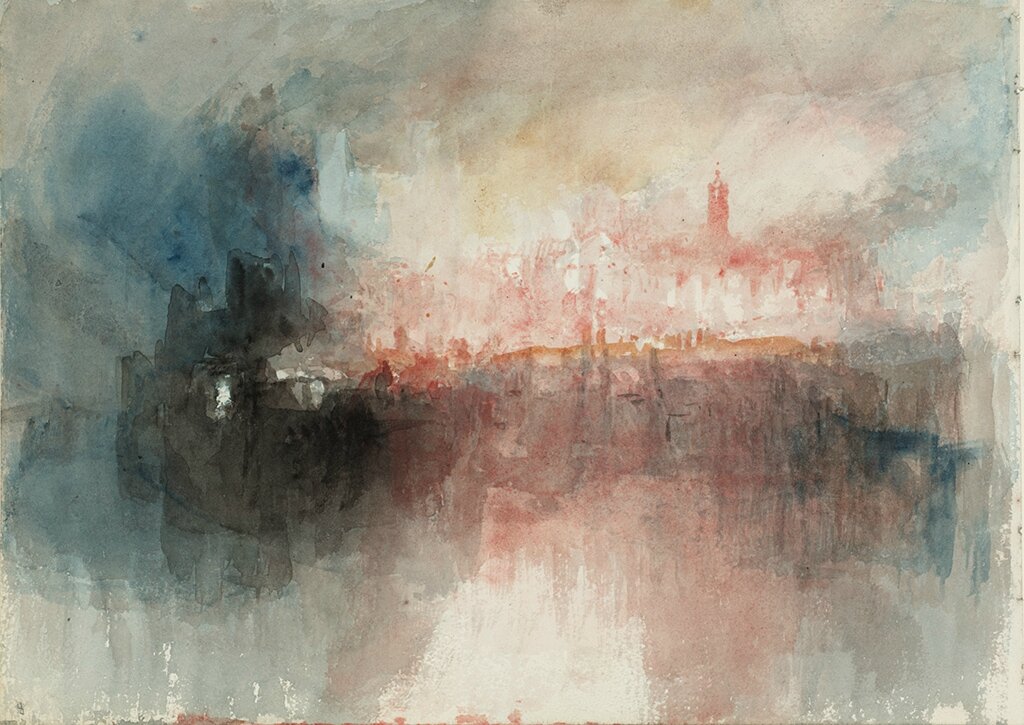 Fire at the Grand Storehouse of the Tower of London, 1841, J. M. W. Turner, watercolor. Courtesy of Tate: Accepted by the nation as part of the Turner Bequest 1856. Photo © Tate, London 2014
Snow Storm—Steam-Boat off a Harbour's Mouth, exhibited 1842, J. M. W. Turner, oil on canvas. Courtesy of Tate: Accepted by the nation as part of the Turner Bequest 1856. Photo © Tate, London 2014
Technique
Perhaps nothing demonstrates Turner's virtuosity as a painter better than the stories of his performances on "Varnishing Days." The Royal Academy and the British Institution would set aside a short period of time for artists to put final touches on their work before an exhibition opened to the public. Turner reveled in the competitive jostling and repartee that occurred on these occasions. In his later years, he would frequently submit canvases with only the roughest indications of color and form, speedily bringing them to completion on-site. Eyewitnesses record that Turner painted most of The Hero of a Hundred Fights, 1800–10, reworked and exhibited 1847, and Burning of the Houses of Lords and Commons, 16th October 1834, 1834-1835, on their respective varnishing days.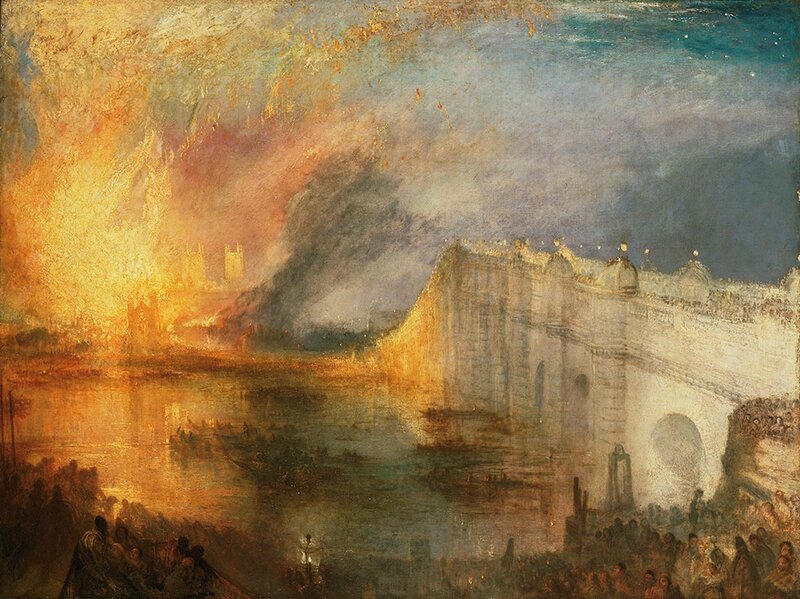 Burning of the Houses of Lords and Commons, October 16, 1834, exhibited 1835, J. M. W. Turner, oil on canvas. Courtesy of the Philadelphia Museum of Art: The John Howard McFadden Collection, 1928.
Pairs and Shapes
In his later years, Turner was as creative in his approach to media, materials, and techniques as he was in his choice of subject matter. He created works that offer some of his most dazzling displays of color, audacious handling, and complex iconographies. From 1840 to 1846, the artist employed a smaller canvas size for a series of paintings, which were often conceived as pairs expressing opposites, such as two that were exhibited in 1842: Peace – Burial at Sea and War. The Exile and the Rock Limpet. These were principally square but could also be round or octagonal. Exploring states of consciousness, optics, and the emotive power of color, they shocked and mystified his audience, who thought them the products of senility or madness. Painted near the end of his life, these inventive works are a coda to Turner's career, representing a synthesis of his innovations in technique, composition and theme.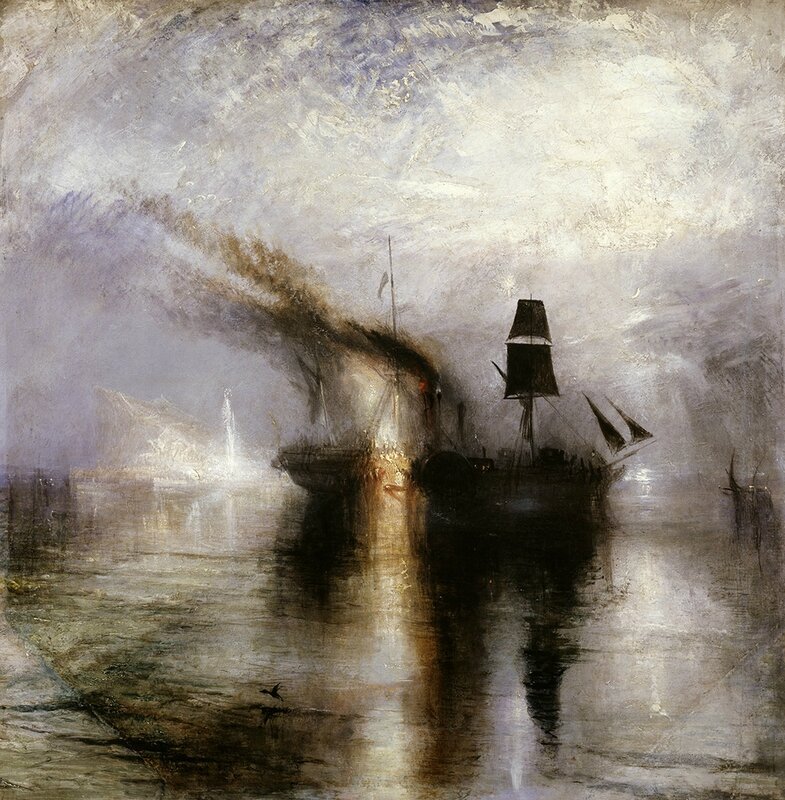 Peace—Burial at Sea, 1842, J. M. W. Turner, oil on canvas. Courtesy of Tate: Accepted by the nation as part of the Turner Bequest 1856. Photo © Tate, London 2014
Turner died in 1851 at age 76, leaving the majority of his work to the English nation along with an intended bequest to support impoverished artists. In the years since, while popular and scholarly ideas about his work have changed, he inarguably emerges as one of the most beloved figures and popular painters in the history of the United Kingdom.
This exhibition was organized by Tate Britain in association with the J. Paul Getty Museum and the Fine Arts Museums of San Francisco. It is supported by an indemnity from the Federal Council on the Arts and the Humanities. The Getty Museum curators of the exhibition are Julian Brooks, curator of drawings, and Peter Björn Kerber, assistant curator of paintings.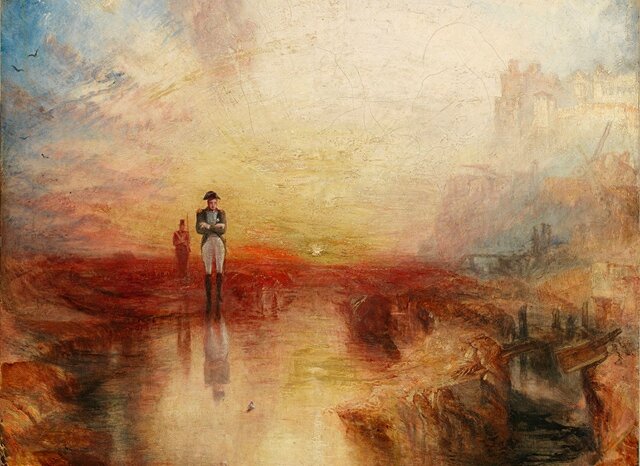 Joseph Mallord William Turner, War. The Exile and the Rock Limpet, exhibited 1842. Oil on canvas, 79.4 x 79.4 cm (31 1/4 x 31 1/4 in.) Tate: Accepted by the nation as part of the Turner Bequest 1856 Photo © Tate, London 2014 EX.2015.3.49