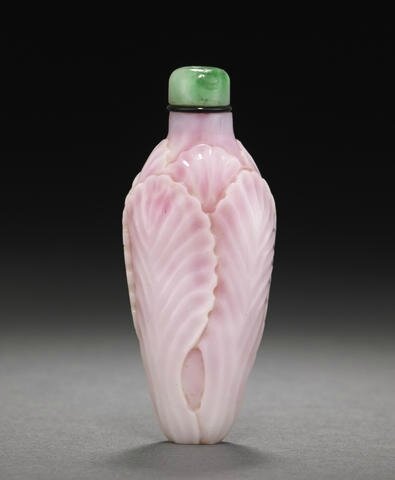 A variegated pink glass 'cabbage' snuff bottle, Imperial, attributed to the Palace Workshops, Beijing, 1750-1800. Estimate US$ 6,000 - 8,000 (€5,300 - 7,100). Photo Bonhams.
Of flattened tapering form with a wide mouth, thin, flat lip, the opaque pink glass in various shades expertly carved as a cabbage with rendered overlapping leaves.3in (7.6cm) high
Provenance: The Asian Art Studio, Inc., 2010
Emily Newel, CA
Clara Ziegler Newell
Notes: Like many images, cabbage has special symbolic meanings in Chinese culture. Subsequently it has been a popular subject in many art forms. The most recognized and frequently referred example perhaps is the jadeite cabbage from the Qing dynasty, now in the collection of the National Palace Museum in Taipei. In the Northern Chinese culture, cabbage represents transparent, clean, and purity because the vegetable in reality has a color combination of green and white, which create a rebus for qing (transparent, clear) and bai (white, purity). As such the image has often been borrowed as a reminder to official figures to stay clean and uncontaminated from the temptation-filled world. On the other hand, a carving incorporating cabbage in Southern China evokes wealth since the word for cabbage is pronounced fat choi, similar to the pronunciation for becoming wealthy.
Compare a pink overlay white glass snuff bottle in the form of a cabbage, from the Margaret Polak Collection, sold in these rooms, 24 March, 2010, lot 122.
Bonhams. Chinese Snuff Bottles from the Collection of Barbara and Marvin Dicker, 16 Mar 2015 10:00 EDT- NEW YORK