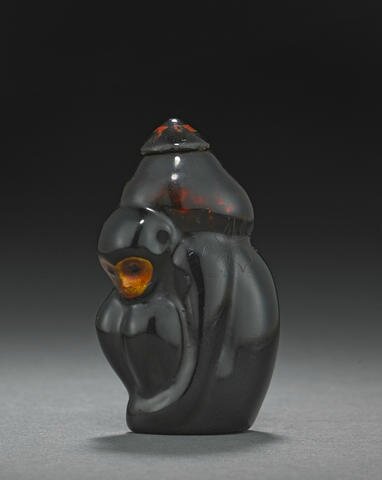 A lacquer on wood 'monkey' snuff bottle, Fuzhou, probably Imperial, 1750-1850. Estimate US$ 6,000 - 8,000 (€5,300 - 7,100). Photo Bonhams.
Carved in the form of a squatting monkey, its left hand resting on the crossing feet, while its right hand raised to stabilize a large peach supported on its back, the top of the peach opened to form the mouth of the bottle, the surfaces painted mostly black over red, rubbed through in the peach areas, the monkey's face in gilt and red, the sides embellished with an incised fruiting peach tree washed in gilt. 2 5/8in (6.6cm) high
Provenance: The Asian Art Studio, Inc
Notes: Lacquerware flourished in Fuzhou, capital of Fujian province, during the mid to late-Qing period. It is characterized by its light weight and extensive use of monochrome colors. Fuzhou lacquer is a painted rather than carved lacquer as seen with cinnabar lacquer. There exist two concepts in regard to the core material that the Fuhou lacquer snuff bottles were built up on. Many contemporary literatures argue that given the lightness of the material Fuzhou lacquer was mostly built up on a silk, or other textile ground. Although this may be the case in some wares, the present example appears to be executed on balsa-wood, a very light wood, based upon how the material cracks to the interior of its mouth.

Some Fuzhou snuff bottles are known bearing credible late-Qianlong reign marks, suggesting possible production for the Court in the last part of the reign: either that a blank body was sent to Beijing to be decorated, or it was entirely decorated in Fuzhou as a response to an Imperial order. For further discussions and examples of the unique group of snuff bottles, refer to Chinese Snuff Bottles in the Collection of Mary and George Bloch, Robert Kleiner, British Museum Press, 1995, pp. 491-495, no. 322-325. Compare also another very similarly designed Fuzhou lacquer snuff bottle, from the Mary and George Bloch Collection, sold in our rooms, Hong Kong, 28 May 2010, sale 18456, lot 105.
Bonhams. Chinese Snuff Bottles from the Collection of Barbara and Marvin Dicker, 16 Mar 2015 10:00 EDT- NEW YORK