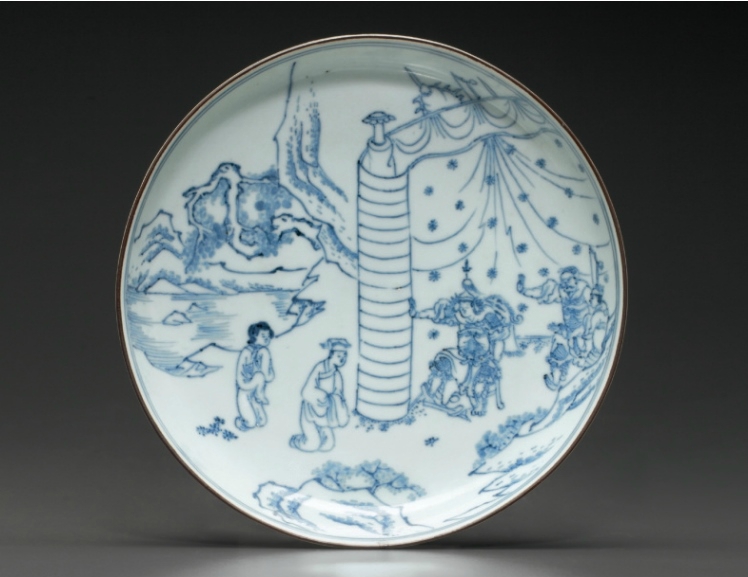 A blue and white shallow bowl, Early Kangxi period, circa 1662-1670. Estimate $5,000 – $7,000. Photo Christie's Image Ltd 2015
The shallow bowl, raised on a narrow foot, is decorated in a penciled style with a mountainside scene of Kublai Khan seated in a curtained tent as Yao Li Shi and Xie Du kneel before him. The base bears an apocryphal Jiajing mark. 6 ¾ in. (17.1 cm.) diam.
Provenance: Anthony Gray, London, 1987.
Collection of Julia and John Curtis.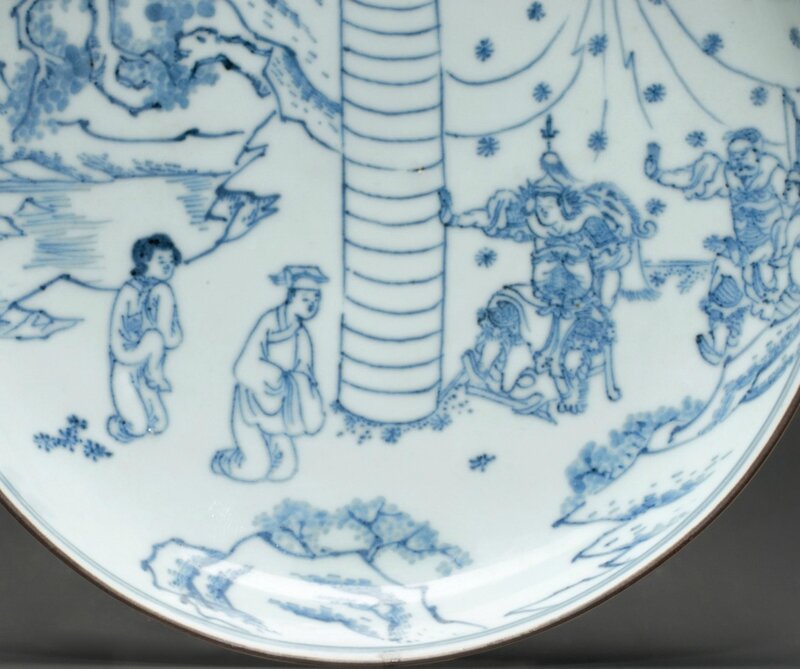 Detail.
Notes: Despite the reckless behavior exhibited by heroines of some stories, such as that of Cui Yingying in Xixiang ji, there appears to have been a particular concern regarding female virtue amongst the literati in the late Ming period. This concern was probably the catalyst for the publication of a reprint in the Wanli reign of Biographies of Exemplary Women (Lienü zhuan), which was originally compiled by the Han dynasty scholar Liu Xiang (77-6 BC), but was added to thereafter (see Lienü zhuan, volume 12, chapter 29). The illustrations for the Wanli edition were created by the famous artist Qiu Ying (AD 1494? –1552), who is regarded as one of the Four Masters of the Ming dynasty. This publication almost certainly inspired the decoration on this early Kangxi blue and white bowl. The decoration on this bowl shows Yao li Shi and Xie Du, the eldest son of Yelü Liuge, petitioning Shizu (Kublai Khan) (fig. 1)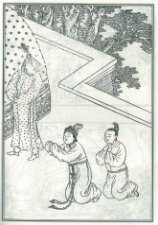 Fig. 1: Woodblock illustration to Zhongguo gudai jianzhu da tudian (Illustrations of Ancient Chinese Architecture), vol. 2, Beijing, 1996, pp. 1648-9.
Yao Li Shi was the second wife of Yelü Liuge (1165-1220), a Qidan aristocrat who eventually changed sides and pledged himself to the Mongols, sending his eldest son to Kublai Khan as a gesture of good faith. When Yelü Liuge died his second son, the child of his second wife, Yao Li Shi, would thus have inherited the title. Even though this was to the detriment of her own son, Yao Li Shi felt that the traditional requirement of the eldest son inheriting his father's title should be upheld and in 1226 she went in person to petition Kublai Khan to release the eldest son in order for him to inherit. The Khan would not agree, saying that he required the eldest son to accompany him, and that the second son should inherit. Yao li Shi nevertheless refused the inheritance on behalf of her son, and Kublai Khan was impressed by her virtuous intent.
Christie's. AN ERA OF INSPIRATION: 17TH-CENTURY CHINESE PORCELAINS FROM THE COLLECTION OF JULIA AND JOHN CURTIS, 16 March 2015, New York, Rockefeller Plaza.