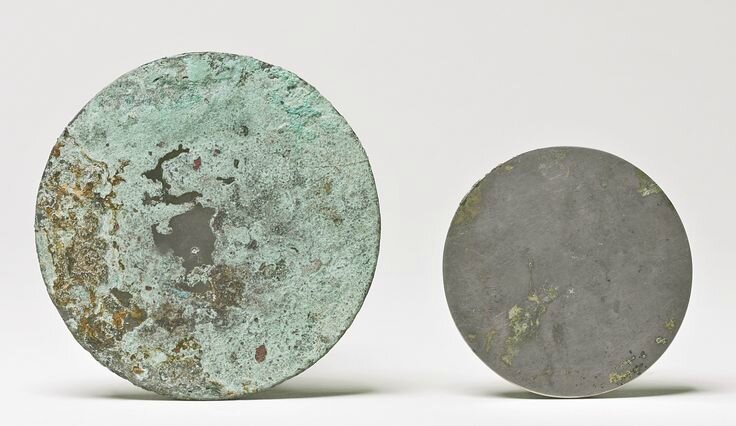 Two bronze 'Dragon' and 'Mythical Beast' mirrors, Han dynasty and Tang dynasty. Estimation 10,000 — 15,000 USD. Photo Sotheby's.
the first from the Han Dynasty, cast around the central knob with dragons emerging from clouds, the inscription written in lishu (Han clerical script) style; the second, Tang Dynasty, cast with four mythical beasts chasing each other, the inscription written in kaishu (Tang standard script). Diameter of larger 5 1/2 in., 14 cm
Provenance: Collection of Mackenzie Gordon, Jr., Washington D.C.
Notes: Translation of the inscription:
Han mirror
I, Mr Long, produced this mirror at the time alien tribes in four corners were being subjugated.
Let us praise our Lord, for the people are given respite.
After quelling the Hu and Qiang barbarians, peace is restored on earth.
In the season when wind and rain regulate the five grains (grow). May you reach the high office and receive your just reward, and to protect your parents from harm, and may your joy be endless.
Tang mirror
(The mirror) is like a water caltrop growing in the sunshine, the full moon appears in the pond. Officials check if their headgear is in the way, and ladies gaze at it to perfect their make-up.
Sotheby's. Inscriptions: History as Art New York, 17 mars 2015, 01:30 PM