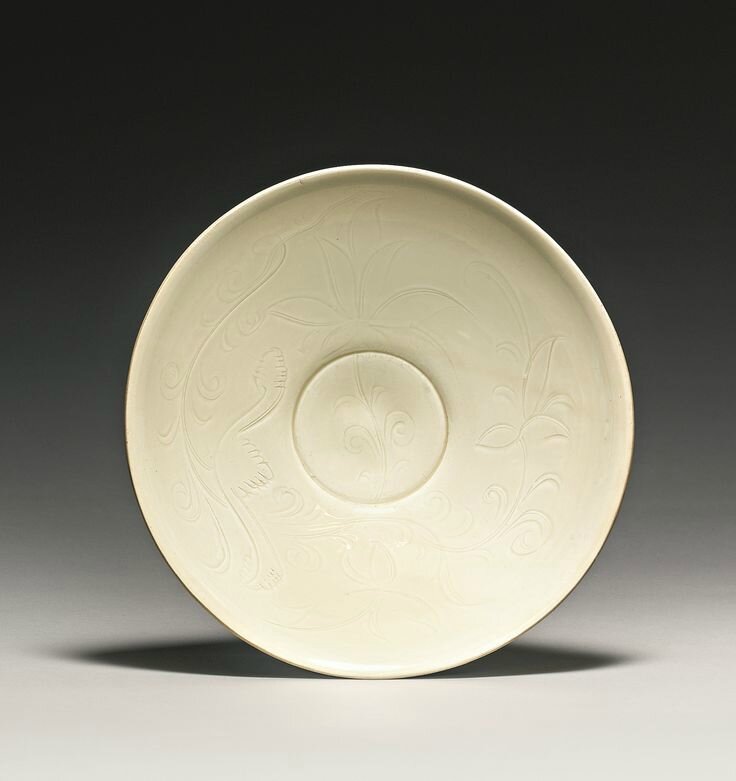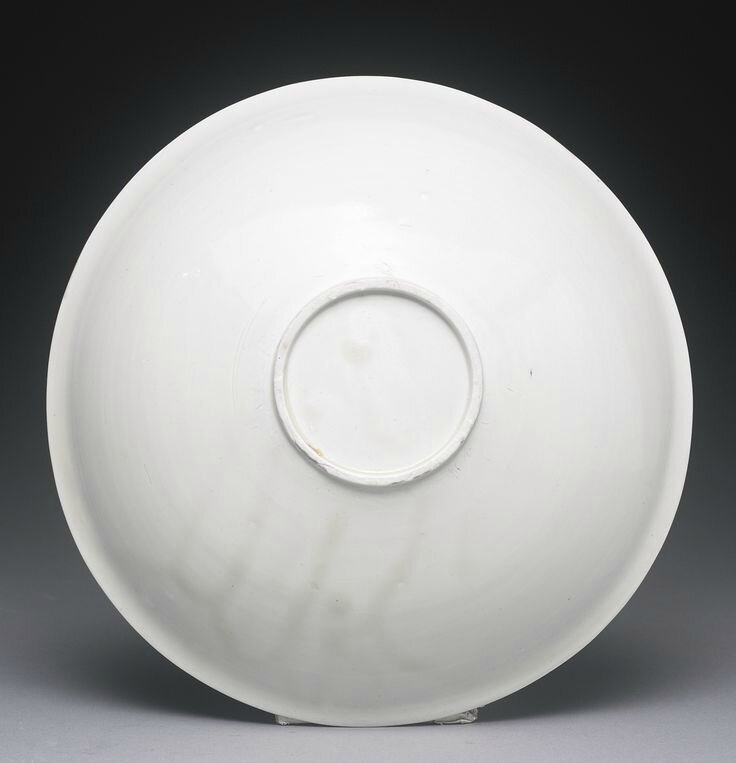 A finely carved 'Ding' 'Lotus' bowl, Northern Song dynasty. Estimate 80,000 — 120,000 USD. Photo Sotheby's.
well-potted with flared slightly rounded sides rising from a low small ring foot to the everted rim, the interior deftly carved with a large lotus flower borne on a leafy stem encircled by a winding lotus stem issuing another blossom, small curling leaves and a single larger leaf in profile with a pronounced crimped-edge, the semi-translucent glaze applied overall, pooling into the recessed areas and with characteristic 'teardrops' to the underside - Diameter 8 1/2 in., 21.5 cm
Povenance: Christie's New York, 5th June 1986, lot 184.
PROPERTY OF A PRIVATE NEW YORK COLLECTOR
Notes: The present bowl illustrates the superb artistry for which Ding wares are justifiably renown. The confident, gestural carving imbues the lotus blooms with an appealing air of fresh immediacy. The flower, rapidly incised into the still damp body belies the high skill level expected of the artisans who created these wares to satisfy the most discerning eye. Bowls of this type, but of slightly smaller size, include one from the Qing Court collection, and still in Beijing, published in The Complete Collection of Treasures of the Palace Museum. Porcelain of the Song Dynasty (I), Hong Kong, 1996, pl. 52; one in the National Palace Museum, Taipei, included in the Special Exhibition of Ting White Ware White Porcelain, National Palace Museum, Taipei, 1987, cat. no. 36; another from the Museum of Oriental Ceramics, Osaka, included in the exhibition White Porcelain of Ding Yao, Nezu Institute of Fine Arts, Tokyo, 1983, cat. no. 117; a bowl from the Eumorfopoulos collection, illustrated in R.L. Hobson, The George Eumorfopoulos Collection, vol. 3, London, 1926, pl. XXIX; and a fifth example from the collection of Mrs Alfred Clark, included in the Oriental Ceramic Society exhibition Arts of the Sung Dynasty, London, 1960, cat. no. 19, and sold in our London rooms, 25th March 1975, lot 35. A metal-rimmed bowl very similar to the present, formerly of the Alfred Schoenlicht Collection was sold in these rooms 17th / 18th September 2013, lot 75.

Examples of this form but with lobed rims are also known; one in the Palace Museum, Beijing, is illustrated in Selection of Ding Ware. The Palace Museum's Collection and Archaeological Excavation, Beijing, 2012, pl. 64; and a slightly larger bowl sold in our London rooms, 16th May 2012, lot 88.
Sotheby's. Important Chinese Works of Art New York, 17 mars 2015, 02:00 PM