Georges Braque, Lemons and Cup, 1925. Courtesy Rosenberg & Co.
NEW YORK, NY.- Rosenberg & Co. announces the gallery's public opening on March 7, 2015. Established on the upper east side of Manhattan by Marianne Rosenberg, the gallery continues the Rosenberg family's distinguished tradition of exhibiting an international roster of works by prominent Impressionist, Modern, and contemporary artists.
Marianne Rosenberg's great-grandfather Alexandre Rosenberg (d. 1913), grandfather Paul Rosenberg (d. 1959), great-uncle Léonce Rosenberg (d. 1947), and father Alexandre P. Rosenberg (d. 1987) forged exclusive relationships with the artists they represented and were champions of Impressionist and Modern art in Paris in the early 20th century, moving the business to New York in 1940.
The inaugural exhibition, Inspired by History (March 7 – April 25, 2015), introduces the public to the historical heritage and breadth of the gallery's program by presenting a selection of paintings, sculptures, and works on paper linked to the Rosenberg family history, evoking the periods in which the family established its expertise.
Inspired by History is an exhibition of works spanning the late 19th and 20th centuries, featuring paintings by Pierre Bonnard, Georges Braque, Henri Hayden, Peter Kinley, Jean Metzinger, and Louis Valtat; works on paper by Juan Gris, Ben Nicholson, and Max Weber; and sculptures by Henri Laurens and Reuben Nakian.
The exhibition includes works that are directly part of the Rosenberg family history, including Still Life with Knife, Glass, and Fruit, a drawing that artist Juan Gris dedicated to Léonce Rosenberg in April 1919, and an invitation to Paul Rosenberg's gallery in Paris designed by Pablo Picasso, whom Rosenberg represented for over two decades.
Rosenberg & Co. renews a salon-style space with a focus on the highest standards of connoisseurship. With an emphasis on the secondary Modern art market exemplified in its inaugural exhibition, Rosenberg & Co. will also continue the legacy of working with contemporary artists.
Pablo Picasso, Invitation, 1919. Courtesy Rosenberg & Co.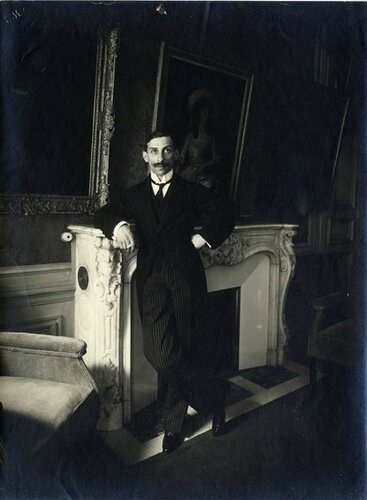 Paul Rosenberg, circa 1915.
Mr. Rosenberg in 1941 with a painting by Henri Matisse.

Marianne Rosenberg, who continues the family fight to regain lost artworks. Photo MARY ALTAFFER | ASSOCIATED PRESS