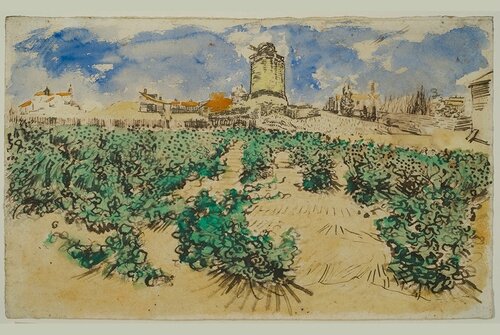 Vincent Van Gogh, Le Moulin d'Alphonse Daudet à Fontvieille, June 1888. Reed pen and watercolour on wove paper, with traces of underdrawing in pencil 30.2 x 49 cm. (11 4/5 x 19 ¼ in.). Photo courtesy Simon C. Dickinson
LONDON.- Simon C. Dickinson, Ltd. introduces a selection of highlights that will be offered for sale at TEFAF in Maastricht, The Netherlands. The fair will take place from 13 – 22 March 2015.
Headlining the Impressionist and Modern works on offer is Le Moulin d'Alphonse Daudet à Fontvieille by Vincent van Gogh, painted near Arles in June 1888. A recent investigation of inscriptions on the reverse, undertaken in collaboration with the Van Gogh Museum in Amsterdam, has revealed exciting new information about the work's early provenance and exhibition history; it has not been exhibited in public for over a century.
We are also featuring Edgar Degas's bronze Étude de Nu pour la "Petite Danseuse de Quatorze Ans", the study for the artist's most iconic and beloved sculpture, Petite Danseuse de Quatorze Ans. Our version is additionally noteworthy for having been originally cast for Degas's heirs.
Other 19th century highlights include a beautifully-preserved pastel landscape by Jean-François Millet, La Maison de Théodore Rousseau à Barbizon (c. 1867-68); Gustave Caillebotte's Le Petit Bras de la Seine près d'Argenteuil (c. 1886-87), an idyllic river landscape that also inspired Monet and Renoir; Pierre-Auguste Renoir's Portrait de Douglas Fitch, which dates from 1881, making it one of the earliest portraits of an American sitter by an Impressionist painter; and Georges Seurat's La Zone (Fillette dans la Neige – La Grève) (c. 1883), an atmospheric and tonal composition.
The first half of the 20th century is represented by several pieces by Pablo Picasso, including the 1912 Guitare, Verre, Bouteille de Vieux Marc, a colourful Cubist still life, and Trois Mains au Gobelet (1921), a large-scale, classicising study of hands holding a cup. We are also showing Kees van Dongen's exotic, Fauvist Lailla (1908); an early Surrealist work by René Magritte, Le Goût de L'Invisible (1927); a late Fernand Léger, Formes dans L'Espace (1952); one of Emil Nolde's Sonnenblume (Sunflower) compositions (1928); and several paintings by Marc Chagall. The later 20th century is represented in the Post-War and Contemporary category by Jean-Michel Basquiat's Untitled (self-portrait) dating from 1988, the year of the artist's death; and Zao Wou-Ki's 28.05.65 (1965), a characteristic example by this Chinese-French painter.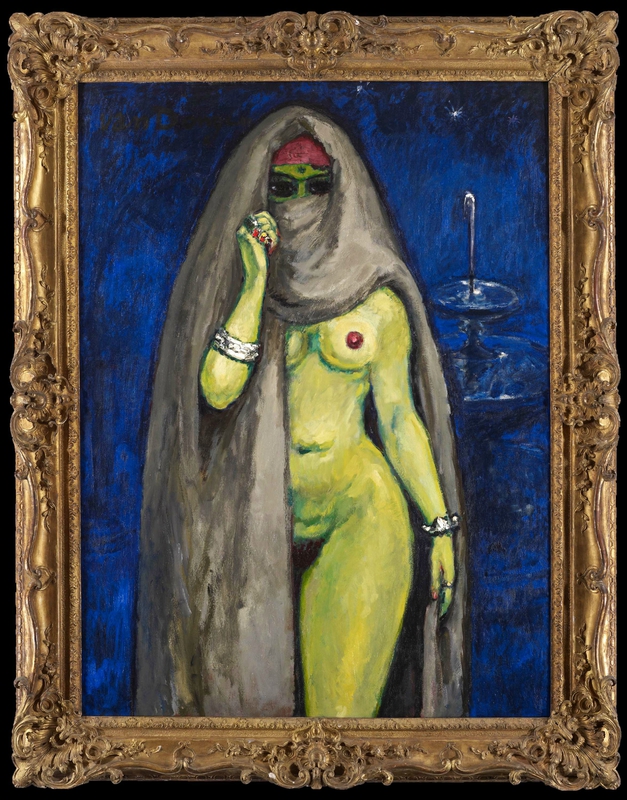 Kees van Dongen (Delfshaven 1877-1968 Monte Carlo), Lailla. Oil on canvas, 130.8 x 97.3 cm. Signed upper left 'Van Dongen'; inscribed 'La illa ella Aila'; dated verso 1908. Photo courtesy Simon C. Dickinson
Among the Old Masters on offer is A Young Bull in a Landscape, by Paulus Potter, a work that has descended in the family of the Earls of Northbrook. It is a second, equally masterful version of the famous Young Bull in the collection of the Mauritshuis, The Hague. We will also be showing a stylish Portrait of Sir Euan Murray-Macgregor by Sir Henry Raeburn, R.A., of circa 1797-99. Until recently, the portrait was covered by a layer of discoloured varnish which suppressed Raeburn's rich colouristic effects, influenced by his time in Italy. And we have a beautiful still life of Roses, tulips, an iris and other flowers in a stoneware vase on a ledge with a lizard, stag beetle and snail (1644) by the German-born, Netherlandish-influenced Jakob Marrel.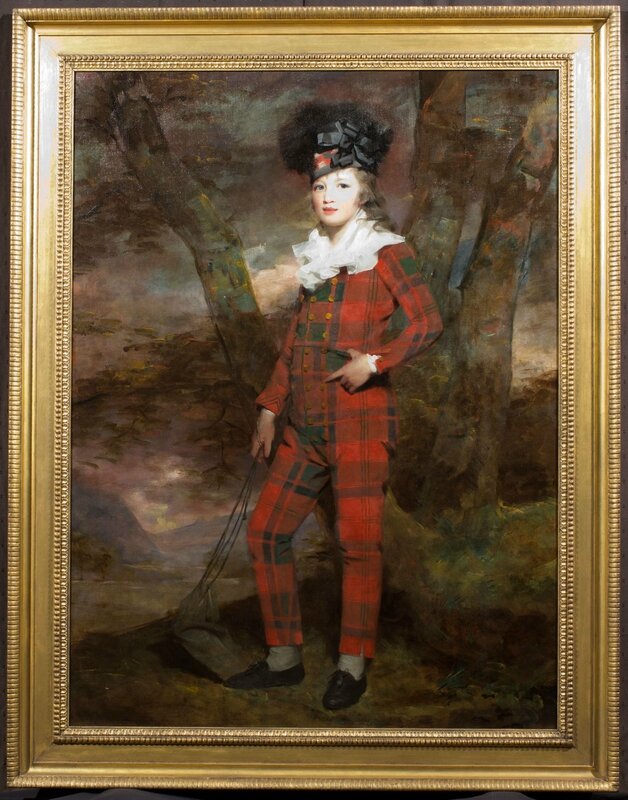 Sir Henry Raeburn, R.A. (Stockbridge 1756-1823 Edinburgh), Portrait of Sir Euan Murray-Macgregor. Oil on canvas, 156.1 x 115.4 cm, Circa 1797-1799. Photo courtesy Simon C. Dickinson