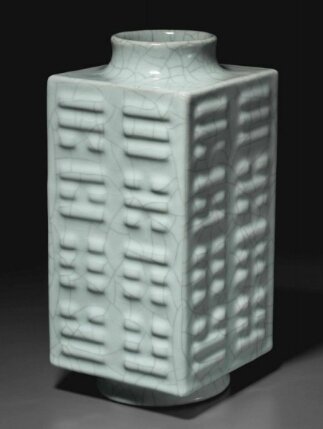 A Guan-type square section vase, cong, Qianlong six-character seal mark in underglaze blue and of the period (1736-1795). Estimate $100,000 – $150,000. Photo Christie's Image Ltd 2015
The sturdily potted vase is relief-molded on each of the sides with the bagua, the Eight Daoist Trigrams, arranged into horizontal registers of two columns, and is supported on a spreading foot. It is covered overall in an unctuous, widely-crackled, Guan-type glaze stopping at the brown-dressed biscuit foot ring. 11 in. (28.5 cm.) high
Provenance: Private collection, Texas, acquired in Asia in the first half of the 20th century, and thence by descent.
Notes: As early as the Song Dynasty, the Imperial court was fascinated with archaic objects and many wares were produced in imitation of ancient forms, including that of jade cong carved with stylized masks in horizontal registers at the corners. During the Southern Song dynasty (1127-1279) vases imitating the shape of jade cong were produced, such as the Guan-type vase of cong shape dated to the Southern Song dynasty, 12th-13th century, in the Tokyo National Museum, which is illustrated in Oriental Ceramics, The World's Great Collections, vol. 1, Tokyo, 1976, col. pl. 13.Guan vases of this type were clearly the inspiration, both in shape and glaze, for the later Qing dynasty interpretations, such as the present vase.
Qianlong-marked examples of this form are rare. An identical vase is illustrated by Peter Y. K. Lam in Ethereal Elegance, Porcelain Vases of the Imperial Qing, The Huaihaitang Collection, Art Museum, The Chinese University of Hong Kong, 2007, no. 45; and another is illustrated by Bo Gyllensvärd in Chinese Ceramics in The Carl Kempe Collection, Stockholm, 1965, p. 79, no. 209.
A Guan-type cong, also with Qianlong mark and of the period, but with a more closely crackled glaze, sold at Christie's Hong Kong, 30 November 2011, lot 320, and a Ge-type vase of this form was also sold at Christie's Hong Kong, 3 December 2008, lot 2562. A related Ge-type wall vase with a Qianlong mark was sold at Christie's Hong Kong, 1 June 2011, lot 3706; and another wall vase with Guan-type glaze, with a Yongzheng mark, in the Beijing Palace Museum Collection, is illustrated in Qingdai Yuyao Ciqi, juan 1, 2005, p. 347, no. 159.
Christie's. FINE CHINESE CERAMICS AND WORKS OF ART, 15 - 16 March 2015, New York, Rockefeller Plaza