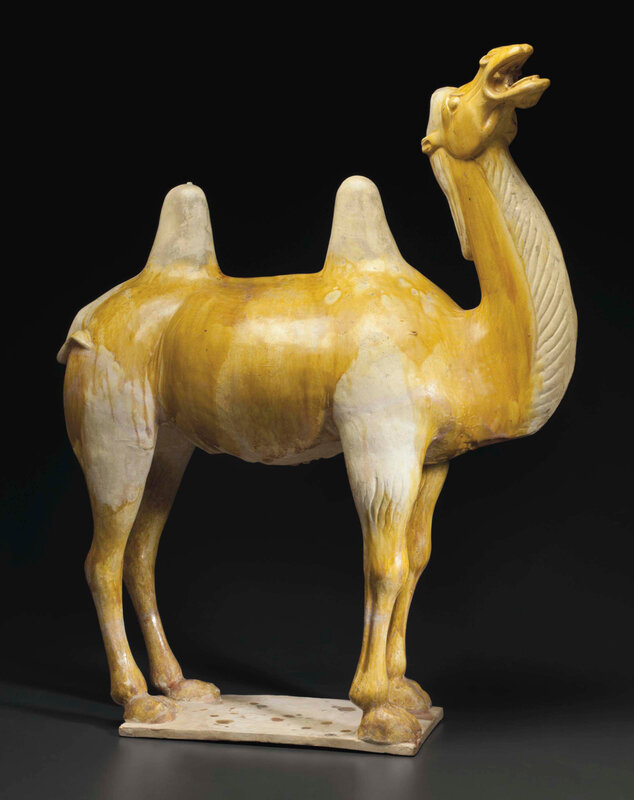 Lot 3229. A large ochre and cream-glazed pottery figure of a Bactrian camel, Tang dynasty (AD 618-907); 27 3/8 in. (69.5 cm.) high. Estimate $30,000 – $50,000. Price realised USD 37,500. © Christie's Image Ltd 2015
The realistically modeled beast is shown standing foursquare on a rectangular base, with head tilted back as the animal brays. The finely detailed hair on the neck and other areas of hair on the head, humps, haunches and tail are covered with a glaze of cream color in contrast to the ochre-glazed body.
Provenance: Dulany's Oriental Connoisseurship, Michigan, June 1986.
Note: In the Tang dynasty camels really did live up to the description of them as 'ships of the desert' and were used to transport Chinese goods, including silk across the difficult terrain of the Silk Route to the eager markets of Central Asia, Samarkand, Persia and Syria. Camels are reported to have routinely carried up to 250 kg. in their packs. They may also be seen as symbolic of the cosmopolitanism of the Tang capital at Chang'an. They carried, on their return journeys, many of the exotic luxuries from the west that were desired by the sophisticated Tang court.
The two-humped Bactrian camel was known in China as early as the Han dynasty, having been brought from Central Asia and Eastern Turkestan as tribute. Its amazing ability to survive the hardships of travel across the Asian deserts was soon recognized and Imperial camel herds were established under the administration of a special Bureau. These Imperial camel herds, numbering several thousand, were used for a range of state duties, including the provision of a military courier service for the Northern Frontier. Camels were not only prized as resilient beasts of burden, their hair was also used to produce a cloth, which, then as now, was admired for its lightness and warmth. Even camel meat was regarded as a delicacy, with the hump being noted as particularly flavorsome.
The result of Oxford thermoluminescence test no. 366p21 is consistent with the dating of this lot.
Christie's. FINE CHINESE CERAMICS AND WORKS OF ART, 15 - 16 March 2015, New York, Rockefeller Plaza