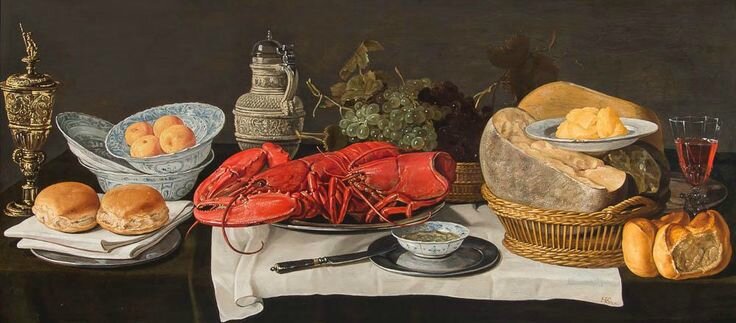 Hans van Essen (Antwerp 1588 - Amsterdam 1649), A Pronk Still-Life with a goblet, bread rolls, tangerines in a China bowls, lobsters on a pewter plate, grapes in a basket, cheese and butter in a basket and a glass of wine on a partially draped table. Oil on Panel, 51.3 x 114.1 cm. Signed lower right: HVE. Photo courtesy David Koetser Gallery
Provenance: Collection Segerstedt.
M.R. Montgomery-Cederhielm, Segersjö, Sweden by 1907
Gösta Stenman, Stockholm, 1947 ;
From whom acquired by the grandfather of the present owners in 1950.
Exhibition: Stockholm, National Museum, Hollänska Mästare I Svensk Ägo, 3 March-30 April 1967, p. 44, no. 46.
Literature: O. Granberg,Inventaire Générale des Trésors d'Art- Peintures & sculptures, principalement de maîtres étrangers (non Scandinaves) en Suède, Vol. I, Stockholm 1911, p. 39, no. 162.
U. Thieme, F. Becker, Algemeines Lexikon der bildenden Künstler, Leipzig 1915, Vol. XI, p. 44.
I. Bergström, Dutch Still-Life Painting in the Seventeenth Century, London 1956, pp. 106, 109, no. 99, ill.
J. Briels, Vlaamse schilders in de Noordelijke Nederlanden in het begin van de Gouden Eeuw 1585-1630, Becht-Haarlem, 1987, pp. 228-230, no. 292.
David Koetser Gallery. Talstrasse 37, CH-8001 Zurich, Switzerland. T +41 44 211 52 40 - F +41 44 211 56 69 - www.koetsergallery.com