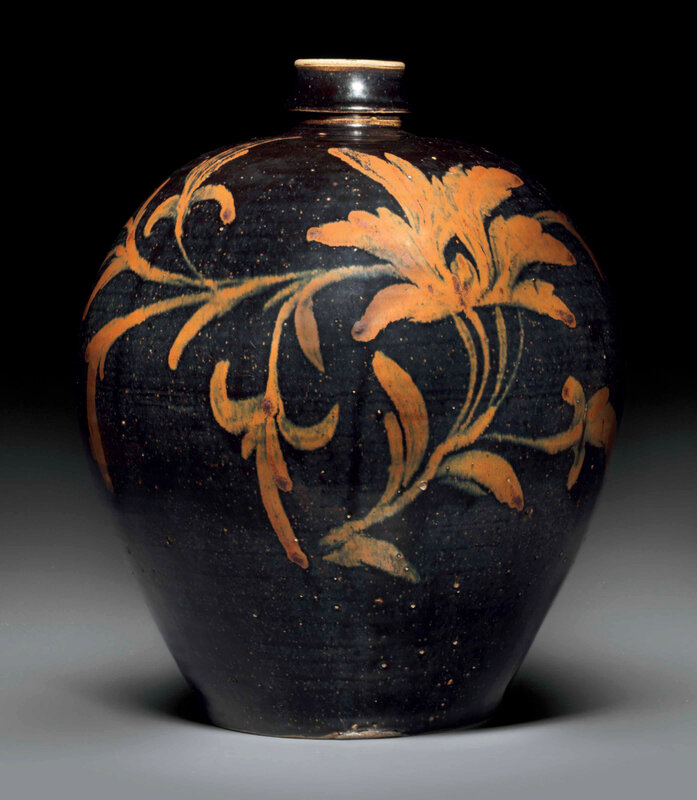 Lot 19. A very rare large Cizhou-type russet-painted black-ground ovoid jar, xiaokou ping, China, Jin-Yuan dynasty, 13th century; 16 in. (40.6 cm.) high. Estimate $70,000 – $90,000. Price realised USD 665,000. © Christie's Image Ltd 2015
The broad, high-shouldered body freely painted in russet brown slip with large exuberant flower sprays fired matte in contrast to the lustrous blackish-brown glaze covering the body and small, waisted mouth
Provenance: The Collection of Robert H. Ellsworth, New York, before 1996.
Literature: R. D. Mowry, Hare's Fur, Tortoiseshell, and Partridge Feathers: Chinese Brown- and Black-Glazed Ceramics, 400-1400, Cambridge, 1996, pp. 166-167, no. 56.
Exhibited: Hare's Fur, Tortoiseshell, and Partridge Feathers: Chinese Brown- and Black-Glazed Ceramics, 400-1400, Arthur M. Sackler Museum, Harvard University Art Museums, Cambridge, Massachusetts, 23 December 1995 - 10 March 1996; China Institute Gallery, New York, 20 April - 6 July 1996; Elvehjem Museum of Art, University of Wisconsin, Madison, 9 November 1996 - 19 January 1997.
Note: This magnificent bottle boasts decoration of a blossoming peony plant. Introduced into the imperial gardens in the Sui or Tang dynasty, the tree peony, or mudan, quickly captured the imagination of the Chinese. Often called hua wang, or king of flowers, due to its popularity and to large blossoms, the tree peony represents spring, figuring among the "flowers of the four seasons". It is regarded as a symbol of feminine beauty and as an emblem of love and affection; in addition, because of its abundant petals, it is also symbolizes wealth and honor and thus is also called fugui hua, or wealth-and-honor flower.

Lacking specific symbolism, brown and black glazes evolved alongside celadon glazes, often at the same kilns. Closely akin, celadon and dark glazes both rely on iron oxide as their coloring agent. Because the semi-opaque dark glazes would obscure underglaze designs, decoration was splashed or brush-painted on their surfaces in russet slip before firing.

The Cizhou kilns produced virtually all of the northern dark-glazed wares. Best known for their stoneware vessels decoration in underglaze slips, the Cizhou kilns also garnered fame for their brown- and black-glazed stonewares. Pieces with clear glaze over slip decoration are termed "Cizhou wares;" brown- or black-glazed pieces from the same kilns are usually distinguished as "Cizhou-type wares." In the twelfth century, potters began to embellish their dark-glazed wares with sprightly designs painted in russet slip. Among Cizhou-type bottles, those from the Northern Song period tend to have broad shoulders, a narrow waist, and an everted lip; those from the Jin and Yuan periods generally have globular bodies and a small, ringed mouth.

Related bottles include the example in the Museum of Fine Arts, Boston, illustrated in The Charles B. Hoyt Collection: Memorial Exhibition, exh. cat., Museum of Fine Arts, Boston, 1952, p. 78, accession number 50.1593; the bottle illustrated by Henry John Anthony Kleinhenz, Pre-Ming Porcelains in the Chinese Ceramic Collection of the Cleveland Museum of Art, facsimile reproduction of a Ph.D. dissertation submitted to Case Western Reserve University, Ann Arbor, Michigan, 1977, pp. 409-11; the bottle in The Tokyo National Museum, illustrated by Margaret Medley, Yüan Porcelain and Stoneware, London, 1974, opposite p. 132, color pl. H; and the bottle in the Tokyo National Museum,Chugoku no toji: Tokubetsuten (Chinese Ceramics: A Special Exhibition), Tokyo National Museum, Tokyo, 1994, p. 151, no. 223. A guan jar in the Asian Art Museum of San Francisco, accession number B60 P4+, has a virtually identical footing and base and a closely related decorative scheme that comprises three peonies painted in overglaze russet slip.
Christie's. THE COLLECTION OF ROBERT HATFIELD ELLSWORTH PART I - MASTERWORKS INCLUDING INDIAN, HIMALAYAN AND SOUTHEAST ASIAN WORKS OF ART, CHINESE AND JAPANESE WORKS OF ART, 17 March 2015, New York, Rockefeller Plaza