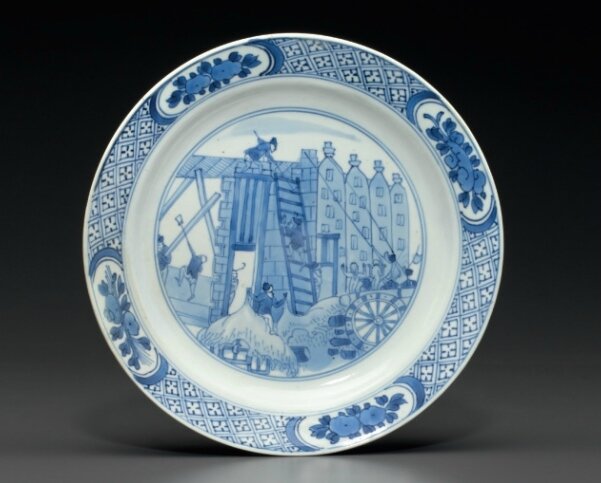 A blue and white 'Rotterdam Riots' dish, Kangxi period, circa 1690-1695. Estimate $3,000 - $5,000. Price Realized $6,250 . Photo Christie's Image Ltd 2015
The dish is decorated in the center with the well known scene of a row of Dutch houses, showing figures climbing haystacks and a tall ladder to reach the top of one of the houses, with an unruly crowd at the right near cannons, all enclosed by a border of four floral panels set against a diaper ground. The underside of the rim is embellished with a formal lotus scroll beneath four wan emblems and the base is inscribed with an apocryphal Chenghua mark. 8 in. (20.3 cm.) diam.
Provenance: Heirloom & Howard, Ltd., London, 1979.
Collection of Julia and John Curtis.
Notes: The earliest known examples of Chinese porcelain ordered with a Western historical/political subject, dishes with this scene depict the demolition of the house belonging to the Chief Baillif, Jacob Zuylen van Nijevelt, on 4 October 1690, during the riots in Rotterdam. The violence was sparked after the brutal execution of Cornelis Kosterman, a young guard at the City Hall, who the townspeople believed to be innocent. The design derives from a medal struck in silver by Jan Schmeltzing after an engraving by Gerard van Loon to commemorate the riots. (fig. 1) This pattern can be found on a group of teabowls and saucers, as well as two sizes of dishes. It is assumed that the order for the porcelain production came soon after the actual events in 1690, when the political implications would still be relevant to the general public.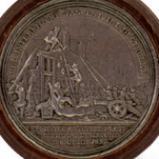 Fig. 1: Silver medal inscribed UBI INTERFICERE FAS EST, IBI DESTRUERE and iac:suyle a nyevelt praet: rott:domi destructio. d. 6 octob: 1690. Sold, Christie's Amsterdam, 14-16 December 2010, lot 773 (part lot).
For examples of dishes of this design in the British Museum, London and the Metropolitan Museum, New York, see Michel Beurdeley, Porcelain of the East India Companies, London, 1962, p. 189, cat. 170 and Clare Le Corbeiller,China Trade Porcelain: Patterns of Exchange, New York, 1974, p. 31, no. 12, respectively. A dish accompanied by one of the original medals was sold at Christie's Amsterdam, 14-16 December 2010, lot 773.
Christie's. AN ERA OF INSPIRATION: 17TH-CENTURY CHINESE PORCELAINS FROM THE COLLECTION OF JULIA AND JOHN CURTIS, 16 March 2015, New York, Rockefeller Plaza