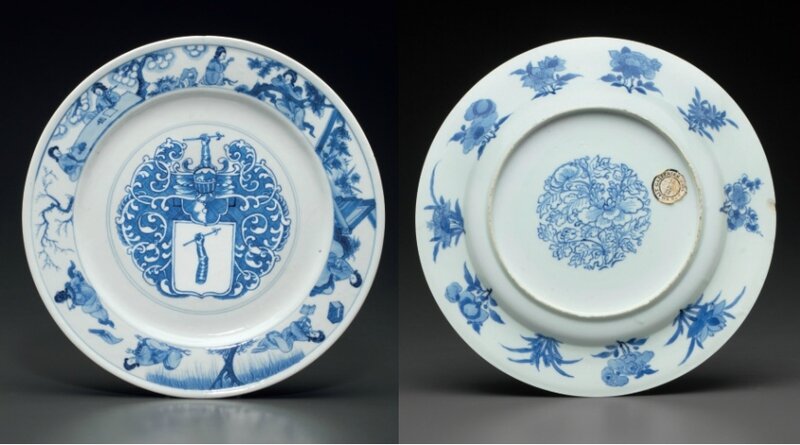 A blue and white Armorial dish, Kangxi period, circa 1690. Estimate $4,000 - $6,000. Price Realized $15,000 . Photo Christie's Image Ltd 2015
The dish, with flat everted rim, is decorated in the center with the large coat-of-arms of Johannes Camphuijs of Haarlem, enclosed at the rim with small vignettes of ladies at various leisurely pursuits. The reverse is painted with ten small floral sprays and a central peony medallion in a pencilled style on the base. 10 1/8 in. (25.7 cm.) diam.
Provenance: Ralph M. Chait Galleries, New York, 1987.
Collection of Julia and John Curtis.

Details.
Notes: This dish is a beautiful example of the earliest of private orders with Dutch arms, exhibiting a combination of Chinese and European painting styles. The cross-hatching evident in the ground of the central arms indicates it was copied from a European printed source, while the different ladies on the rim are typical of decoration on wares for the domestic market in the Kangxi period. The decoration on the back is quite unusual, combining more standard flower sprays around the rim with a central medallion painted in a penciled style seen on earlier Transitional wares.
The coat of arms belonged to the Ducth merchant Johannes Camphuys (1634-1695). He was originally a silversmith (note the hammer held in the hand of the arms) and went on to have a long career in the Dutch East Indies until 1690 when he finished his term as Governor-General of Batavia. He died in 1695 in his Japanese-style estate on the island of Edam in the Bay of Batavia. (Jochem Kroes, Chinese Armorial Porcelain for the Dutch Market: Chinese Porcelain with Coats of Arms of Dutch Families, Zwolle, 2007, cat. no. 1a, b.)

A similar example in the Gemeentemuseuem Den Haag is illustrated by Jan Van Campen and Titus Eliëns (eds.),Chinese and Japanese Porcelain for the Dutch Golden Age, Amsterdam, 2014, p. 210, fig. 16. Another, in the Groninger Museum, Groningen, is illustrated by Christiaan J.A. Jörg in 'Chinese Porcelain for the Dutch in the Seventeenth Century: Trading Networks and Private Enterprise', The Porcelains of Jingdezhen, Colloquies on Art & Archaeology in Asia No. 16, London, 1992, p. 198, pl. 10.
Christie's. AN ERA OF INSPIRATION: 17TH-CENTURY CHINESE PORCELAINS FROM THE COLLECTION OF JULIA AND JOHN CURTIS, 16 March 2015, New York, Rockefeller Plaza