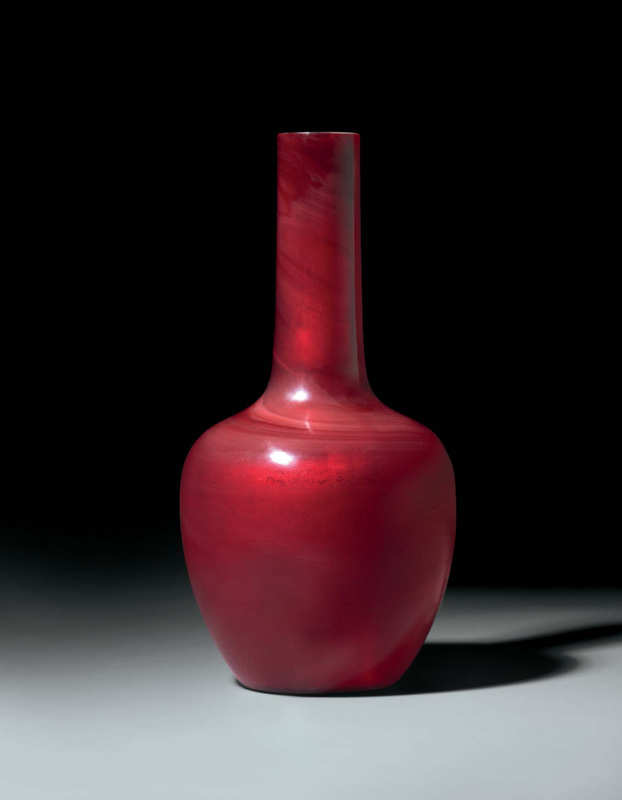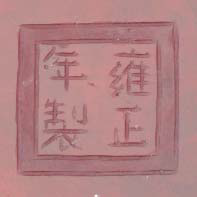 A rare garnet-red glass bottle vase, China, Qing dynasty, Yongzheng four-character wheel-cut mark within a square and of the period (1723-1735). Estimate $300,000 – $500,000. Price Realized $233,000. Photo Christie's Image Ltd 2015
Provenance: The Collection of Robert H. Ellsworth, New York, before 1997.
Literature: C. Brown and D. Rabiner, Clear as Crystal, Red as Flame, China Institute, New York, 1990, p. 55, no. 18.
Exhibited: C. Brown and D. Rabiner, Clear as Crystal, Red as Flame, China Institute, New York, 1990, p. 55, no. 18.
Notes: In 1696, the 35th year of the Kangxi reign, the Emperor commanded that a glass workshop be built near the recently erected Christian church in Canchiko, and he installed the German Jesuit missionary Kilian Stumpf as Director. There Stumpf worked with Chinese craftsmen from established glass-making centers such as Boshan in Shandong, and with other missionaries who were co-opted to work in the glass ateliers. In the Yongzheng reign the imperial command was issued to move the glassworks to the Yuanming yuan, where it would become part of the Liusuo (six workshops).

Brilliant ruby glass was one of the great achievements of the Qing imperial glass works. Most surviving 18th-century examples date to the Qianlong reign, and Yongzheng ruby glass vessels, like the current vase, are rare. The Qianlong Emperor clearly gained an admiration for ruby glass during the reign of his father, Yongzheng, since the first entries in the Palace Archives relating to glass in the first year of the Qianlong reign were for a bright red glass vase, a vase with red-overlay kui dragons on clear glass and a vase with red overlay on opaque white glass (discussed in Luster of Autumn Water – Glass of the Qing Imperial Workshop, Beijing, 2005, p. 74.

A very similar ruby-red glass bottle vase with somewhat shorter neck, also bearing a four-character Yongzheng mark within a double square, from the Clague collection, is illustrated in The Robert H, Clague Collection: Chinese Glass of the Qing dynasty 1644-1911, Phoenix, 1987, pp. 18-19, no. 3. A much smaller mallet-shaped ruby glass vase with a four-character Yongzheng mark within a single square, from the Lee Collection, is illustrated in Elegance and Radiance, Grandeur in Qing Glass: The Andrew K.F. Lee Collection, Hong Kong, 2000, pp. 154-5, no. 40.
Christie's. THE COLLECTION OF ROBERT HATFIELD ELLSWORTH PART I - MASTERWORKS INCLUDING INDIAN, HIMALAYAN AND SOUTHEAST ASIAN WORKS OF ART, CHINESE AND JAPANESE WORKS OF ART, 17 March 2015, New York, Rockefeller Plaza