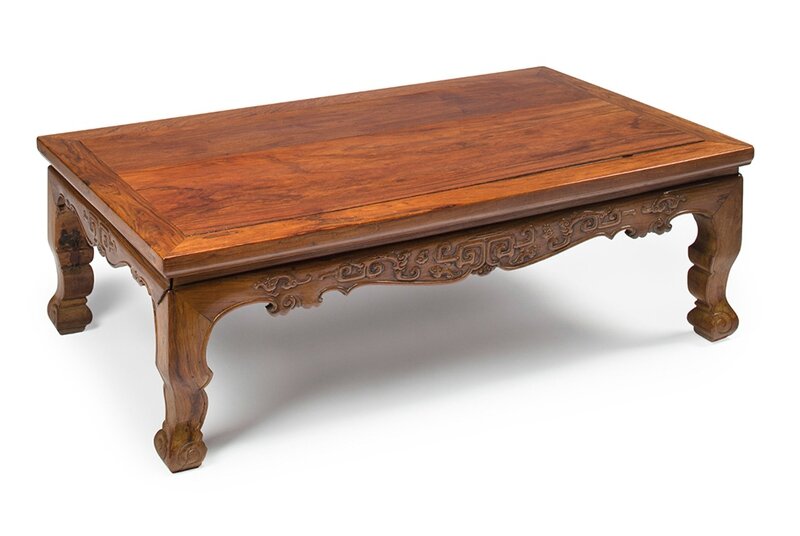 A Huanghuali kang table, 18th century. The two-board top set into a mitered, mortise and tenon frame over elaborate shaped aprons carved in high relief with centered addorsed brackets framed by disintegrated zoomorphs and cloud scrolls over a beaded border extending through the cabriole legs. 17 1/8 x 52 3/4 x 30 1/4in (43.5 x 134 x 76.8cm). Sold for: $341,000 (€321,941). Photo: Bonhams.
NEW YORK, NY.- The Chinese Works of Art from the Scholar's Studio sale at Bonhams totaled $2.89 million that was led by strong selections of huanghuali furniture from the esteemed collection of Mark S. Pratt, a career United States diplomat whose tenure was completed with his retirement as the US Consul General at Guangzhou in 1989.
The highlight of the afternoon was the sale of a huanghuali kang table, 18th century that achieved $341,000, almost 7 times its high estimate of $50,000. Huanghuali furniture is highly desirable for its color and distinctive grain and was particularly prized during the Ming and early Qing dynasties. A number of fine Chinese paintings also from the Pratt collection were the subject of competitive bidding with an eighteenth century album by Li Shizhuo (1687-1770) selling for $56,250, over seven times the estimate, and an album by Chen Hongshou (1768-1822) selling for $75,000, five times the estimate.
Dessa Goddard, Vice President and Director of Asian Works of Art at Bonhams in North America says, "The results of today's sale has yet again demonstrated the strength of our offerings. The Chinese art market remains extraordinarily buoyant as we are seeing significantly more knowledgeable Western and Chinese collectors entering the arena. We are feeling very optimistic about our next sale in Hong Kong."

Other highlights of the afternoon spanned various categories, which include:
· An anonymous Ming dynasty hanging scroll that carried a pre-sale estimate of $60,000 – 80,000, which sold for $149,000. The vibrant and dynamic painting illustrates a knickknack peddler, an itinerant merchant and his cart are surrounded by animated children. The scene is intricately detailed with delicately drawn faces, rich detailing of the merchant's wares, and the sumptuous fabric of the children's clothes.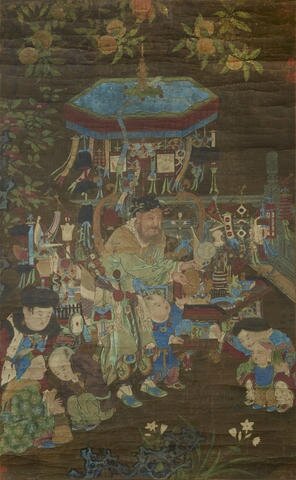 Anonymous (15th century), A Knickknack Peddler. Hanging scroll, ink and color on silk, unsigned, with five collectors' seals reading Qixi Dian bao,Yuting Tushu, a double dragon seal, Zijing fuyin, and chen Li Guangtao jingcang. 61 x 36 1/2in (155 x 92.7cm). Sold for US$ 149,000 (€140,672). Photo: Bonhams.
Provenance: Acquired by the grandparents of the current owner prior to 1936
Notes: Knickknack peddlers are a classic theme in Chinese genre painting, and as a rule, these works depict itinerant merchants surrounded by animated children ogling the toys, sweet treats, charms and oddities weighing down the merchant's cart. Originating in the Song dynasty with artists such as Su Hanchen and Li Song (active 1190-1265), these compositions were later embraced by artists working under imperial patronage in successive dynasties with the motivation of hearkening back to the glory of the Song period.

This painting is likely to have been produced under the aegis of the Ming imperial painting academy. Much of Ming court art emulates artistic styles of the Song dynasty, consciously positioning Ming society and rule as a direct successor to the Song, an era of Chinese history that was looked to as a golden age of ethnic-Han self-rule.

The merchant's cart and its contents are rendered with unusual detail in this example, and upon close inspection, one can see the speckled bamboo, gilt lacquer, carved wood and elaborately wrought metal fittings from which the cart is built. From the fabric canopy and bamboo poles are hung numerous embroidered ribbons and ornaments and we even find a group of three delicate silk mesh official's caps, made in miniature for children's costumes. The cart holds precious objects including corals, peacock feathers, bronzes, porcelains, musical instruments, books, silks, mirrors and hair ornaments. It is a fascinating record of contemporary luxuries. The peddler beats a drums as one the children causes an exquisitely rendered puppet to dance in time and a smaller child, scared by the puppet, is comforted by old older friend.

While in the Song dynasty, knickknack peddler paintings often illustrated poor peasants in authentically lively street scenes, in this Ming dynasty example we see an elderly retainer playing the role of a merchant for the entertainment of the children of an elite family, all within the cosseted confines of a flowery terrace garden. The rich details of the merchant's cart are matched by the carefully rendered clothing, and delicately drawn faces of the figures. The children wear fine earrings, torques and headdresses, as well as garments of sumptuous fabrics and furs, perhaps revealing noble, if not imperial birth. The peddler, instead of being attired in the tatters of a peasant, clothes himself in theatrically ornate silks of many colors and we note especially the gorgeously delicate shoes on all of the figures. By re-purposing the knickknack peddler trope as a lavish scene of harmonious home-life in a wealthy household, the painter suggests Ming society as prosperous and peaceful.
. A Song dynasty hanging scroll attributed to Liang Kai (active c 1172-1204), the painting illustrates a White Egret, which sold for $100,000.

Attributed to Liang Kai (active c 1172-1204), White Egret. Hanging scroll, ink on silk, with two collectors' seals, with a fitted gilt lacquer box. 39 x 15in (99.3 x 38.2cm). Sold for US$ 100,000 (€94,410). Photo: Bonhams.
Provenance: The Tsao Family collection
Published: Teisuke Toda and Hiromitsu Ogawa comp.Comprehensive Illustrated Catalogue of Chinese Paintings, Second Series, Volume 1: American and Canadian Collections, University of Tokyo Press, 1998, p. 246, A53-006, as Liang Kai (1172-1204).
Notes: Liang Kai was a painter in the Southern Song court, who later became a Chan Buddhist monk. James Cahill notes that Japanese collections tend to preserve the artist's gonbipaintings, while those in Chinese collections are largely in the xieyi style, the mode that Liang Kai is widely associated with. This particular gongbi work has a Japanese mounting.
· Another beautiful hanging scroll, an ink and color on paper work by Zhang Daqian (1899-1983), one of the most prodigious and desired Chinese artists of the 20th century, titled Fish and Flowers, 1981, which brought in $93,750.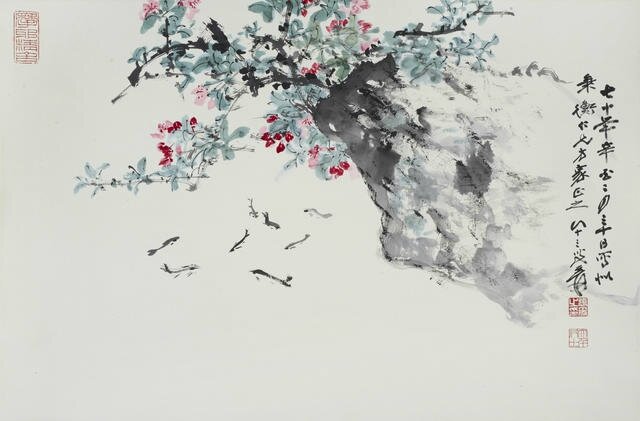 Zhang Daqian (1899-1983), Fish and Flowers, 1981. Hanging scroll, ink and color on paper, inscribed by the artist and dated Qishi nian xinyou er yue sanshi ri (70th year, 1981, second month, thirtieth day) with a dedication to Bingheng, signed Yuan with three seals of the artist readingZhang Yuan zhi yin, Daqian jushi and Moye Jingshe. 17 3/4 x 27in (45.1 x 68.5cm). Sold for US$ 93,750 (€88,510). Photo: Bonhams.
Provenance: According to the artist's inscription the painting was dedicated to Bingheng (Du Bingheng). The current owner purchased it directly from Du Bingheng.
· An excellent collection of jades, amber and hardstone carvings, most from a single Midwestern collection, that were fought over by Mainland Chinese buyers both in the room and via the internet. Several pieces sold far over their estimates with 23 of the 26 lots finding buyers. The collection sold for over a half a million dollars.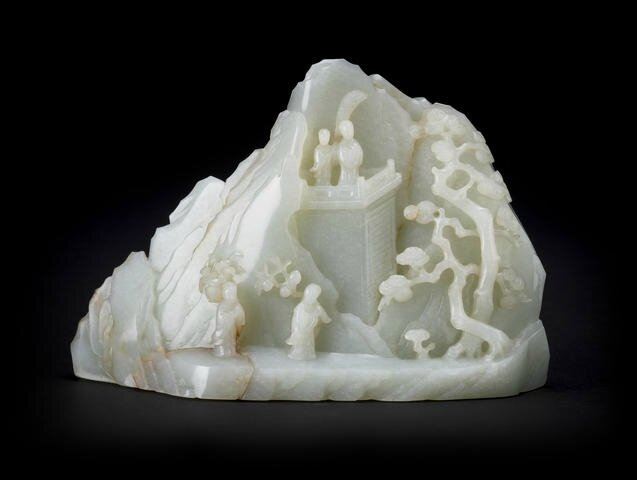 A white jade mountain, Late 19th-Early 20th century. Sold for US$ 93,750 (€88,510). Photo: Bonhams.
The mountain carved in high relief and deeply undercut, depicting a continuous, mountainous landscape, on one side showing symbols of longevity including deer and cranes with lingzhi fungus between their jaws, the other side displaying symbols of prosperity including ladies and attendants bearing large branches laden with heavy peaches and flowers; the white jade with a pale green cast and russet inclusions, with a finely carved and pierced dark wood stand. 7 3/4in (19.5cm) long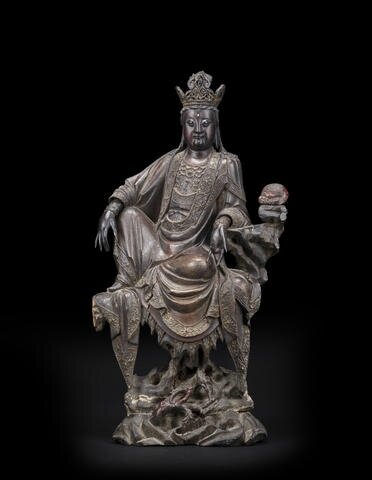 A large lacquered wood figure of Guanyin, 18th century. Sold for US$ 87,500 (€82,609). Photo: Bonhams.
The figure seated in royal ease on a delicately carved perch formed as a heavily eroded stone outcropping, wreathed in roots and foliage, the deity bearing a serene expression, with an openwork crown and long cascading coiffure, the forehead set with a mother of pearl urna, the chest adorned with an elaborate jeweled necklace, wearing robes with key-fret and lotus borders carved to imitate embroidery, the robes incised with wave and lotus patterns, flowing down off her perch in pendant folds, the graceful, movable hands held in their sockets by pins, one elbow resting on a boulder surmounted by an pomegranate-form bell, the surface revealing layers of gilt and lacquer. 32.5in (82.5cm) high
The next sale of Chinese art will be held in Hong Kong. A notable highlight from this sale, which traveled to Bonhams' Madison Avenue galleries to preview alongside the New York sales, is an imperially inscribed album by Wang Hui (1632-1717) that received a great deal of attention. Museums and high-end collectors now await it to be offered at the Fine Chinese Works of Art sale in Hong Kong on June 4, 2015.

The next Chinese Art sale in New York will be held in September 2015.