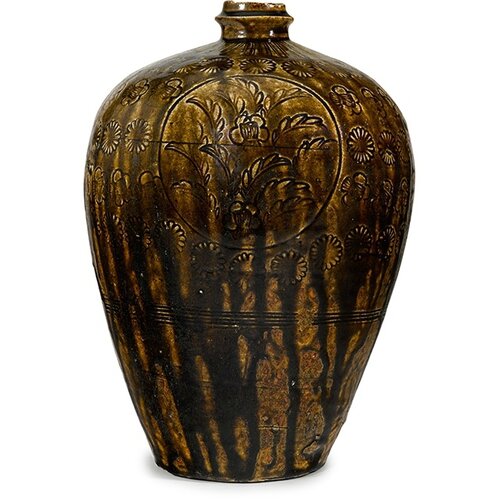 A large and rare Ko-Seto heishi (flask), Kamakura period (early 14th century), 12 1/16in (30.5cm) high. Sold for: $275,000. Photo: Bonhams.
NEW YORK, NY.- Bonhams ended its Asia week sales in style when the Fine Japanese & Korean Works of Art on March 18 made more than $1.3 million. The rarest item on offer, an early 14th century large Japanese Ko-Seto heishi (flask), fetched $275,000 and was the top lot of the day.

"Today's sale of the important ko-seto flask underscores Bonhams' commitment to bringing important Japanese works of art to the marketplace. As the only New York auction house currently holding live auctions dedicated to the sale of Japanese and Korean art, and through our exhibitions such as Transformation, Summation, Creation, Bonhams is committed to support and grow the buyer base in these areas." says Dessa Goddard, Vice President and North American Director of Asian Works of Art at Bonhams.

Other highlights included:
· An inlaid iron tetsubin (kettle), Meiji era (late 19th century) that sold to the highest bidder for $125,000, more than 8 times its high estimate.
An inlaid iron tetsubin (kettle), Meiji era (late 19th century). Sold for US$ 125,000 (€117,074). Photo: Bonhams.
The globular vessel finished in a rough stone-like texture and decorated with scenes of Kinkakuji Temple and its environs in gold and silver nunome-zogan, the cover decorated with a coiling dragon encircling a plum-blossom finial, the loop handle with archaistic Chinese dragon designs and scrolling vines - 8 1/2in (21.6cm) high (including handle)
· A beautiful Korean work of art, a 17th century bronze figure of a Buddha from the Joseon dynasty that achieved $50,000, 2.5 times the high estimate.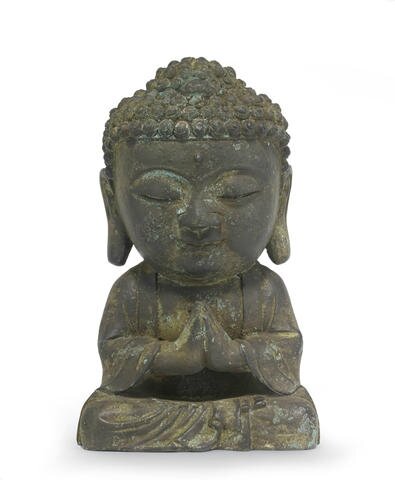 A bronze seated figure of the Buddha, Joseon dynasty, 17th century. Sold for US$ 50,000 (€46,829). Photo: Bonhams.
Cast with child-like features and downcast eyes to his head covered with large curls that emphasize its great size in contrast to the diminutive body, the joined hands pointing upward in front of raised swastika on his chest framed by garment folds that envelop his legs crossed in the posture of meditation but leave the sole of his right foot visible; the dark charcoal gray metal showing patches of greenish corrosion in various crevices - 11 3/4in (30cm) high
Notes: The joined hands of this bronze Buddha seem to be an anomaly; but raised hands do appear on carved wood attendant figures such as the arhats in the Yongmun-sa Buddha assembly, dated 1684; and the upper row of standing bodhisattvas and attendants in the Silsang-sa Buddha assembly, dated 1782 (see Youngsook Pak and Roderick Whitfield, Handbook of Korean Art: Buddhist Sculpture, Seoul, 2002, nos.105 and 105-1, pp. 442-446). These wood figures from the late seventeenth and eighteenth century also have in common an enlarged head with youthful features on a small body, although less exaggerated than this cast bronze image.
Also of interest for the exaggerated proportion of the heads to bodies, as well as varied hand gestures, are the four small gilt bronze Buddhas surviving from a group of 23 commissioned by Queen Inmok in 1628 (see Pak and Whitfield, no. 102, pp. 432-433) Of note is the Vairocana, the largest Buddha (11.7cn high), with raised hands held in the diamond fist gesture. See also the Candraprabha, Bhaisajyaguru and Suryaprabha from the same set included in the exhibition Treasures from Korea, Arts and Culture of the Joseon Dynasty, 1392-1910, Philadelphia, 2014, cat. nos. 4-23, 4-24 and 4-25, p. 264; the Vairocana is photographed (fig. F-11) and discussed on p. 61.
· A classically beautiful Japanese screen called Rakuchu rakugai zu (Scenes in and around the Capital) by Kumagai Michimasa, 19th century, which realized $42,500, over two times the high estimate.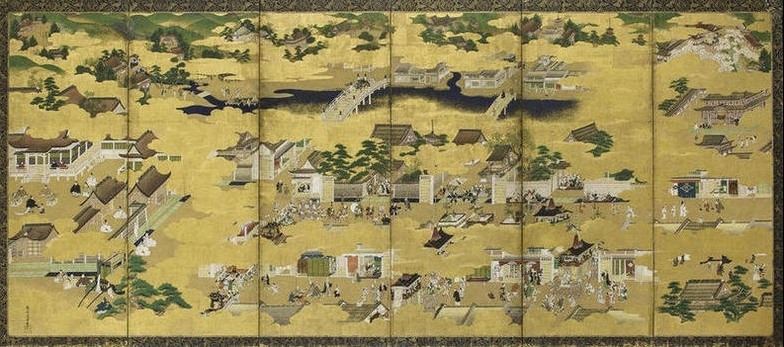 Kumagai Michimasa (19th century), Rakuchu rakugai zu (Scenes in and around the Capital). Sold for US$ 42,500 (€39,805). Photo: Bonhams.
A pair of large six-panel folding screens, ink, color and gold on paper; each signed Kumagai Dosho/Michimasa hitsu, with one seal [illegible];66 5/8 x 147 7/8in (169.4 x 375.6cm)
· A fine Satsuma vase by Yabu Meizan that fetched $31,250.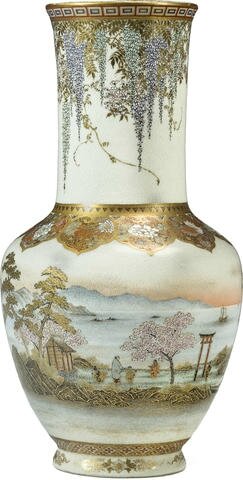 A large and fine Satsuma vase by Yabu Meizan, Meiji era (late 19th century). Sold for US$ 31,250 (€29,268). Photo: Bonhams.
Decorated on a clear crackled glaze in polychrome enamels and gilt with a continuous scene of Lake Biwa including figures gathered around blossoming cherry trees at a shrine and boats along a rocky coastline, a mountainous landscape in the distance, all above a band of floral lozenges, the shoulder painted with a lappet border of alternating panels containing peonies and chrysanthemums, the elongated neck delicately painted with trailing wisteria in pink, blue and purple, the top edge with a key-fret border, the top rim and the foot rim decorated with a floral vine pattern, signed in gilt on the underside Yabu Meizan - 8 5/8in (21.8cm) high
· A large standing wood figure of Kannon, Nanbokucho period (14th century), which sold for $27,500, more than three times the high estimate of $8,000.

A standing wood figure of Kannon, Nanbokucho period (14th century). Sold for US$ 27,500 (€25,756). Photo: Bonhams.
Yosegi-zukuri (carved and assembled in sections) with eyes and urna inlaid in crystal, the figure shown standing with hands held in the jnana mudra (gesture of knowledge) and the robes draped over the left shoulder and gathered at the waist, set on a later stand - 24 3/8in (61.9cm) high (figure)
Provenance: Purchased Kusaka Shogado, Tokyo, 1957
Jeff Olson, Director of Japanese Art at Bonhams says, "In today's sale, we saw strong bidding across different mediums; the market responded especially well to select offerings such as ceramics, lacquer, and metalwork. We were pleased to reintroduce to the New York collector base a selection of Korean works of art and we look forward to building on that success."

The next auction of Japanese art will be held in September 2015.