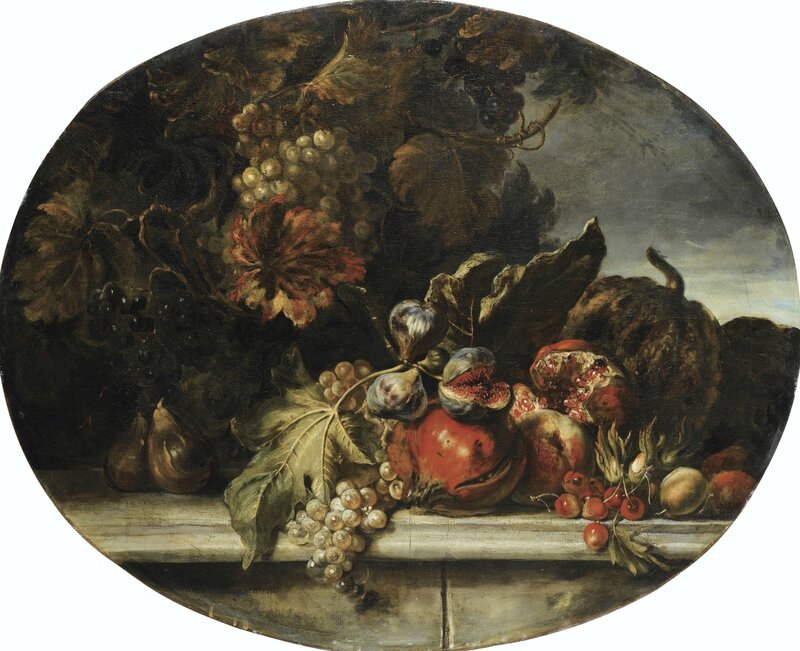 Nicolas de Largillierre (Paris 1656 – 1746), Nature morte aux raisins, grenades et figues sur un entablement de pierre. Estimation 80,000 — 120,000 €. Photo Sotheby's.
Huile sur toile de forme ovale; 85 x 105 cm
Provenance: Probablement collection du comte de Nicolaï au château de Montfermeil ;
Vente anonyme, Paris, Hôtel Drouot, Me Bellier, 25 mars 1938, lot n°14
Notes: Formé à Anvers, le jeune Largillierre apprend le métier de peintre chez Antoine Goubeau, spécialiste du paysage italianisant. Ses véritables premières œuvres montrent un attachement et un talent particulier pour la nature morte avec une influence prononcée de la manière nordique en générale et de Jan Davidsz de Heem en particulier. Il deviendra l'un des plus grands et des plus prolixes peintres de portraits en France. Largillierre est un artiste complet, érudit, que ses voyages ont ouvert à la culture européenne (Flandres, Hollande, Angleterre). Il peint vigoureusement avec une technique et un métier généreux et virtuose.

L'œuvre que nous regardons est une belle illustration de cette richesse et propose un superbe exemple de nature morte chez Largillierre, genre qu'il continuera de réaliser tout au long de sa carrière. On retrouve dans ses œuvres une autre toile présentant, avec de nombreuses variantes, et dans un format rectangulaire, une composition très similaire mêlant figues, melon et grenades (France, collection particulière, voir Largillierre 1656 -1746, musée Jacquemart-André, 2003 – 2004, p. 178-179, n°62).
Sur notre tableau la matière est grasse, épaisse, elle est presque sculptée par le peintre. Les effets de volumes participent aux reliefs et donnent à chaque élément de cette nature morte une puissance, une réalité très expressive. Le tableau est fort, présent. Il est à regarder … presque à toucher !
NICOLAS DE LARGILLIERRE ; STILL LIFE WITH GRAPES, POMEGRANATES AND FIGS ON A STONE LEDGE ; OIL ON OVAL CANVAS; 33 1/2 by 41 3/8 in.
Trained in Antwerp, Largillierre at a young age studied as a painter under the landscape specialist Anton Goubeau. His early works demonstrated a commitment and a special talent for still life with an overall and heavy Northern European influence and particularly that of Jan Davidsz. de Heem. Largillierre became one of the greatest and most prolific portrait painters in France. He was a well-rounded and scholarly artist opened to European culture (Flemish, Dutch and British). He vigorously painted with a generous and virtuoso technique and skill.
The presented work is a fine illustration of this wealth and proposes a superb still life example by Largillierre, a genre he realized throughout his career. Another rectangular format canvas, among his corpus filled with variants, is very similar with a composition combining figs, melons and pomegranates (France, private collection, consult Largillière 1656 -1746, Jacquemart-André Museum, Paris, 2003 - 2004, pp 178 -179, no. 62).
The matter on our painting is slick and dense as if almost sculpted by the artist. The volume effects are involved in the relief and give strength an expressive realism to each element in this still life. The painting has a powerful presence. It must be seen ... almost felt!
Sotheby's. Collection Louis Grandchamp des Raux : Le choix de l'élégance. En association avec Artcurial Paris, 26 mars 2015, 06:00 PM