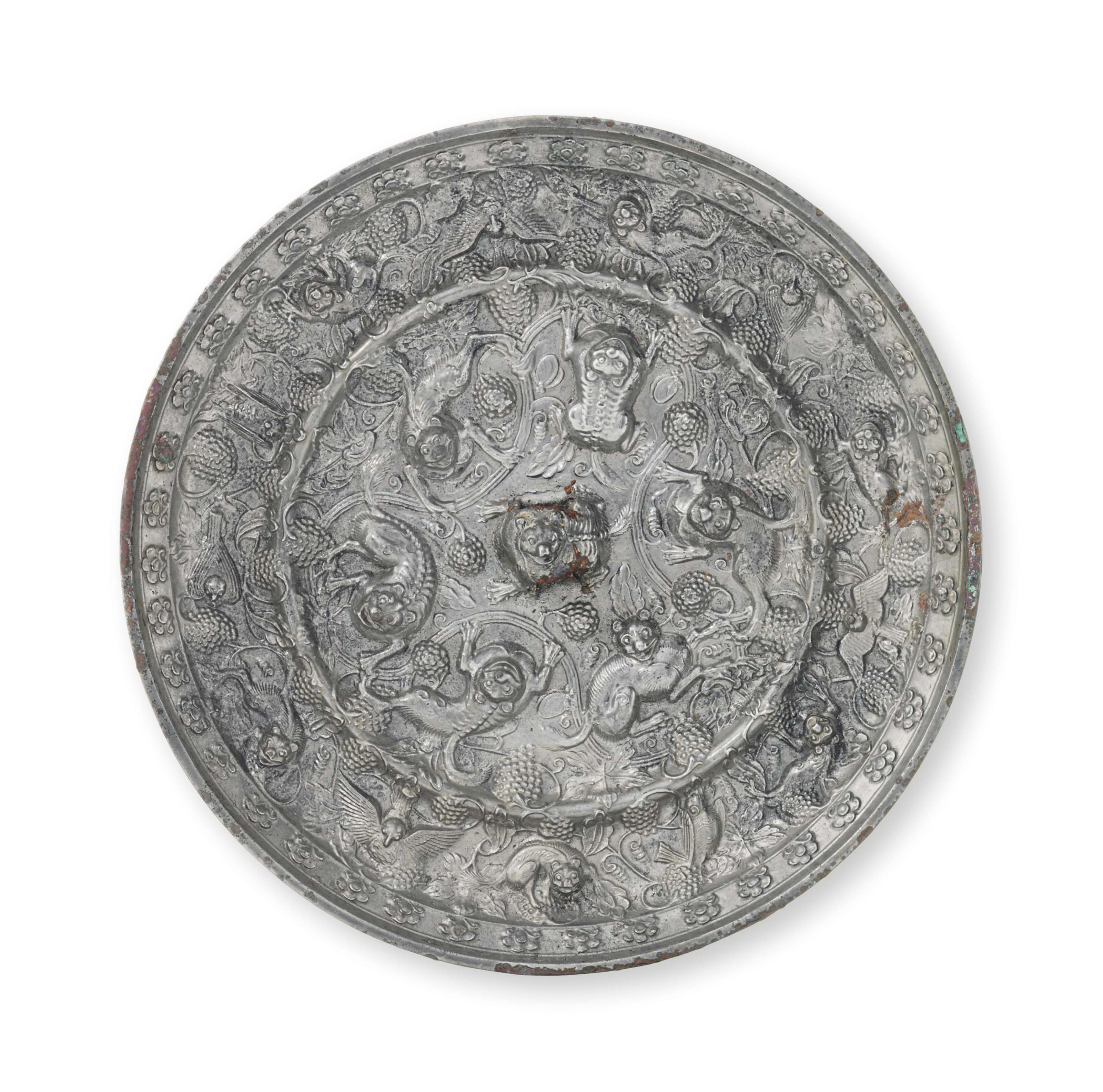 Lot 725. A large silvery bronze 'Lion and grapevine' circular mirror, China, Tang dynasty (AD 618-907); 7 in. (17.7 cm.) diameter; 1446 g. Estimate $12,000 - $18,000. Price Realized $173,000. Photo Christie's Image Ltd 2015
Crisply cast, the central lion-form knob surrounded by five lions clambering amidst fruiting grapevine continuing over a raised border into the outer field where further lions alternate with birds below small florets at the rim, box.
Provenance: The Collection of Robert H. Ellsworth, New York, acquired in Hong Kong, 1989.
Note: Lion designs were first introduced into China with the introduction of Buddhism, and became a popular motif on bronze mirrors in the Tang period, very often combined with grape designs. The quality of the present mirror is exceptionally fine, which is borne out by the crisp casting and fine detailing. What is unusual is the way in which the grapevines extend over the inner ridge of the mirror, thereby producing a more 'all-over' design, a feature which appears to have evolved from the more simplified and more common designs of the earlier Tang period. Compare the very similar, but larger (24 cm. diameter), mirror, with extremely rare blue pigment on the decoration, illustrated inAncient Bronze Mirrors from the Shanghai Museum, Shanghai, 2005, no. 88, p. 252. Another very similar, but smaller (13.9 cm. diameter), mirror is in The Carter Collection of Chinese Bronze Mirrors and is illustrated in the exhibition catalogue, Circles of Reflection, The Cleveland Museum of Art, no. 56, p. 66, where the author, Ju-hsi Chou, points out that a mirror with the same design was found in the combined tomb of General Anpu (d. 664) and his wife (d. 704) and concludes that these mirrors should be dated to the last decades of the 7th century.
Christie's. THE COLLECTION OF ROBERT HATFIELD ELLSWORTH PART IV - CHINESE WORKS OF ART: METALWORK, SCULPTURE AND EARLY CERAMICS, 20 March 2015, New York, Rockefeller Plaza.