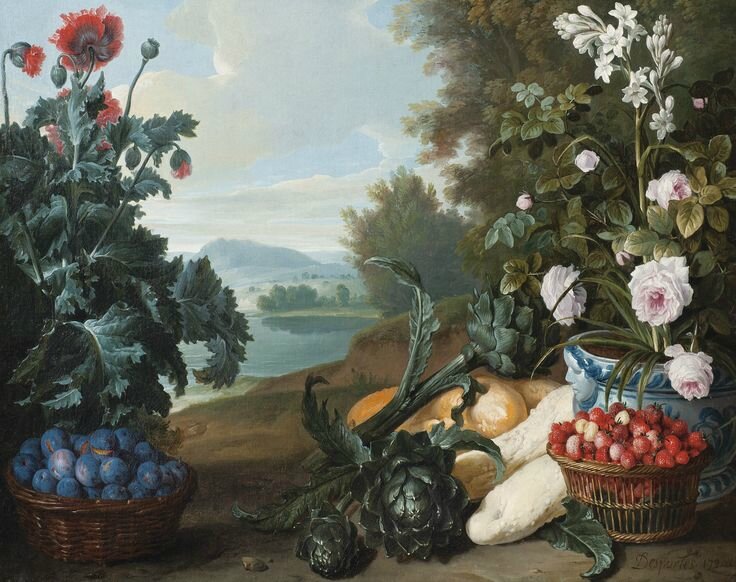 François Desportes (Champigneulle 1661 - 1743 Paris), Fruits, fleurs et légumes dans un paysage. Estimation 200,000 — 300,000 EUR. Photo Sotheby's
Signé et daté en bas à droite Desportes 1720. Huile sur toile, 93 x 119 cm
Provenance: Vente anonyme, Paris, Hôtel Drouot, Mes Ader et Tajan, 10 avril 1992, lot n°34 ;
Acquis à cette vente
Bibliographie: P. Jacky, François Desportes (1661-1743), Thèse de doctorat, Université de Paris IV-Sorbonne, 1999, t. IV, p. 702 ;
G. de Lastic et P. Jacky, Desportes, catalogue raisonné, Saint-Rémy-en-l'Eau, 2010, vol. 1, p. 161 et vol. 2, p. 171, n° P643
Notes: La nature morte avec fleurs, légumes et paniers de fruits sur fond de paysage est une œuvre qui brille par l'équilibre de sa composition, la douceur de son chromatisme. Francois Desportes maîtrise ici les éléments qui font de lui un des plus grands artistes du XVIIIe siècle français dans le genre de la nature morte et du paysage. Il nous livre ici une vision poétique, harmonieuse, presque romantique d'un paysage parfaitement ancré dans le raffinement du siècle.
Les éléments de nature morte comme le panier de prunes ou encore le panier de fraises renvoient à une culture très classique du genre de la nature morte et révèlent pleinement la parfaite connaissance des œuvres de Louyse Moillon, François Garnier et Pierre Dupuis. Il associe le fond de paysage qui est une de ses grandes inventions en extérieur. En effet, Desportes est un des premiers artistes à s'intéresser à peindre le paysage réel. C'est à partir de 1700 qu'il se consacre à la réalisation de nombreuses études de paysages et de plantes réalisées in situ (nombre d'entre elles sont conservées à la manufacture nationale de Sèvres). Ces études faites d'après nature sont autant de motifs ornementaux destinés aux grandes natures mortes qu'ils commencera à peindre dans les années 1704 – 1708. Ainsi, dans notre tableau, la tige de pavot fleuri est librement inspirée de l'esquisse peinte sur papier (49 x 23 cm.) du musée de Sèvres (voir G. de Lastic et P. Jacky,Desportes catalogue raisonné, Saint Remy en l'eau, 2010, p. 52, n° P211 reproduit en couleur).
Le tableau que nous présentons est l'aboutissement des premières expériences du peintre. Issu d'une famille modeste, François Desportes était destiné à être paysan mais, à la suite d'une longue période de convalescence, il s'initia au dessin et acquit peu à peu une grande maitrise de cette technique. Il devint l'élève de Nicasius Bernaerts, d'origine flamande, alors membre de l'Académie royale et spécialisé dans la peinture animalière. Au cours de ses premières années, il découvrit ainsi la peinture flamande dont il va subir l'influence tout au long de sa carrière.
A la mort de Bernaerts, Desportes ne se fia plus qu'à la nature. En 1695 – 1696, il fut nommé portraitiste à la cour de Pologne avant d'être rappelé en France où il abandonna le genre du portrait pour se consacrer presque exclusivement à la peinture animalière. Reçu à l'Académie royale en 1699, il participa à la décoration de la ménagerie de Versailles. Outre la peinture animalière, Desportes se distingua aussi par ses natures mortes. On y perçoit l'approche réaliste flamande qui se traduit aussi bien dans les fonds de paysage que dans le rendu riche et méticuleux des matières alliée à une délicatesse toute française.
FRANÇOIS DESPORTES ; FRUITS, FLOWERS AND VEGETABLES IN A LANDSCAPE ; SIGNED AND DATED LOWER RIGHT DESPORTES 1720 ; OIL ON CANVAS; 36 5/8 by 46 7/8 in
The still life with flowers, vegetables and fruit baskets against a landscape background is an artwork that shines through the balance of its composition and soft chromaticism. François Desportes controlled these elements that made him one of the greatest 18th century French artists dedicated to the still life and landscape genres. Here, he gives a poetic, harmonious, almost romantic vision of a landscape thoroughly rooted in the sophistication of the century.
The still life elements such as the basket of plums and strawberries refer to a very classical culture of this genre, and thoroughly reveal his full-depth knowledge of works by Louyse Moillon, François Garnier and Pierre Dupuis. He combined it with the landscape background which was one of his great outdoor creations. In fact, Desportes was one of the first artists to be interested in painting the real panorama. After 1700, he was dedicated to the realization of many studies of landscapes and plants carried out in situ (many of which are kept at the National Sèvres Porcelain Manufactory). These works made from nature were all ornamental motifs reserved for large still lifes that he began to paint from 1704 to 1708. Thus, the poppy flower stem in our painting was loosely based on a sketch painted on paper (49 x 23 cm [19-1/4 x 9 in.]) from the National Sèvres Porcelain Manufactory Museum (consult G. de Lastic and P. Jacky, Desportes, catalogue raisonné, Saint-Rémy-en-l'Eau, 2010, p. 52, n° P211 reproduced in color).
The painting that we present is the culmination of the painter's early experiences. Born into a modest family, François Desportes was destined to be a peasant, but after a long period of convalescence, he learned to draw and gradually acquired great mastery of this technique. He became a pupil of Nicasius Bernaerts, of Flemish origin, who was a member of the France's Royal Academy and specialized in animal painting. During these early years, he discovered Flemish painting which influenced him throughout his career.
When Bernaerts died, Desportes was dedicated only to wildlife. Around 1695-96, he was appointed Poland's court portrait painter before returning to France, where he abandoned the portrait genre to devote himself almost exclusively to painting animals. Admitted into France's Royal Academy in 1699, he was involved in the decoration of the menagerie at Versailles. Besides animal painting, Desportes was widely recognized for his still lifes. One can perceive his Flemish realistic approach which transpires onto the landscape backgrounds as well as in the rich and meticulous rendering of textures with French delicacy.
Sotheby's. Collection Louis Grandchamp des Raux : Le choix de l'élégance En association avec Artcurial Paris, 26 mars 2015, 06:00