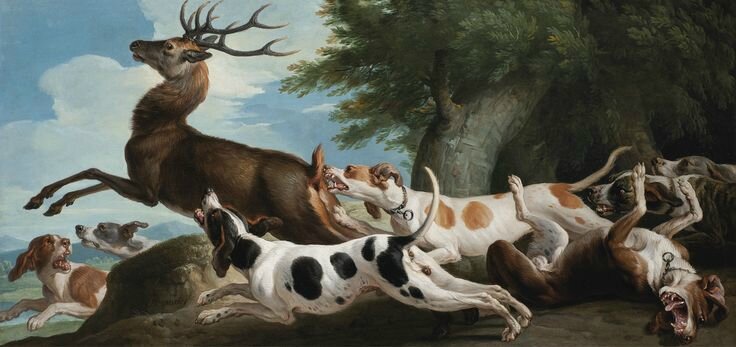 François Desportes (Champigneulle 1661 - 1743 Paris), Le débuché du cerf. Estimation 120,000 — 150,000 EUR. Photo Sotheby's
Signé en bas à gauche Desportes. Huile sur toile, 61 x 126 cm
Provenance: Vente anonyme, Lyon, Me Aguttes, 10 décembre 2011, lot n°138 ;
Acquis à cette vente
Notes: Nous remercions Pierre Jacky de nous avoir confirmé l'authenticité de ce tableau d'après un examen de visu.

A Marly, Versailles ou Meudon, François Desportes règne en maître sur la peinture de chasse dans les premières années du XVIIIe siècle. Il a les faveurs du roi et de son entourage et les commandes sont nombreuses avant que la concurrence de Jean-Baptiste Oudry ne lui fasse perdre les commandes royales.
Ses toiles s'intègrent pour la plupart dans des grands décors et - insérées dans des boiseries - elles ne constituent le plus souvent pas des tableaux dit "de chevalets". Les dimensions des toiles les plus grandes sont parfois modifiées par l'artiste lui-même pour s'adapter aux changements imposés par un architecte ou un commanditaire capricieux. Nombreuses sont les chasses au cerf peintes par l'artiste et si notre tableau fut un temps considéré comme ayant été réalisé pour l'antichambre du château de Meudon nous ne pouvons en aucun cas l'affirmer aujourd'hui [1].
Ne pouvant aujourd'hui retrouver en toute certitude la commande originelle de notre tableau, il convient de simplement conclure qu'il s'agit d'une œuvre de première qualité dans le corpus de l'artiste et qu'il ne serait pas surprenant d'y reconnaitre un jour une grande commande, peut-être royale.
[1]. Si une chasse au cerf a bien été peinte pour le décor du château du Grand Dauphin à Meudon, celle-ci a pu être identifiée avec le tableau aujourd'hui conservé au musée des Beaux-Arts de Besançon. Voir P. Jacky, op.cit., vol. II, n° P 397.
FRANÇOIS DESPORTES ; THE STAG HUNT ; SIGNED LOWER LEFT DESPORTES ; OIL ON CANVAS; 24 by 49 5/8 in
We are grateful to Pierre Jacky for confirming this painting to be a work by François Desportes, after first-hand inspection.
François Desportes reigned across Marly, Versailles and Meudon as the hunting painter master during the early years of the 18th century. The king and his entourage granted him privileges and gave him numerous commissions before competition from Jean-Baptiste Oudry arrived and caused his loss of royal assignments.

His canvases were mostly set within grand interiors and inset into the woodwork. They were often not referred to as "easel" paintings. The dimensions of his larger canvases were sometimes modified by the artist himself to adapt to changes made by the architect or the capricious client. The artist painted many stag hunts and our painting was once thought to have been realized for the anterooms inside Meudon Chateau. However, it cannot currently be confirmed [1].
Unable to find today with certainty the original commission of our painting, we should simply conclude that this is a work of high quality in the artist's corpus. Perhaps in the future one will not be surprised to discover it was an important assignment, perhaps royal.
[1]. If a stag hunt was painted to decorate the Grand Dauphin's chateau in Meudon, it could be identified as the painting in the collections of the Museum of Fine Arts of Besançon. Consult P. Jacky, op.cit., Vol. II, N° P 397.
Sotheby's. Collection Louis Grandchamp des Raux : Le choix de l'élégance En association avec Artcurial Paris, 26 mars 2015, 06:00