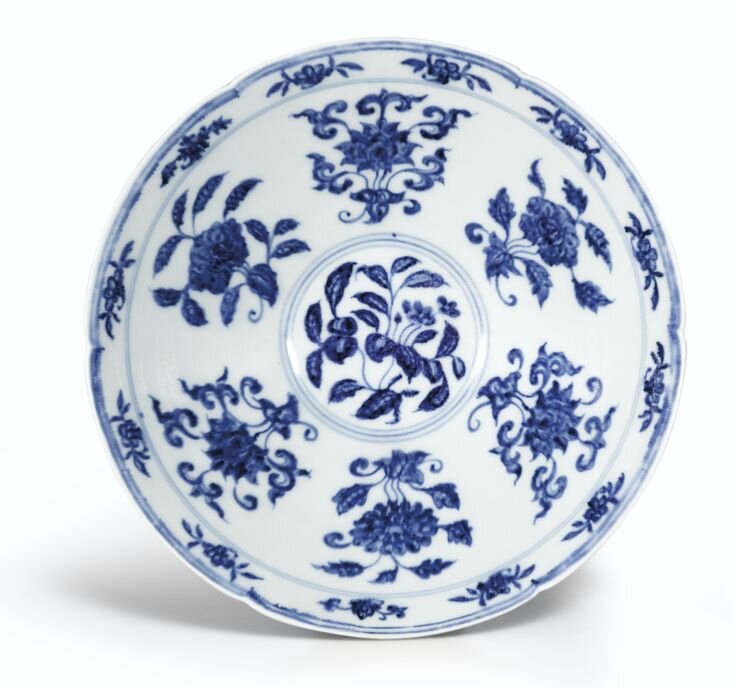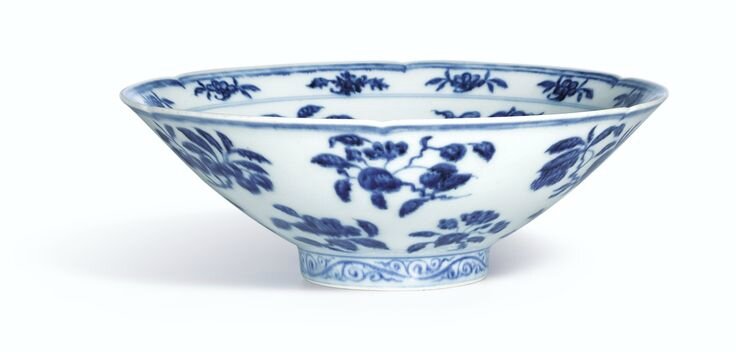 A fine and rare blue and white lobed bowl, Mark and period of Xuande. Estimate 8,000,000 — 10,000,000 HKD (911,546 - 1,139,433 EUR). Photo Sotheby's
of conical form with a six-lobed rim supported on a short slightly tapered foot, the interior centred with a medallion containing a flowering peach branch, surrounded by three sprigs of lotus flowers alternating with sprays of tree peony, chrysanthemum, and herbaceous peony, all beneath a row of small floral sprigs at the rim, the exterior painted with six fruit sprays comprising peach, cherry, loquat, pomegranate, grape, and lychee, alternating with six small floral sprays below including camellia, chrysanthemum, lotus, rose, and peony, the foot further encircled by a 'classic' scroll, the base inscribed with a six-character reign mark within a double-ring; 22.7 cm., 8 7/8 in.
Provenance: John Sparks Ltd., London, purchased in December 1935.
Collection of Mr. and Mrs. R.H.R. Palmer.
Christie's Hong Kong, 17th January 1989, lot 567.
The Jingguantang collection.
Christie's Hong Kong, 3rd November 1996, lot 546.
Exhibition: Selected Treasures of Chinese Art, Min Chiu Society Thirtieth Anniversary Exhibition, Hong Kong Museum of Art, Hong Kong, 1990, cat. no. 133.
Notes: This elegant conical shape with faint rim indentations is inspired by Song dynasty white wares and was used at Jingdezhen only in the Yongle and Xuande reigns, as well as for later copies of these early Ming patterns. Besides blue-and-white examples, bowls of this shape were also created in various monochrome glazes at Jingdezhen, but seem to have been mostly destroyed at the kiln site.
A bowl of this design from the Qing court collection, preserved in the Palace Museum, Beijing, is illustrated in Geng Baochang, ed., Gugong Bowuyuan cang Ming chu qinghua ci [Early Ming blue and white porcelain in the Palace Museum], Beijing, 2002, vol. 2, pl. 146, together with a Kangxi copy with a spurious Xuande reign mark, pl. 179; two Xuande bowls of this design in the National Palace Museum, Taipei, were included in the Museum's exhibitions Mingdai Xuande guanyao jinghua tezhan tulu/Catalogue of the Special Exhibition of Selected Hsüan-te Imperial Porcelains of the Ming Dynasty, Taipei, 1998, cat. no. 62, and Ming Xuande ciqi tezhan mulu/Catalogue of a Special Exhibition of Hsuan-te Period Porcelain, Taipei, 1980, cat. no. 36, the latter together with another Qing copy of similar design, cat. no. 35; and a fourth bowl in Taiwan, probably unmarked and predating the Xuande examples, was included in the exhibition Mingdai chunian ciqi tezhan mulu/Catalogue of a Special Exhibition of Early Ming Period Porcelain, Taipei, 1982, cat. no. 20. Another bowl of Xuande mark and period in the Capital Museum, Beijing, is published in Shoudu Bowuguan cang ci xuan [Selection of porcelains from the Capital Museum], Beijing, 1991, pl. 97; and one in the Shanghai Museum in Lu Minghua, Shanghai Bowuguan zangpin yanjiu daxi/Studies of the Shanghai Museum Collections: A Series of Monographs. Mingdai guanyao ciqi [Ming imperial porcelain], Shanghai, 2007, pl. 3-34.
Bowls of this type in private collections include one illustrated in Regina Krahl, Chinese Ceramics from the Meiyintang Collection, vol. II, London, 1994, pl. 671, in the collections of K.L. Dawes, John F. Woodthorpe and Frederick Mayer, sold in our London rooms, 6th April 1954, lot 24, and again in these rooms, 5th October 2011, lot 12. Another example from an old Japanese collection was sold in these rooms, 8th October 2013, lot 3030.
The design continued to remain popular throughout the Ming and Qing dynasties. Compare three bowls from the collections of President Herbert Hoover, Mr. and Mrs. Allan Hoover and Ira and Nancy Koger, sold in our New York rooms, 27th November 1990, lot 6, of Xuande mark and period, lot 9, of Wanli mark and period, and lot 8, a pair of bowls bearing an apocryphal Xuande mark but of 18th century date.
Sotheby's. Imperial Porcelain and Works of Art from a Hong Kong Private Collection, Hong Kong, 07 avr. 2015, 10:15 AM