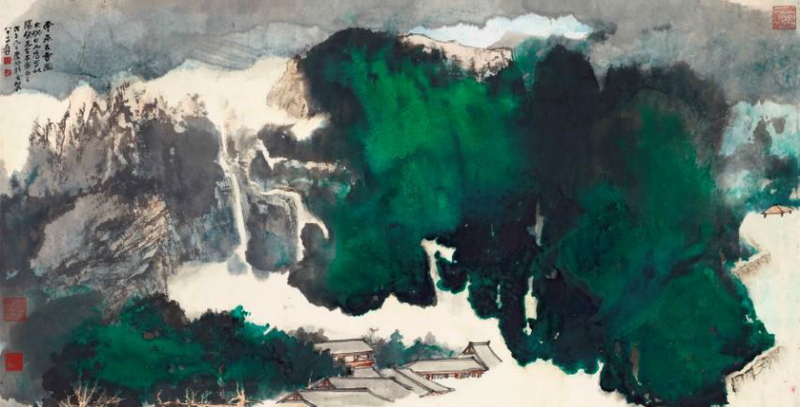 Zhang Daqian, Ancient Temple in the Mist, 1978, splashed ink and colour on paper, framed, 70.9 x 138.5 cm. Est. HK$18 – 25 million / US$2.3 – 3.2 million. Photo: Sotheby's.
Hong Kong - Sotheby's Hong Kong Fine Chinese Paintings Spring Sale will be held on 6 April in Hall 5, Hong Kong Convention and Exhibition Centre. Offering more than 300 paintings by modern Chinese artists, the sale is estimated in excess of HK$180 million / US$23 million*. Highlights include fresh-to-market works from the family collections of Zhang Daqian, Li Yanshan and Yuan Shikai, as well as Guangdong book collector Mo Boji.
C.K. Cheung, Head of Chinese Paintings Department, Sotheby's, says, "This Spring, Sotheby's continues to leverage our unrivalled global network to assemble outstanding works from important private collections worldwide, including the family collections of several artists—all coming to auction for the very first time. Star lots of the sale include Zhang Daqian's 1960s and '70s pioneering splash-ink-and-colour works, Blossoming Lotus and Ancient Temple in the Mist, as well as his 1950s gongbi brushwork painting, Riding in the Autumn Countryside. We are delighted to bring together both traditional and innovative works by this modern master on one single occasion."
"Fourteen paintings by Lin Fengmian—sourced from multiple private collections in Europe as well as collections of the artist's friends in Hong Kong—cover a wide range of subject matters, from figures to theatrical figures, flowers and animals. Nearly 20 four-panel calligraphic works from multiple collectors by acclaimed artists from the mid-Qing period to the 20th century, including Yi Bingshou and Liang Qichao, showcase distinctive script styles such as seal, clerical, semi-cursive and regular scripts."
SALE HIGHLIGHTS
Paintings from the Li Yanshan Family Collection
Compared to other modern Guangdong artists, Li Yanshan led a quiet life after relocating to Hong Kong. He maintained close relationships with local major painting connoisseurs, and was often invited to authenticate their collection and paintings, thus his paintings were much influenced by the works he viewed. Since he passed away in the early sixties, there have been only two public exhibitions of his works. This spring, Sotheby's is honoured to showcase five paintings dating from the 1930s to '50s from his family collection. These works feature landscape, pine trees, and bamboo in sometimes elaborate, other times simple, compositions. Li's deft brush strokes of varying style—extensive and calm, or clean and light—are admired by viewers and artists alike.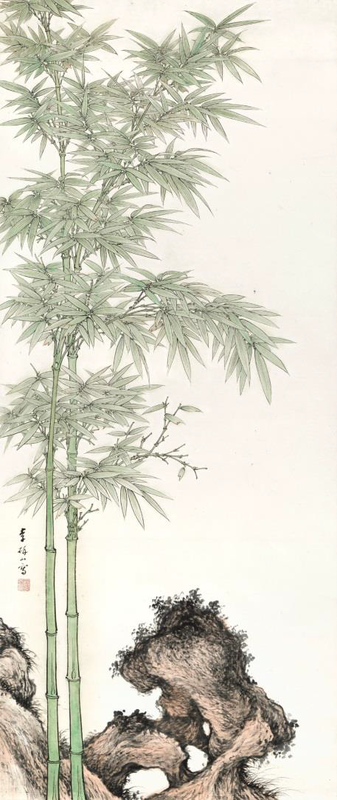 Li Yanshan (1898 – 1961), Bamboo and Rock. Ink and colour on paper, hanging scroll, 150.4 x 63.8 cm. Est. HK$ 250,000 – 350,000 / US$32,000 – 45,000. Photo: Sotheby's.
Bamboo, a Chinese symbol of integrity, tenacity and uprightness, was a well-loved motif frequently employed by Li, most often in black or red ink. Bamboo and Rock, employing the "double hook" technique in verdant green hues, is a rare work of the highest calibre.
Paintings and Calligraphy Works from the Mo Boji Family Collection
Widely recognised as the largest in Guangdong Province, the Mo Boji book collection boasted, at its peak, more than 500,000 ancient titles collected over 34 years. Mo Boji (1878 – 1958) was a wealthy merchant who established a western pharmacy in Guangzhou. Influenced by his father – an expert on Song Dynasty literature and an avid collector of books by notable figures of the Song and Yuan (1271 – 1368) dynasties – Mo developed a deep interest in Chinese classical studies. This collection of works comprises of paintings and calligraphy which were directly dedicated to him and his family, and calligraphy couplets from Qing dynasty scholars and minsters.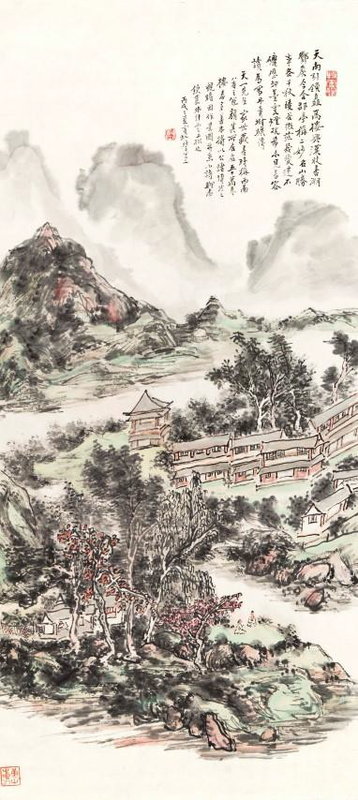 Huang Binhong (1865 – 1955), Studio Amid the Mountains, 1946. Ink and colour on paper, hanging scroll, 117.5 x 52.8 cm. Est. HK$3.5 – 5 million / US$450,000 – 640,000. Photo: Sotheby's
In 1941, Mo Boji fled to Hong Kong to escape the Second World War, subsequently moving to Macau where he became the neighbour of collector Wu Ming. Sharing a medical background and a passion for collecting, Mo and Wu became close friends; soon, Wu, an ardent supporter of Huang Binghong, introduced Mo to the artist.
In Beijing, Huang came across works by artists of earlier periods, inspiring him to incorporate traditional techniques into his own paintings. A 1946 book to which Huang often referred suggested that a painting required 50 to 60 applications before it could be presented for viewing; it even prescribed specific periods of time to complete certain elements of the piece ("five days to depict water, ten to complete a rock"). Applying techniques of the northern Song dynasty, Huang adopted calm brush strokes and thick ink colours and waited weeks for the ink to be fully absorbed by the paper before painting further. Under this approach, Huang's paintings developed a richness of ink and a solid strength of brushwork. Studio Amid the Mountains is one such work, featuring black ink mixed with green, saffron and ochre tones to stunningly depict an autumn lake and foliage scene.
Paintings & Calligraphy from the Yuan Shikai Family Collection
Sotheby's is pleased to present seven works from the collection of Yuan Ke'an (1906 – 1967). Eleventh son of Yuan Shikai, an influential politician and militarist in modern Chinese history, Yuan Ke'an has cultivated a deep profound knowledge of Chinese studies, in particular literature and the arts, including Kunqu opera. His unique collection comprises small-format works including Xu Beihong's Ducks, Dong Zuobin's Calligraphy Couplet in Jiaguwen, as well as Wu Dacheng's Calligraphy Couplet in Zhuanshu, a precious gift that was presented to Yuan Shikai by the artist. Appearing at auction for the first time, this calligraphy work not only testifies the friendship between Yuan Shikai and Wu Dacheng, but also carries significant historical value.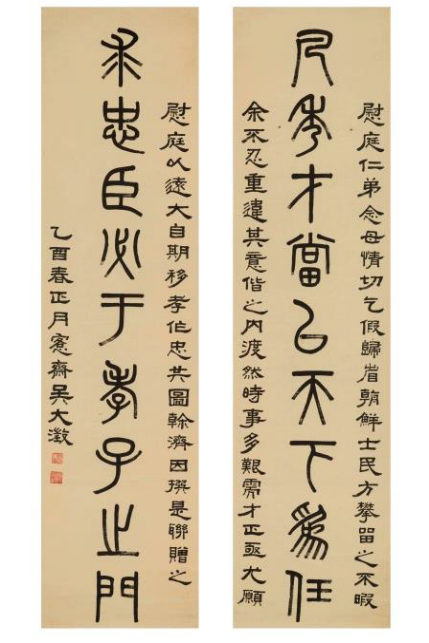 Wu Dacheng (1835 – 1902), Calligraphy Couplet in Zhuanshu, 1885. Ink on paper, pair of hanging scrolls. Each: 164.5 x 43.8 cm. Est. HK$300,000 – 500,000 / US$38,000 – 64,000. Photo: Sotheby's
Calligraphy Couplet in Zhuanshu was completed in February 1885. At that time, Yuan Shikai was serving in the armed forces stationed in Korea, where his work in the aftermath of a Japanese-supported coup faced harsh criticism. Using his mother's sickness as an excuse, Yuan returned to China with Wu Dacheng, who had been assigned to Korea to handle the situation. Wu's view of Yuan was obvious, as expressed in the couplet, which employs the dual meanings of "loyal statesman" and "dutiful son". Eventually, the devoted friends became family when Wu's sixth daughter married Yuan's eldest son. This couplet was painstakingly preserved in Yuan's home and ultimately passed to his eleventh son, Yuan Ke'an.
Splashed Ink-and Colour Paintings and Other Works by Zhang Daqian.
A gift from Zhang Daqian to US-based friends who were also Sichuan natives.
Zhang Daqian (1899 – 1983), Blossoming Lotus, 1965. Splashed ink and colour on paper, framed, 91.2 x 160.5 cm. Est. HK$10 – 15 million / US$1.3 – 1.9 million. Photo: Sotheby's
In the early 1960s, Zhang Daqian pioneered his unique splash-ink-and-colour technique. Characterised by an unrestrained and instinctive approach echoing Western models of abstractionism, Zhang's experimental style was showcased in exhibitions held in the United Kingdom and the United States. It is especially prevalent in this depiction of the lotus flower, in which overlapping leaves and the blossoms fill the canvas, brush strokes are wide-ranging and inks mix, demonstrating the artist's immense energy and momentum.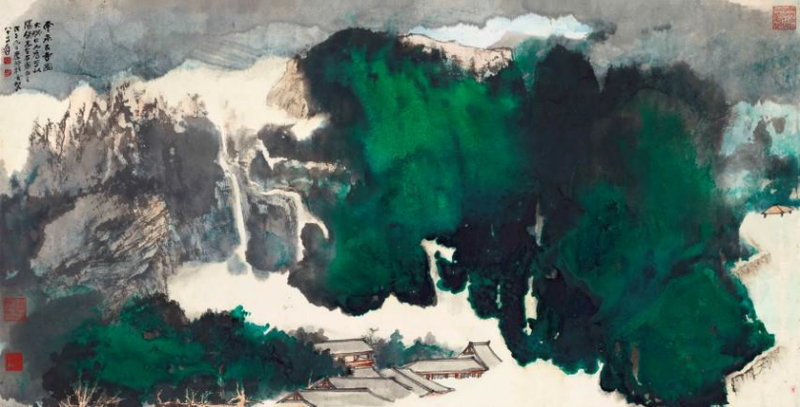 Zhang Daqian, Ancient Temple in the Mist, 1978, splashed ink and colour on paper, framed, 70.9 x 138.5 cm. Est. HK$18 – 25 million / US$2.3 – 3.2 million. Photo: Sotheby's.
Zhang Daqian settled permanently in Taiwan in 1978. Ancient Temple in the Mist was painted at the request of Taiwanese business tycoon Wu Ho-Su as a gift to Hsu Sheng-fa, another Taiwanese businessman.
The painting depicts green mountains, peaks, and running waterfalls among enigmatic fog. The roof of an isolated temple emerges from thick mist. Zhang's composition presents a perfect equilibrium between the void and the solid, depicting the mesmerising scenery and hazy atmosphere in a most natural manner.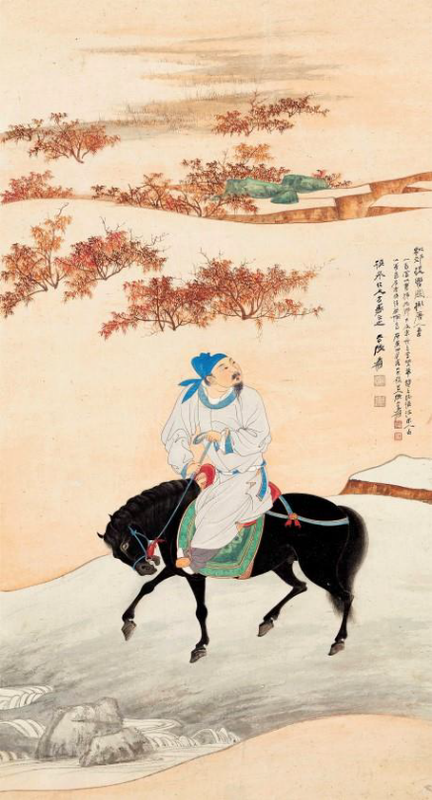 Zhang Daqian (1899 – 1983), Riding in the Autumn Countryside, 1950. Ink and colour on paper, framed, 100.2 x 54.3 cm. Est. HK$10 – 15 million / US$1.3 – 1.9 million. Photo: Sotheby's.
In 1950, Zhang Daqian was living temporarily in Darjeeling, India. Amid the unfamiliar surroundings of a foreign country with a less busy social life, Zhang dedicated more time to his artistic creation. According to both critics and the artist himself, the works completed during Zhang's sojourn in Darjeeling marked the zenith of his mastery of traditional fine brushwork, or gongbi technique.
Kept in its original matting, Riding in the Autumn Countryside should have been brought from Darjeeling to Hong Kong by the artist, where it was presented as a gift and dedication to Lu Genquan, a notable figure in Shanghai who later resided in Taiwan.
Zhang's horse paintings are noted for a brush style reminiscent of Tang dynasty techniques. However, only a rare handful of the era's original paintings have survived to the present day. Their stylistic influence is evident only in the imitative copies created by subsequent generations of artists including Zhao Mengfu of the Yuan dynasty, whose painting style was referenced to in Zhang's portrayal of horses
A Work of Qi Baishi From An European Private Collection
Gift of artist to Clemente Rezzonico (1897 – 1976), Swiss Ambassador of China from 1950 to 1954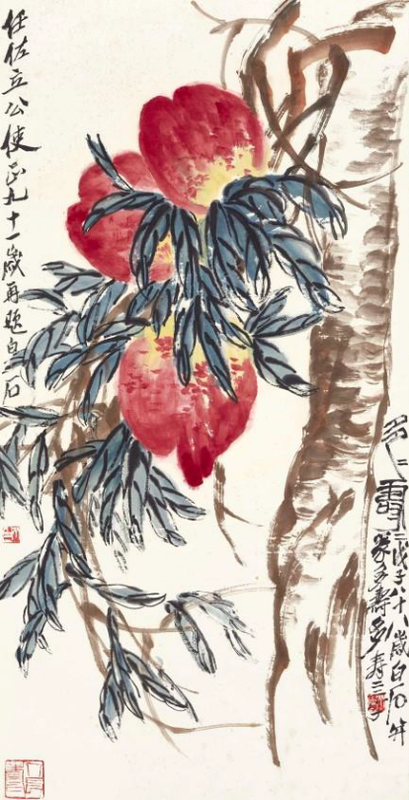 Qi Baishi (1864 – 1957), Longevity Peaches. Ink and colour on paper, framed, 118.5 x 60.4 cm. Est. HK$4 – 5 million / US$510,000 – 640,000. Photo: Sotheby's.
Known for his diverse subjects and humble background, the "people's artist" Qi Baishi often depict everyday objects in his paintings, garnering the praise of the Chinese government and the admiration of collectors both at home and abroad. Often used as gifts for visiting foreign dignitaries and notable guests, many of Qi's works are now treasured pieces in important overseas collections.
The ripe, plump fruits in Longevity Peaches were painted with brilliant colours and accompanied by vibrant green leaves. Qi's brush strokes confidently deliver a strong visual impact. With its auspicious, agreeable motif and larger than usual format, it may have been a commissioned work, but for certain reasons, Qi kept the work for three years after its completion in 1948, later presenting it as a gift.
*Estimates do not include buyer's premium and prices achieved include the hammer price plus buyer's premium.