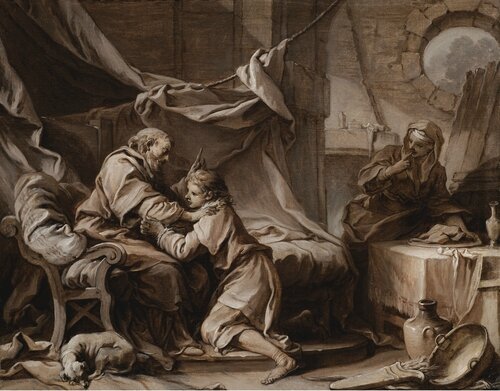 François Boucher (Paris 1703 - 1770), Jacob obtenant la bénédiction d'Isaac. Estimation 80,000 — 120,000 €. Photo: Sotheby's
Huile sur toile, en camaïeu brun, 45 x 54 cm
Provenance: Acquis chez Jean-François Heim, Paris, en 2006
Exposition: Esquisses, pastels et dessins de François Boucher dans les collections privées, Versailles, musée Lambinet, octobre 2004, p. 44-45, n° 18 et p. 72-73
Bibliographie: François Boucher 1703 – 1770, cat. exp., Paris, Galeries nationales du Grand Palais, 1987, p. 122-123, mentionné dans la notice des n°10 et 11
Notes: François Boucher débute sa carrière comme peintre d'histoire. Le tableau que nous présentons est à rapprocher des rares oeuvres de cette période. Il appartient à un petit groupe d'œuvres aux sujets tirés de l'Ancien Testament et que François Boucher réalise au début des années 1720. Ce groupe comprend également Le martyre des Jésuites japonais (gravé par Laurent Cars) et Laban séparé de Jacob (dont le dessin est conservé au musée du Louvre). Notre tableau représentant Jacob obtenant la bénédiction d'Isaac n'était connu avant sa réapparition en 1999 que par une gravure de la composition réalisée par Jean Daullé, elle-même reproduite par P. A. Kilian.
De 1723 à 1728, l'activité principale de Boucher est de fournir aux graveurs des dessins d'après les maîtres mais également d'après ses propres peintures. Parmi tous ses modèles, on comptait très certainement un dessin, aujourd'hui perdu, illustrant cette même scène de la bénédiction d'Isaac.
L'interprétation iconographique que propose François Boucher suit avec précision le récit de l'Ancien Testament (Genèse, 27. 27-30). La scène se déroule à l'intérieur de la maison d'Isaac et de Rebecca. Sur la partie gauche de la composition, le peintre s'intéresse au moment de la bénédiction du jeune Jacob par Isaac, âgé et mourant, croyant s'adresser à son autre fils Esaü. Il a pris soin de représenter le pelage de chèvre appliqué par Rebecca sur les mains et le cou de Jacob afin de tromper le patriarche aveugle. Sur la partie droite, dans le décor de cuisine, se voit le dîner préalablement préparé selon les consignes d'Isaac. Sur le côté se tient sa femme observant avec attention le résultat de son subterfuge. Le sens du détail allié à l'attitude expressive des personnages donnent une dimension narrative à la représentation. Elle fonctionne, comme bien souvent dans l'œuvre de François Boucher, à la manière d'une pièce de théâtre.
Cet épisode fait partie de l'histoire de Jacob et Esaü, frères jumeaux fils de Rebecca et Isaac. Le premier à naître fut Esaü, talonné par son frère Jacob. Esaü était donc l'aîné. Il était roux, et velu comme une fourrure de bête. En grandissant, Esaü devint un chasseur expérimenté et aventureux, tandis que son frère cadet Jacob était casanier et réfléchi. Isaac préférait Esaü, et Rébecca préférait Jacob. Un jour, Esaü rentra affamé d'une de ses chasses. Jacob, qui était en train de préparer la cuisine, ne voulut le nourrir qu'à la condition qu'il lui cède immédiatement son droit d'aînesse. Esaü fut d'accord. Plus tard, Isaac, devenu vieux et aveugle, voulut bénir Esaü avant de mourir. Il lui demanda de partir à la chasse pour lui préparer un bon plat, afin de pouvoir se régaler en le bénissant. Esaü s'exécuta et partit en chasse. Mais Jacob, par un stratagème imaginé par sa mère, se présenta en premier devant son père, qui le bénit en pensant avoir affaire à Esaü, et le fit chef de sa fratrie et héritier de ses biens. Cette bénédiction avait son importance, car elle symbolisait le rôle prépondérant sur le plan social et religieux de celui qui la recevait. Par cette bénédiction, ce dernier devenait, de fait, le chef de famille.
Cette toile s'inscrit chronologiquement mais aussi stylistiquement dans l'œuvre de jeunesse du maître. En effet le type de l'homme âgé utilisé pour représenter Isaac est tout à fait caractéristique de ses premières œuvres. Le caractère intimiste de la scène agrémentée de détails anecdotiques comme le chien endormi aux pied d'Isaac ou la nature morte dans l'angle inférieur droit du tableau sont autant d'éléments propres à l'art de François Boucher dans les années 1720.
Nous remercions Alastair Laing de son aide à la rédaction de cette notice.
FRANÇOIS BOUCHER ; JACOB RECEIVING ISAAC'S BLESSING ; OIL ON CANVAS, BROWN CAMAÏEU; 17 3/4 by 21 1/2 in.
François Boucher began his career as a history painter. The painting that we present is a work that relates to this rare period among his corpus. It is part of a small group of works with Old Testament subjects realized by François Boucher in the early 1720s. This group also includes The Martyrdom of the Japanese Jesuits (engraved by Laurent Cars) and The Separation of Laban from Jacob (the drawing version is in the Louvre Museum). Our painting representing Jacob obtaining the Isaac's blessing was known before its reappearance in 1999 only after an engraving of the composition by Jean Daullé, which was itself copied in an engraving by P.A. Kilian.
From 1723 to 1728, Boucher was mainly employed by submitting drawn reproductions of Old Master works as well as his own paintings to engravers. Among his works, certainly there was a drawing, today lost, depicting the same scene with the blessing of Isaac.
The iconographic interpretation that François Boucher proposes follows precisely this Old Testament story (Genesis 30. 27-30). The scene takes place inside the house of Isaac and Rebecca. On the left side of the composition, the artist focuses on the blessing of the young Jacob by Isaac who was old and dying. He thought he was addressing his other son Esau. Boucher emphasized the goat hide placed by Rebecca on Jacob's hands and neck to deceive the old patriarch. A kitchen scene on the right displays the dinner prepared beforehand according to Isaac's instructions. His wife stands aside carefully observing the result of the ploy. The attention to detail combined with the expressive attitude of the characters gives a narrative dimension to this representation. It works, as so often in François Boucher's oeuvre, in the manner of a play.
This painting is chronologically and stylistically part of the master's early work. Indeed, the elderly man figure used to represent Isaac is quite typical of his early works. The intimacy of the scene is enhanced with anecdotal details like the sleeping dog by Isaac's feet or still life on the lower right angle which are all elements specific to François Boucher's art during the 1720s.
We are grateful to Alastair Laing for preparing the cataloguing for this lot.
Sotheby's. Collection Louis Grandchamp des Raux : Le choix de l'élégance En association avec Artcurial Paris, 26 mars 2015, 06:00