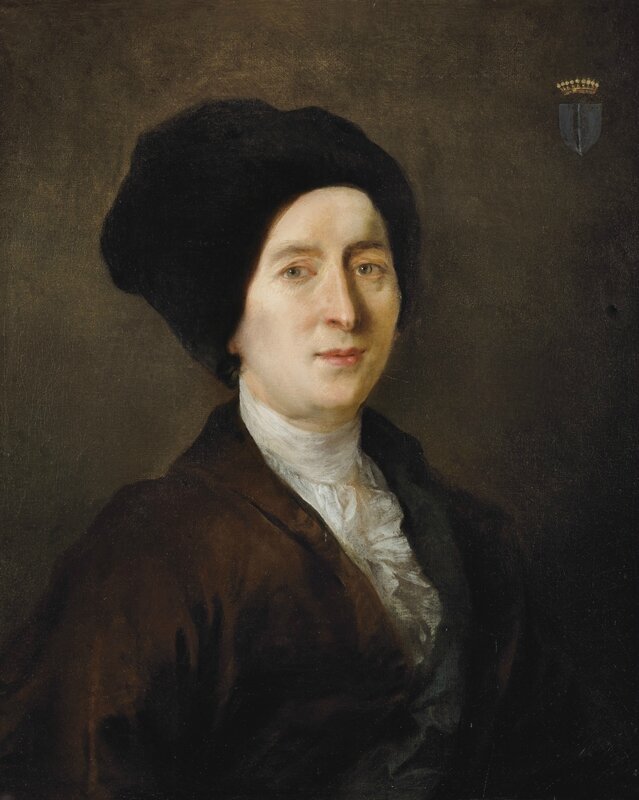 Nicolas Lancret (Paris 1690 – 1743), Portrait de Pierre Mangot, seigneur d'Orgères, de Dréville et de Dauray. Estimation 15,000 — 20,000 €. Photo: Sotheby's
Porte un blason. Porte l'inscription au verso PIERRE MANGOT. Seigneur d'Orgères / de Dréville et de DAURAY, Conseiller / au Grand Conseil. anno domini / 1723 / peint par / NICOLAS LANCRET. Huile sur toile; 60 x 50,5 cm
Provenance: Collection Leriche ;
Sa vente, Joigny, Me Deffaux, 29 mai 1910 (1250 francs) ;
Vente anonyme, Paris, Hôtel Drouot, 13 novembre 1922, lot n°6 ;
Vente anonyme, Paris, Hôtel George V, Tajan, 25 juin 1996, lot n°53
Bibliographie: J. Daurelle, « La Curiosité », in Mercure de France, juin 1910, p. 762
Notes: Claude-Pierre Mangot fut nommé conseiller au Grand Conseil en 1742 et secrétaire du roi la même année. La famille Mangot semble avoir entretenu des rapports étroits avec les Lancret sur plusieurs générations puisque le petit neveu du modèle, Pierre-Marie Mangot (né en 1762), épousa en 1800 la petite fille du peintre, Madeleine-Aglaé Lancret.

Ce tableau illustre un aspect méconnu de l'œuvre de Lancret dans laquelle les portraits sont rarissimes. Loin de ses représentations de familles, d'acteurs ou de danseuses dans des paysages ou au sein d'une assemblée mêlant les genres du portrait et de la scène galante, le portrait de Claude-Pierre Mangot étonne par sa sobriété et sa proximité avec le spectateur, témoignant de la complicité entre le peintre et son modèle.
Nous remercions Mary Tavener Holmes qui nous a confirmé l'authenticité de cette oeuvre d'après photographie.
NICOLAS LANCRET ; PORTRAIT OF PIERRE MANGOT, LORD OF ORGÈRES, DREVILLE AND DAURAY ; BEAR A BLASON ; BEAR AN INSCRIPTION ON THE VERSO ; OIL ON CANVAS;23 5/8 by 19 7/8 in.
Claude-Pierre Mangot was nominated Consellor for France's Great Council in 1742 and was secretary for the king that same year. The Mangot family appears to have had close ties with the Lancrets over several generations because the sitter's grandnephew, Pierre-Marie Mangot (born in 1762), married the artist's granddaughter Madeleine-Aglaé Lancret in 1800.

This painting illustrates a little-known aspect of Lancret's work as a portraitist. Differing from his depictions of family, actors or dancers in landscapes or within a gathering combining the genres of portraiture and the gallant scene, the portrait of Claude-Pierre Mangot is astonishing in its simplicity and proximity to the viewer, proving the complicity between the painter and his model.
We are grateful to Mary Tavener Holmes for confirming the authenticity of this painting, on the basis of a digital photograph.
Sotheby's. Collection Louis Grandchamp des Raux : Le choix de l'élégance En association avec Artcurial Paris, 26 mars 2015, 06:00