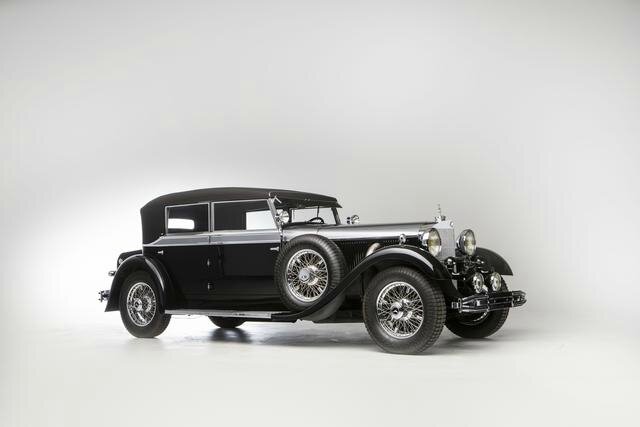 Originally the property of Erik Charell. 1931 Mercedes-Benz 770 Cabriolet D (W 07). Coachwork by Sindelfingen. Estimate €2.3 million - 2.8 million (£1.7 million - 2.1 million). Photo Bonhams.
Chassis no. 85205/R.B07/4 - Engine no. 85205
Introduced at the 1930 Paris Motor Show where it was among the highlights of the day, the sensational Mercedes-Benz 770 was an extremely elegant and extravagant motor car. It was the largest model that Mercedes-Benz had produced to date, and swiftly gained the sobriquet 'Großer'. The 770 was powered by an eight-cylinder inline engine that displaced a massive 7.7 litres and produced an impressive 150bhp, while the optional supercharger boosted its output even further, to 200 horsepower. The supercharger was a popular option and most cars were fitted with it. Only 13 buyers opted for the normally aspirated engine.
At almost 3750 mm, the generous wheelbase provided an ideal platform for the creation of bespoke coachbuilt bodies tailored to the individual customer's desires and tastes, while the engine incorporated numerous advanced features guaranteed to appeal to a technologically informed clientele. Made of wear-resistant chrome-nickel-alloy grey cast iron, the cylinder block was combined with a heavily ribbed crankcase incorporating an integral oil pan made of Elektron magnesium alloy. Carefully balanced both statically and dynamically, the chrome-nickel steel crankshaft incorporated solid-forged counterweights and ran in nine main bearings, while a progressively acting vibration damper at its front end ensured smooth and quiet running. No practical sidevalve engine could produce the required power, so the 'Großer' unit used overhead valves actuated by means of roller tappets, pushrods and rocker arms controlled by a side camshaft running in nine bearings. Fuel was supplied via an updraft twin-choke carburettor equipped with an accelerator pump and cold-starting aid, which was mounted on a light-alloy inlet manifold, automatically heated by exhaust gas via thermostatically controlled hot-air flaps. The ignition system was equally advanced, combining battery/coil and magneto, the two elements operating independently of one another to ensure reliability.
The low-compression (4.7:1) long-stroke engine developed its 150 horsepower at a modest 2,800rpm, with maximum torque of approximately 289lb/ft arriving at only 1,200 revs. Despite weighing some 3.5 tons, the 770 was capable of reaching 150km/h (approximately 93mph) but even this was deemed insufficient by the majority of customers, hence the optional supercharger. Costing as much as a medium size family car, the Roots blower gave off a characteristically high-pitched whine when used in Mercedes-Benz's sports cars, a racket deemed quite out of place in a luxury car. As deployed in the 770, it gave only a muted whisper thanks to very suppression of intake noise. For better heat dissipation – and as a status symbol – the supercharged models were fitted with exhaust pipes sheathed in flexible metal hose, projecting from the right-hand side of the bonnet. With the blower installed, maximum power increased to 200bhp at the same engine speed, while torque rose to a mighty 395lb/ft at 1,500rpm and the top speed to 160km/h (approximately 99mph) earning these cars an additional nickname: 'Road Express'.
Bodies were provided by Mercedes-Benz's in-house coachbuilding facility, Sindelfingen.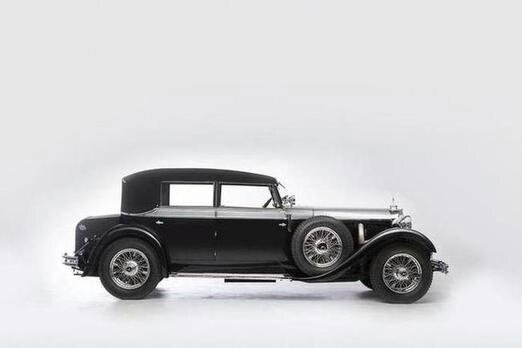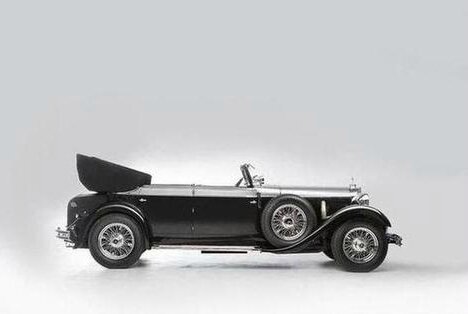 Originally the property of Erik Charell. 1931 Mercedes-Benz 770 Cabriolet D (W 07). Coachwork by Sindelfingen. Estimate €2.3 million - 2.8 million (£1.7 million - 2.1 million). Photo Bonhams.
This enabled the Großer to be delivered complete, an almost unheard of state of affairs in an age when bespoke bodies by independent coachbuilders were the norm for luxury cars.
Styles available were the Pullman saloon, six-seater (open) touring car, four-door Cabriolet D and six-seater Cabriolet F, all of which were intended to appeal to the more formal tastes, though when equipped with the Cabriolet B (four windows) or Cabriolet C (two windows) coachwork, the 770 took on a decidedly sporting appearance that belied its bulk. The flawless workmanship of the bodies and their interiors met with enthusiastic approval, enhancing Sindelfingen's reputation throughout the world. Naturally, customers were free to choose interior and exterior trim to suit their personal taste, so it is not surprising that, to a large extent, each car bore the signature of its original owner.
Even the cheapest 770 cost over 40,000 RM, roughly the price of the average family home, while the top-of-range six-seater cabriolet cost over 47,000 RM, making the Großer Germany's most expensive car. Ownership was necessarily confined to a wealthy elite, with a substantial percentage of the 117 examples produced up to 1938 being purchased by royalty. Emperor Hirohito of Japan owned not fewer than seven, all armour-plated, while other royal owners included Kings Farouk of Egypt, Faisal of Iraq, Zog of Albania, Boris of Bulgaria and Kaiser Wilhelm II, who took delivery of his in Holland following his exile there after WWI.
Reputedly costing 47,500 RM when new, the Cabriolet D offered here is one of only 18 produced and comes with a copy of the its original factory order form. Chassis number '85205' was delivered in Berlin on 18th August 1931 to the German actor, dancer and theatre/film director Erik Charell, best known as the creator of musical revues and operettas such as Casanova, Die drei Musketiere and Im weißen Rößl ('The White Horse Inn'). 'The White Horse Inn' would turn out to be one of his greatest successes, being staged in London, Paris and on Broadway during the 1930s. Born Erich Karl Löwenberg, Charell fled to the USA after the Nazis came to power in 1933, working for the Fox Film Corporation in Hollywood. It seems likely that he took the Mercedes with him when he left for the United States. He returned to Germany after the war and in 1950 enjoyed an enormous success with the musical comedy Feuerwerk, from which came the worldwide hit O mein Papa. A prolific art collector in his later years, Charell died in Munich in 1969.
This car was owned in 1949 by Kenneth Johnson in Brooklyn, New York, who kept it until 1952 when ownership passed to a Mr Von Mering of Hawley, Pennsylvania. Following restoration and many years in the famous Blackhawk Collection, the magnificent 770 K returned to Germany in 2004 where it was recently restored for a second time. Once again in top mechanical and cosmetic condition, this Großer Mercedes is ready for any event, long distance tour or Concours d'Élégance.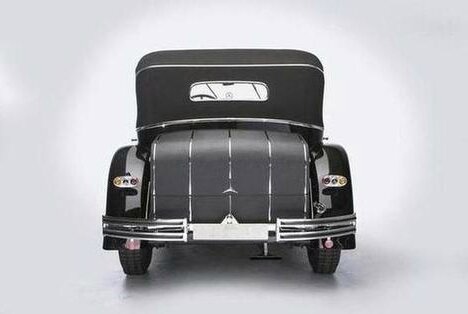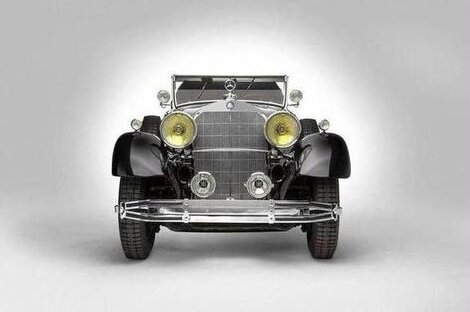 Originally the property of Erik Charell. 1931 Mercedes-Benz 770 Cabriolet D (W 07). Coachwork by Sindelfingen. Estimate €2.3 million - 2.8 million (£1.7 million - 2.1 million). Photo Bonhams.
Bonhams. THE MERCEDES-BENZ SALE, 28 Mar 2015 14:00 CET - STUTTGART, MERCEDES-BENZ MUSEUM