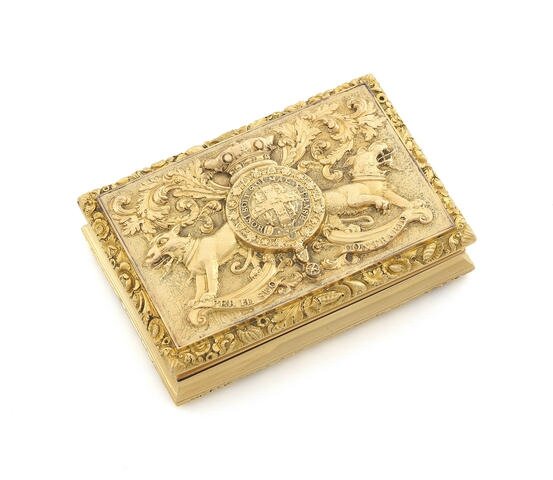 Lord Uxbridge (1st Marquess of Angelesey): a George IV 18 carat gold Irish Freedom Box. Sold for £100,900 (€138,503). Photo: Bonhams.
LONDON.- A gold Irish Freedom Box presented to the Earl of Uxbridge, one of the most colourful British Army Commanders at Waterloo, made £100,900 at Bonhams Waterloo sale today (1 April). The sale made a total of £925,000.

The Earl of Uxbridge, later Marquess of Anglesey, (1768-1854) was involved in a famous example of the British stiff upper lip when, riding with Wellington, towards the end of the Battle of Waterloo, he lost part of one of his legs to a cannonball. "By God, sir, I've lost my leg!" he exclaimed to which the Duke replied, "By God, sir, so you have!" During the amputation of the shattered leg, Uxbridge apparently smiled and said, "I have had a pretty long run. I have been a beau these 47 years and it would not be fair to cut the young men out any longer."
The Freedom Box was presented to Uxbridge – by then Marquess of Anglesey – by Trinity College Dublin in 1828 during his first spell as Lord Lieutenant of Ireland.

Elsewhere in the sale a huge panoramic painting depicting the meeting of the Duke of Wellington and Field Marshal von Blücher which signalled the end of the Battle of Waterloo sold for £64,900. It had been estimated at £10,000 – 15,000.

The painting by Arthur Stocks (1846 – 1889) is a detailed copy of the famous work by the Irish artist Daniel Maclise which hangs in the Royal Gallery in the House of Lords.

The Managing Director of Bonhams Knightsbridge, Jon Baddeley, said "The battle of Waterloo was one of the most significant military encounters of the 19th century and the outcome had a profound effect on the future of Europe so not surprisingly there was a lot of public interest is this sale and the bidding from collectors was fierce".