Photo Sotheby's.
NEW YORK – Sotheby's 21 April auction of Magnificent Jewels in New York will offer more than 350 pieces that together are estimated to achieve in excess of $50 million*. Highlights will be on public view in Hong Kong, London and Doha this month**, before returning to New York for exhibition beginning 17 April.
The sale is led by a diamond unlike any offered before: an extraordinary 100-carat perfect diamond in a classic Emerald-cut that is estimated to sell for $19–25 million. At this impressive scale, diamonds of this exceptional quality – D color and Internally Flawless clarity – are incredibly rare, and are considered 'perfect'. What distinguishes the present example within this rarefied league is its beautiful shape: it is the largest perfect diamond with a classic Emerald-cut ever to be offered at auction. The original rough – weighing over 200 carats – was mined by De Beers in southern Africa. The current owner spent over one year studying, cutting and polishing the rough diamond to deliver the spectacular stone.
A Spectacular 100.20 carats D color and Internally Flawless clarity Emerald-Cut Diamond, mounted in platinum. Estimate $19–25 million. Photo: Sotheby's
HIGHLY-IMPORTANT DIAMONDS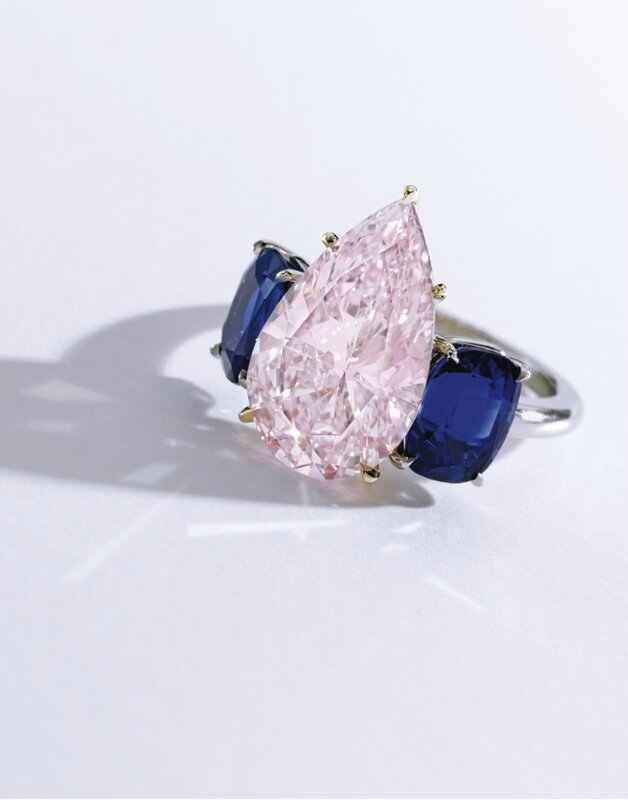 A Magnificent Platinum, 18 Karat Gold, 6.24 carats Fancy Purplish Pink Diamond and Kashmir Sapphire Ring. Estimate $2,500,000-3,500,000. Photo: Sotheby's.
A beautiful color combination of an unmodified pear-shaped Fancy Purplish Pink diamond weighing 6.24 carats, set in a unique mounting with two cushion-cut Kashmir sapphires of 2.44 and 2.36 carats.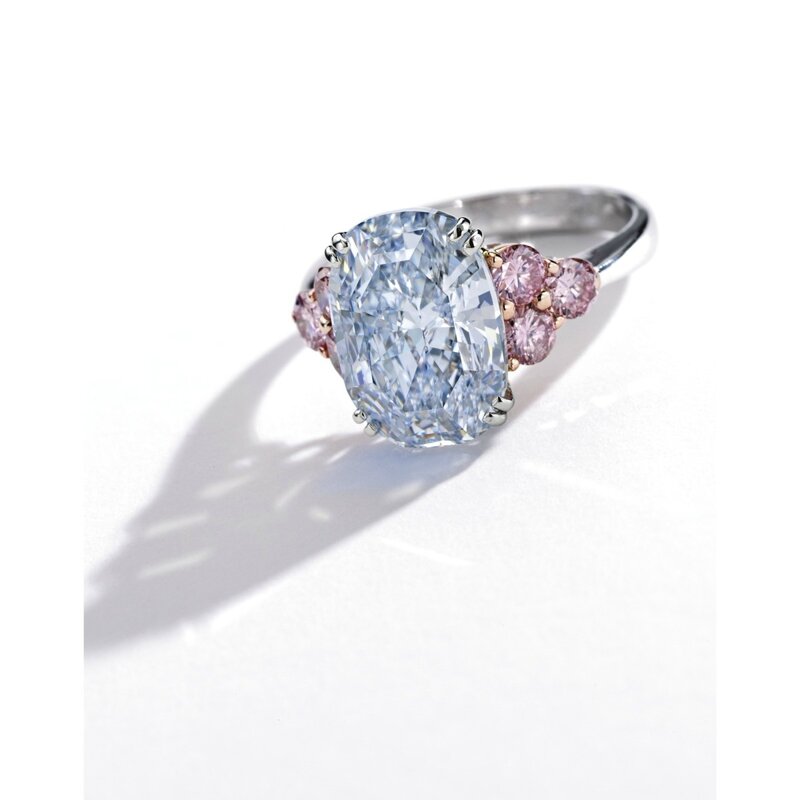 The Monarch Blue Diamond. An Important Platinum, Rose Gold, 6.06 carats Fancy Blue Diamond and Colored Diamond Ring. Estimate $3,500,000-4,500,000. Photo: Sotheby's.
Centering an oval-shaped mixed cut Fancy Blue diamond of 6.06 carats, VVS2 clarity and complemented with six pink-hued round diamonds.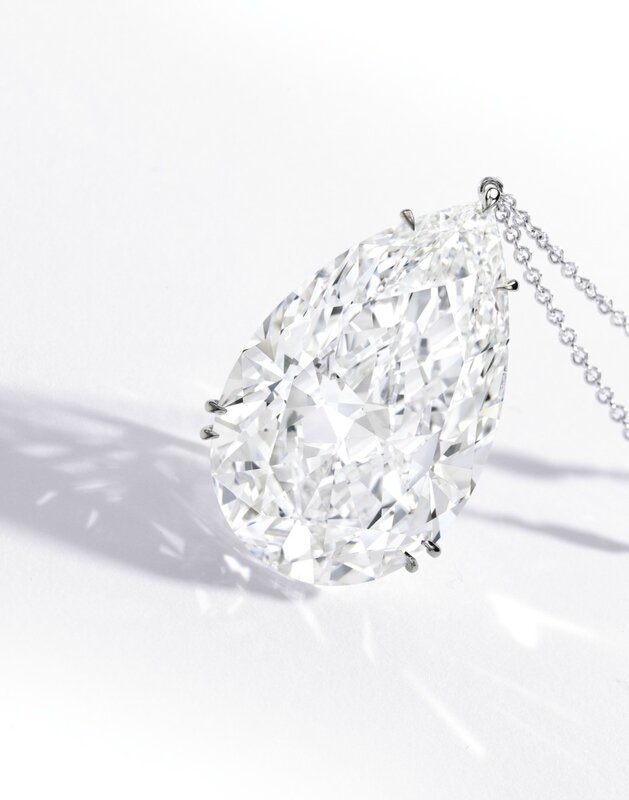 A Highly Important Platinum and 52.26 carats, D color, SI1 clarity Diamond Pendant-Necklace. Estimate $3,800,000-4,200,000. Photo: Sotheby's.
Suspending a pear-shaped diamond of 52.26 carats, D color, SI1 clarity, with excellent polish and symmetry
TWO SEMINAL CARTIER ART DECO JEWELS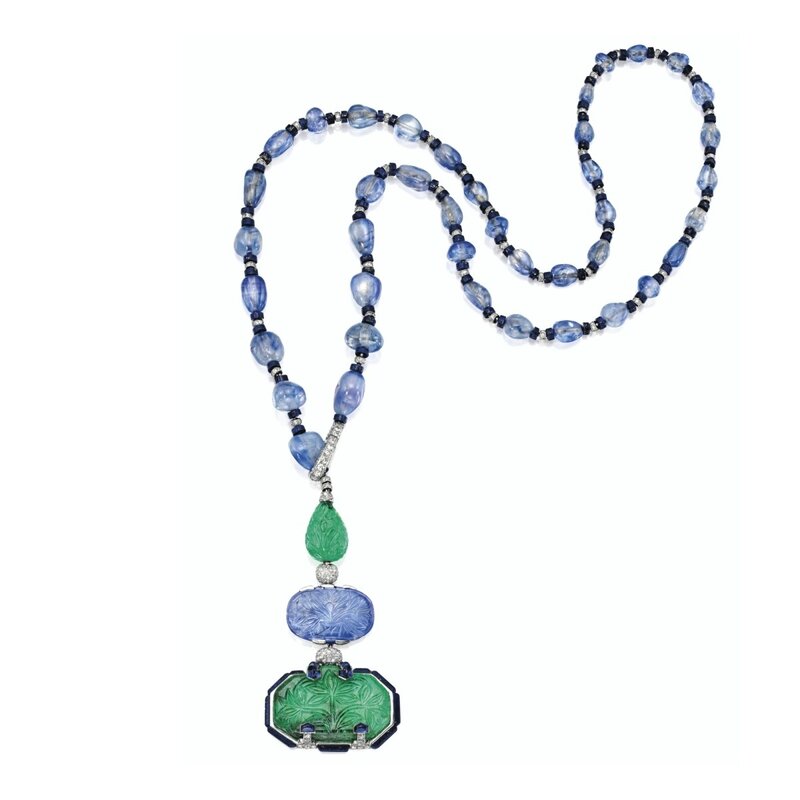 The Baron de Rothschild Necklace. An Elegant and Rare Platinum, Emerald, Sapphire, Lapis Lazuli and Diamond Pendant-Necklace. Designed by Charles Jacqueau for Cartier, Paris, circa 1924. Estimate $1,800,000-2,200,000. Photo: Sotheby's.
This Mughal Empire-style necklace was exhibited recently at the Denver Art Museum exhibition 'Brilliant: Cartier in the 20th Century'. Created by Cartier's chief designer Charles Jacqueau, the blue and green necklace – highlighted by three colored stones carved with Mughal floral motifs – was acquired by Baron Eugene de Rothschild in 1924 for his new American wife Catherine. In 1927, Vogue wrote about the Baroness and her Cartier necklace in an article about 'the beautiful new jewels on the smartest women in Paris,' stating that her taste in fashion and jewels was faultless.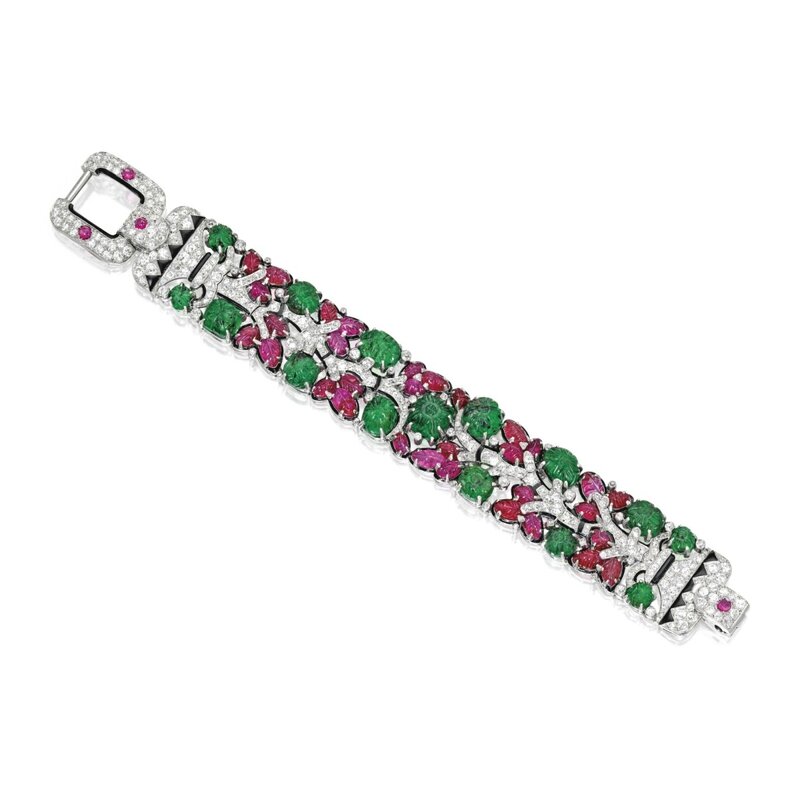 Lot 356. An Iconic Platinum, Emerald, Ruby, Diamond and Enamel 'Tutti Frutti' Bracelet. Cartier, New York, circa 1928. Estimate $1,300,000-1,800,000. Lot sold 1,630,000 USD. Photo: Sotheby's.
Although reminiscent of the Tutti Frutti bracelet Sotheby's sold from the Collection of Evelyn H. Lauder in 2014 for a world-record price of $2,165,000, every Cartier Tutti Frutti bracelet is completely unique. This example features a delicate black enamel frame around each jeweled flower and leaf flourishing from the diamond set vine.
The highly articulated openwork strap of foliate design, the diamond-set branches accented by carved rubies and emeralds, applied with black enamel, the clasp decorated with chevron motifs and cabochon rubies, set with old European and single-cut diamonds weighing approximately 8.45 carats, length 7¼ inches, signed Cartier, partially numbered 57_7; circa 1928. With signed and fitted box.
Note: The epitome of Eastern influences on Art Deco designs, tutti frutti pieces by Cartier are jeweled masterpieces. The artful arrangement of carved colored stones and diamonds, together with the precise application of black enamel all serve to tell a jeweled story that only Cartier could author. After first being exhibited at the 1925 Exposition Internationale des Arts Décoratifs et Industriels Modernes in Paris, the tutti frutti style rapidly gained popularity amongst the most fashionable women and discerning jewelry collectors of the time such as Mrs. Cole Porter and Daisy Fellowes.
Perhaps what is most mesmerizing about these iconic jewels is that each creation is completely unique. As with colored stones and diamonds, tutti frutti jewels may share resemblances however no two are ever the same. What makes this a quintessential tutti frutti piece is the large presence of carved emeralds and rubies, connected throughout by a diamond-set vine, as well as the chevron motif on the clasp, seen on similar examples of the style. What makes this an exceptional tutti frutti piece, however, is the delicate framing applied around each jeweled flower and leaf, the black enamel providing added contrast to each stone while also creating a harmonious balance throughout. The supremely Art Deco-style clasp, with its sleek geometry, serves as stylized vases from which the tutti frutti vine may grow and flourish from end to end of the bracelet.
As iconic as the floral festoons which adorn its original fitted case, this tutti frutti bracelet beautifully showcases the ultimate craftsmanship for which Cartier is known. Tutti frutti designs have long been enchanting jewelry connoisseurs; the present example with its vibrant hues and highly flexible form is both a wonder to see and a wonder to wear.
Bracelet of similar design are illustrated in:
Gilles Chazal, The Art of Cartier, The Musée du Petite Palais, October 1989-January 1990, page 140, fig. 287.
A bracelet of similar design is illustrated in The Cartier Collection: Jewelry by François Chaille, pages 189, 191 and 192.
COVETED KASHMIR SAPPHIRES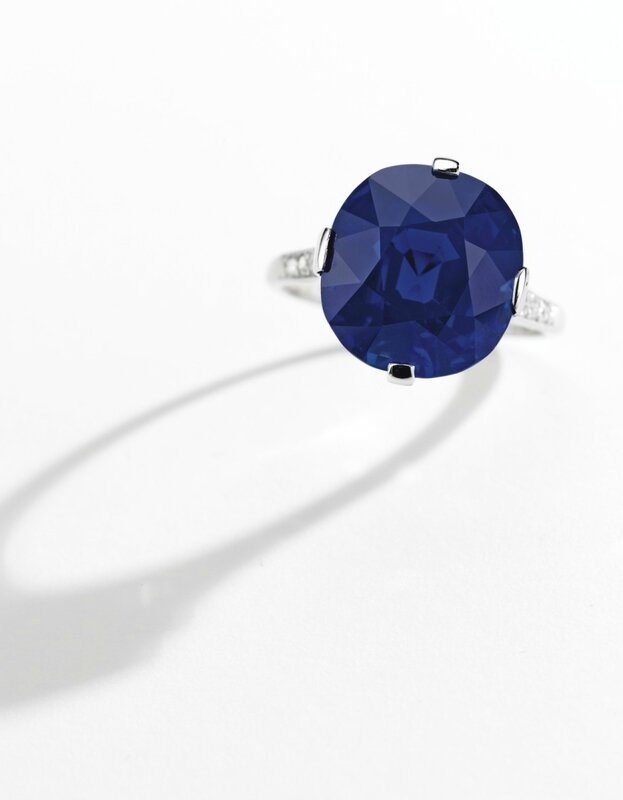 Lot 365. A Superb Platinum, 11.90 carats Kashmir Sapphire and Diamond Ring, Cartier, New York, circa 1915. Estimate $1,400,000-1,800,000. Lot sold 1,930,000 USD. Photo: Sotheby's.
Set with a cushion-cut sapphire weighing 11.90 carats, accented by old European and single-cut diamonds, size 6, signed Cartier N.Y., numbered 1209; circa 1915.
Accompanied by Gübelin report no. 14105196 stating that the sapphire is of Kashmir origin, with no indications of heating. Together with an appendix and information sheet explaining the rarity of Kashmir sapphires and unheated sapphires. The appendix states that, 'The natural sapphire of 11.90 ct described in the above mentioned Gübelin Gem Lab Report possesses a richly saturated and homogenous color, combined with a high degree of transparency, and a finely proportioned cut. In addition, this remarkable gemstone has been spared thermal treatment. Such a combination of characteristics is rare in natural Kashmir sapphires of this size.'
Accompanied by AGL report no. CS 54879 stating that the sapphire is of Classic Kashmir origin, with no indications of heating. Together with a letter from the AGL describing the quality and rarity of this sapphire.
Lot 170. An 18 Karat Gold, Platinum, Kashmir Sapphire and Diamond Brooch, Schlumberger for Tiffany & Co., France. Estimate $750,000-1,000,000. Lot sold 1,030,000 USD. Photo: Sotheby's.
The stylized flower centering an octagonal-shaped mixed-cut sapphire weighing approximately 17.00 carats, the frames set with numerous round diamonds weighing approximately 8.00 carats, signed Tiffany & Co. Schlumberger, Made in France, with French export marks; circa 1960.
Formerly From the Collection of Mrs. Paul Mellon.
Accompanied by AGL report no. CS 62894 stating that the sapphire is of Kashmir origin, with no indications of heating.
Following the success of the November 2014 sale of Property From the Collection of Mrs. Paul Mellon, Sotheby's is honored to again offer a rare jewel once owned by Mrs. Mellon that is a testament to her keen eye for design and Jean Schlumberger's ability to create avant garde treasures. Mrs. Mellon and Schlumberger had a long-standing friendship rooted in their mutual passion for horticulture; Schlumberger's designs often are inspired by flora and fauna, and like Mrs. Mellon's gardening style they share a meticulous attention to detail. Using an exceptional Kashmir sapphire, the present piece resembles the vibrant flowers that decorate the grounds of Oak Spring Farms, the sprawling estate shared by Mr. and Mrs. Mellon in Upperville, Virginia.
Mrs. Mellon bequeathed her Schlumberger jewels to the Virginia Museum of Fine Art in Richmond, Virginia; among one of the rarest pieces in the museum's collection is a flowerpot from 1960, featuring a bejeweled sunflower bursting from a terracotta pot from Mrs. Mellon's greenhouse. Although the flower currently centers an amethyst, it was reportedly first centered by an impressive sapphire. It remains unknown if the present brooch was the original center to the flowerpot work; however, there are striking similarities between the quality of the current sapphire and accounts of the original Schlumberger piece. A quote from Schlumberger in the book titled The Jewels of Jean Schlumberger (page 46), notes, '…Sometimes that led me to find solutions that were fun rather than practical. One day, a dealer brought me a singularly beautiful Kashmir sapphire, known as 'The Dancing Girl of India.' I was astonished by it, and proposed it to someone who greatly loved special things. His wife, I knew, didn't like to wear large stones, but she loved gardens, and that's how that sapphire-turned-flower ended up growing in a real terra-cotta flowerpot selected from her greenhouse!'
CELEBRATED PROVENANCE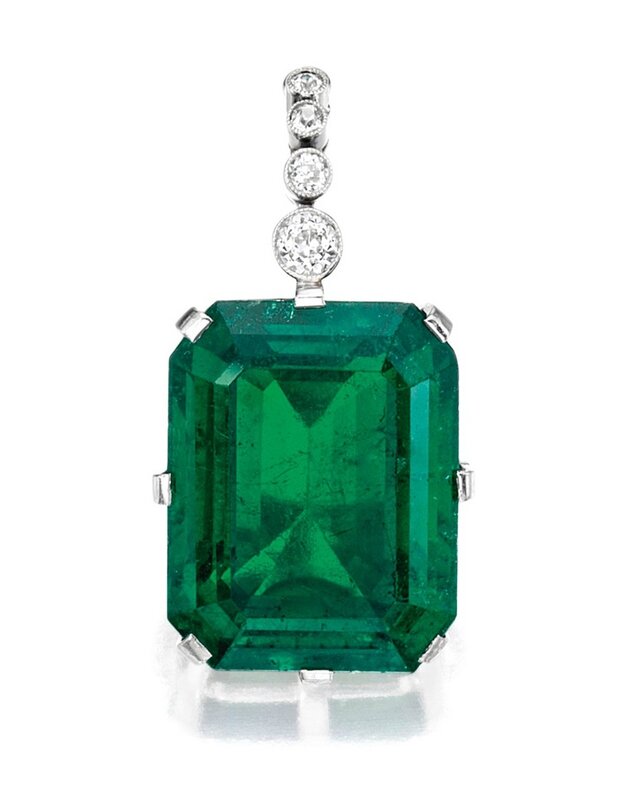 The Flagler Emerald. An Important Platinum, 35.02 carat Colombian Emerald and Diamond Pendant. Estimate $1,000,000-1,500,000. Photo: Sotheby's.
This exquisite 35.02 carat Classic Colombian emerald jewel belonged to the wife of Henry Flagler, the American industrialist and pioneering developer of Florida's eastern coastline.
MACHINE AGE STYLE
The sale also spotlights the minimalist Machine Age style of Art Moderne jewelers such as Gérard Sandoz, Jean Després, René Boivin and André Rivaud. Among the selection is the 18 Karat Gold Bracelet, circa 1935 by Jean Després, whose jewels emphasized strong design over intrinsic value (estimate $75,000-85,000).
18k Gold Bracelet, Jean Després, France. Estimate $75,000-85,000. Photo: Sotheby's.