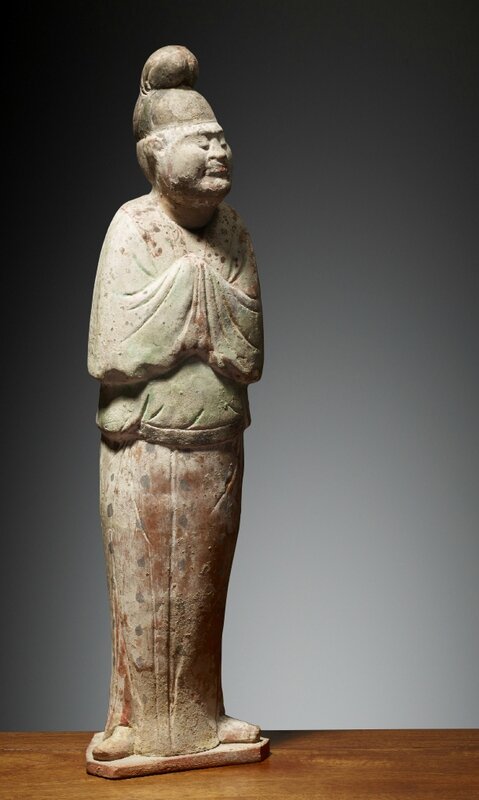 Courtisan, Chine, Dynastie des Tang (618 – 907), ca 8°siècle. Estimation : 5 000 € / 8 000 €. Photo Cornette de Saint-Cyr
Terre cuite. H. 45 cm
Belle et importante figure masculine debout portant un classique costume ample rehaussé de pigments verts, noirs et blancs dissimulant les mains. La tête légèrement tournée sur la gauche présente un visage à très belle expression individualisée, joues rebondies, bouche lippue, et yeux en relief, rehaussé de pigments rouges, roses, blancs et noirs. Il arbore une classique coiffe noire d'officiel.
Historique : - Acquis lors de la vente Sotheby's New-York du 7 décembre 1983 lot 136. Reproduit en couverture du catalogue.

Références : Pour une pièce de même typologie découverte dans la tombe de Wu Shoujung près de Xian au Shaanxi, Cf: Mary Tregear "Arts of China, Neolithic Cultures to the Tang Dynasty - Recent discoveries" Tokyo 1972, page 191, n° 371.
CORNETTE DE SAINT CYR PARIS. Arts d'Asie - Art Tribal, le 14 Avril 2015 à 14h30. 6, Avenue Hoche - 75008 PARIS. Expert : Cabinet Daffos-Estournel (Tel. : +33 6 09 22 55 13).