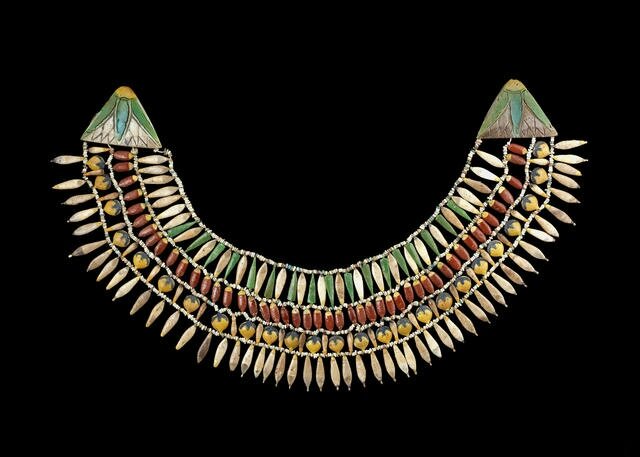 An Egyptian polychrome glazed composition beaded broad collar necklace, New Kingdom, late 18th Dynasty, Amarna Period, Reign of Akhenaten, circa 1353-1335 B.C. Estimate £60,000 - 80,000 (€82,000 - 110,000). Photo: Bonhams.
Re-strung, composed of foliate and floral beads, including white lotus petals with yellow and blue tips, green leaves, red dates with yellow tips, and yellow and blue mandrake fruits, interspersed with small spacer beads, the lotus-shaped terminals and stringing are modern, 36cm width of collar, 3.1cm max drop of each bead
Provenance: Scheps Collection, Switzerland, formed in the 1930s-1960s.
Literature: According to Carol Andrews, these broad collars imitate the later 18th Dynasty collars of real flowers depicted in scenes of the period. For further discussion, see C. Andrews, Ancient Egyptian Jewellery, London, 1990, pp. 122-3, fig. 105 (a broad collar with similar mandrake fruit found at el-Amarna.) There is also a collar in the Metropolitan Museum of Art, New York, with similar date and lotus petal beads: acc. no. 40.2.5.

Akhenaten and Nefertiti are frequently shown wearing board collars of this type. For example the Berlin bust of Nefertiti shows the queen wearing a broad collar with mandrake fruit: cf. D. Wildung (et. al.), Egyptian Museum and Papyrus Collection, Berlin, Berlin, 2010, p. 106-7, fig. 56. The small painted relief also in Berlin shows the king and queen wearing elaborate floral polychrome collars of this type: op.cit., pp. 102-3, figs. 52-3.
BONHAM'S. ANTIQUITIES, 16 Apr 2015 10:30 BST - LONDON, NEW BOND STREET