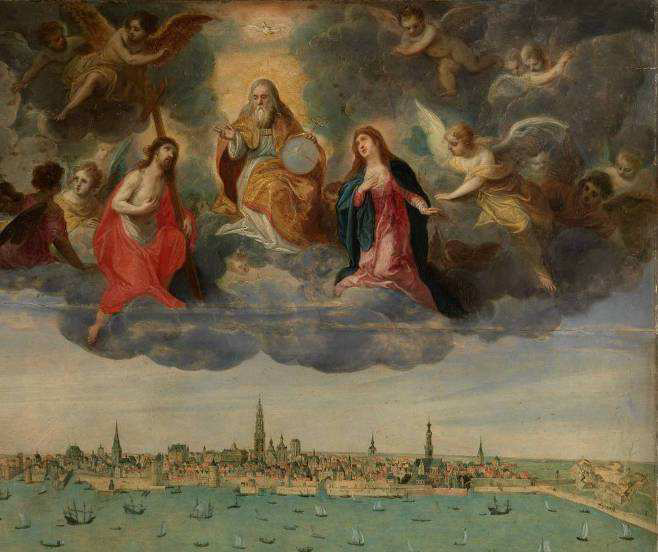 Hendrik van Balen I (Anvers, 1575 ? - 1632) et Abel Grimmer (Anvers, ca.1570 – av.1619), Anvers et le Vlaams Hoofd en 1600, 1600, huile sur bois, 37 x 44 cm. Anvers, Koninklijk Museum voor Schone Kunsten, inv. 817 © Lukas-Art in Flanders vzw, photo Hugo Maertens
CASSEL.- The musée départemental de Flandre in Cassel, presents an exhibition devoted to representations of the sea in 16th and 17th centuries' Flemish art. Although seascapes are regarded as a speciality of Dutch painting, the exhibition serves as a reminder that Flemish artists are their real inventors.

It is to Pieter Bruegel the Elder that we owe the first open seascapes. His masterpiece Naval Battle in the Gulf of Naples, conserved at the Pamphilj Gallery in Rome, is on view for the first time outside Italy.

The exhibition is made up of eighty paintings, drawings and engravings along with three models of ships, from several European and American museums. It takes up both of the museum's floors and has been organised into five sections.
Preamble : Flanders, a land turned towards the sea
From the 15th century, Flanders was an economic power whose activities were closely connected with the sea. The correlation, or lack of it between economic realities and the artists' subjects provides material for many developments in the exhibition's itinerary. Although market scenes including fish-laden stalls were popular subjects for Flemish still lifes in late 16th-century, other port activities (shipbuilding for example) didn't seem to draw painters' attention.

The way in which ports were depicted largely depended on their geographical location and the angles of view from the coast. Antwerp and its port were frequently depicted as the entire city could be encompassed in a single panoramic sweep from the banks of the Escaut. Later on, when painters (from Holland in particular) finally dared set foot aboard ships, they were able to take a look at ports from the seaward side.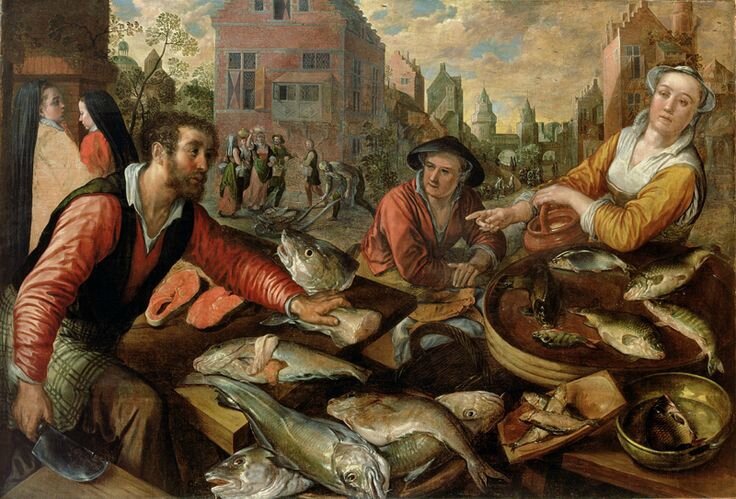 Joachim Beuckelaer (Anvers, ca. 1530 – ca. 1575), Marché aux poissons. Huile sur toile, 174,5 x 239,5 cm. Ferens Art Gallery, Hull Museums, UK, inv. KINCM 2005.4745. © Ferens Art Gallery, Hull Museums, UK.
Section 1 : Seascapes, the birth of a genre
From the mid-16th century, depictions of the sea, which up until then had been relegated to the background, gained their independence from religious and historical subjects to become a fully pictorial genre.

Pieter Bruegel the Elder showed the way with his series of Sailing Vessels, ten engravings that would be complemented by the Naval Battle in the Straits of Messina, another print engraved by Frans Huys from Pieter Bruegel the Elder.

A model of a carrack, is being presented in the center of this small print room. This typical vessel of the Italian fleet was frequently represented in Bruegel's works.

For the first time, Pieter Bruegel the Elder's Naval Battle in the Gulf of Naples is on display alongside two major works by Henri Met de Bles. One of which, Storm at Sea with the Sacrifice of Jonah from the Capodimonte Museum in Naples, was once attributed to the Master.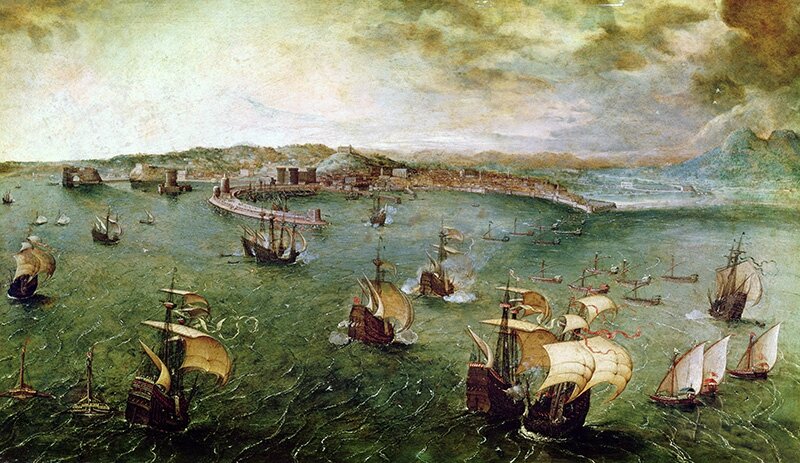 Pieter Bruegel l'Ancien (Breda ?, 1525/1530 – Bruxelles, 1569), attribué à, Bataille navale dans le golfe de Naples. Huile sur bois. Rome, Palazzo Doria-Pamphilj © Galleria Doria Pamphilj, Rome,Italy Giraudon/Bridgeman Images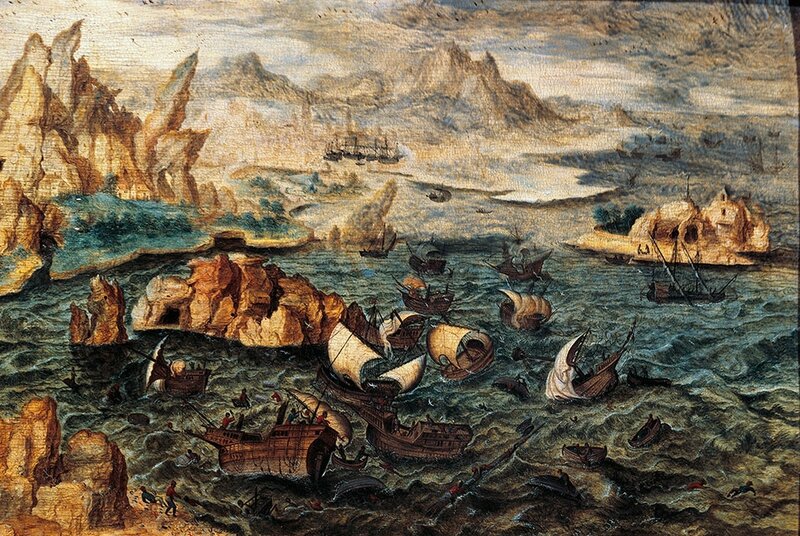 Attribué à Henri met de Bles (actif à Anvers, ca.1530 – Ferrare, 1560 ?), Tempête en mer avec le Sacrifice de Jonas. Huile sur bois, 28,5 x 43 cm. Naples, Musée national de Capodimonte, inv. Q675. © Museo e Gallerie Nazionali di Capodimonte, Naples, ItalyDe Agostini Picture Library / A. Dagli Orti/Bridgeman.
Section 2 : Sea battles
During the 16th and 17th centuries Europe was the scene of numerous conflicts, several of which saw engagements off coastlines. Even though, to begin with, naval battles did not play a major part in determining the outcome of a war, they provided a striking subject with powerful but fragile ships battered by cannon fire and sinking beneath the raging waters. Painters played on the turbulent movement, the roiling skies and the dramatic atmosphere of the event without, however, describing it like a chronicler.

Depiction of ships and sea battles was a way of asserting cities or States' ascendancy. The Battle of Lepanto in 1571, which embodied the Christian and the Muslim vision of the world, was one of the most commonly depicted by 17th-century Flemish painters.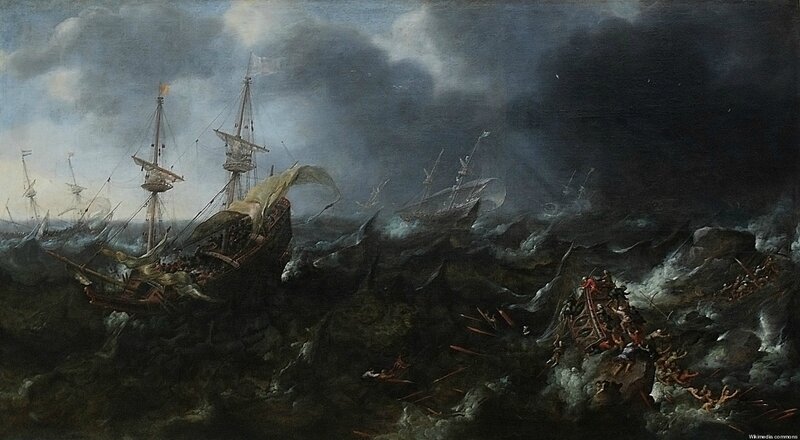 Andries Van Eertvelt (Anvers, 1590 - 1652), Combat naval de Lépante, 1623. Huile sur toile, 176 x 315 cm. Gand, museum voor Schone Kunsten, inv. S.88 © Lukas-Art in Flanders vzw, photo Hugo Maertens
Section 3 : Storms
Storms were a subject of considerable interest to 16th-century Flemish painters, who associated them with such biblical and mythological episodes as Jonah and the Whale, the Fall of Icarus and Noah's Ark.

Circa 1598-1600, Paul Bril, who lived then in Rome, highlighted the theatrical aspects of this iconography in Mannerist style, providing us with a Jonah cast into the gaping jaws of a monstrous whale. With remarkable ingenuity, he managed to combine his palette's powerful colours with the shimmering undulations of Mediterranean light in order to emphasise the scene's dramatic content.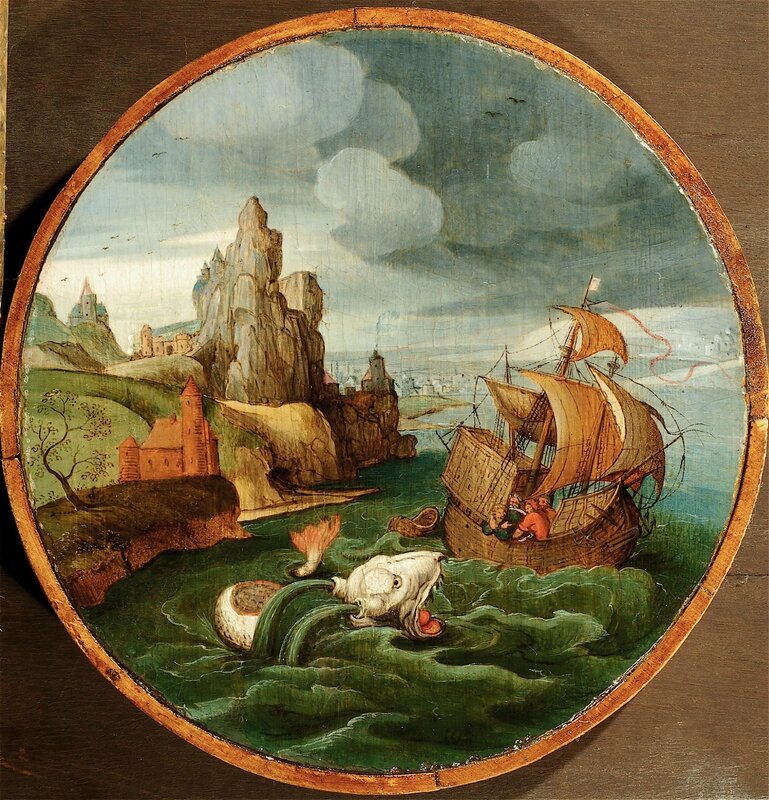 Abel Grimmer (Anvers, ca.1570- av.1619), Jonas englouti par la baleine, 1611. Huile sur bois. Collection privée © Collection privée
D'après Paul Bril (Anvers, 1554 – Rome, 1626). Gravé par Justus Sadeler (Anvers, ca. 1583 – Venise, 1620), Jonas et la baleine. Gravure, 21,3 x 27,4 cm. Cassel, musée départemental de Flandre, inv. 2014.2.1 © Cassel, musée départemental de Flandre
Section 4 : The port, an idealised vision
Claude Gellée (1600-1682), a French artist who spent much of his working life in Italy, had a decisive influence on 17th-century European painting, introducing a new way of depicting ports, idealising and recomposing them by using pale luminous colours and architectural features from Antiquity.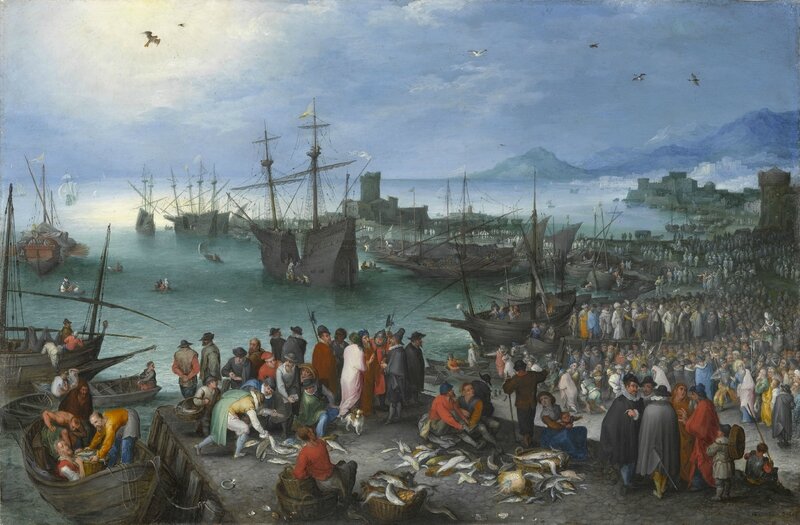 Jan Brueghel l'Ancien (Bruxelles, 1568 – Anvers, 1625). Scène portuaire avec le départ de saint Paul pour Césarée, 1596. Huile sur cuivre, 35,9 x 54,6 cm. Raleigh, North Carolina museum of Art, © North Carolina Museum of Art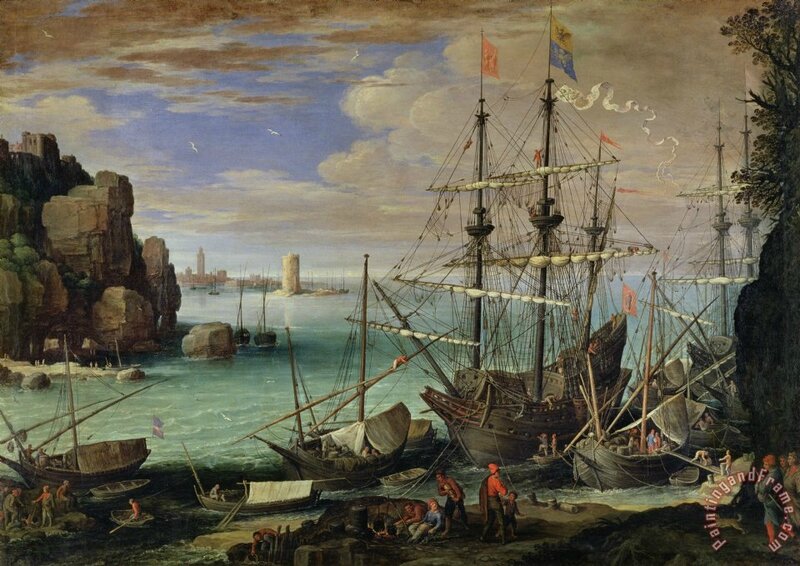 Paul Bril (Anvers, 1554 – Rome, 1626), Vue d'un port de mer, huile sur toile, 107 x 151 cm, Rome, Galleria Borghèse, inv. 354 © Galleria Borghese, Rome, Italy/Bridgeman Images
Section 5 : Towards a Dutch specialisation
The 17th century was the Dutch painting's golden age par excellence, and the seascape became the favourite subject among Dutch painters. It was the perfect reflection of a middle-class society that dared brave the ocean waves to develop sea trade. The part of the Netherlands belonging to the Protestant faith extended its territories, by gradually taking them back from the sea, and finally gained their independence from the Spanish domination in 1648. Many of the supposedly Dutch artists who first painted seascapes were actually from Flanders, including Jan Porcellis, Adam Willaert and Aert Anthonisz. They introduced a taste for the subject and had an initial influence on the Dutch style. Adam Willaert's works are in the same chromatic lineage as Jan "Velvet" Brueghel the Elder's seascapes. However Dutch painters established their style quickely : they lowered horizons to leave three-quarters of their compositions to sky and clouds. A new world unfolded before their eyes and they abandoned the coast to take on the high seas with cold hues which lead to poetry.
Aert Anthonisz (Anvers, ca.1579/1580 – Amsterdam, 1620), Embarcations à Ijselmonde, 1617. Huile sur bois, 42,2 x 80 cm. Amsterdam, Rijksmuseum, inv. SK-A-1446 © Amsterdam, Rijksmuseum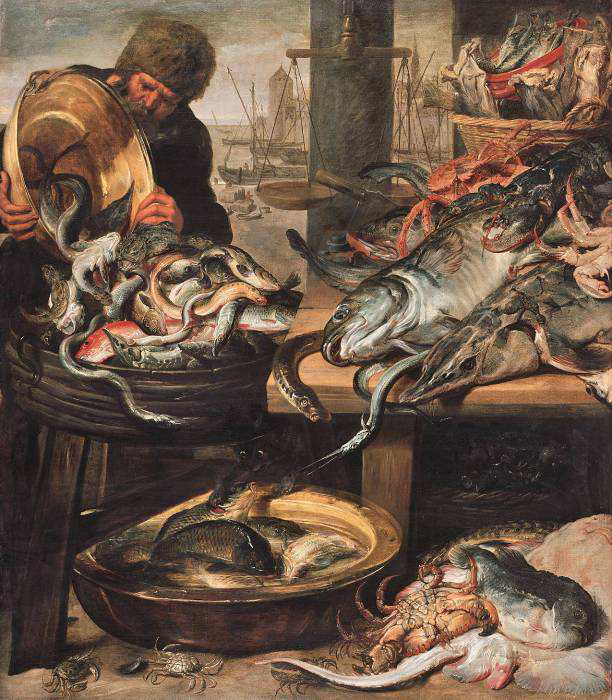 Frans Snyders (Anvers, 1579 - 1657), Un marchand de poissons derrière son stand sur les quais d'Anvers. Huile sur toile, 171,4 x 103,4 cm. Anvers, Rockoshuis © KBC Banque & Assurances, Erwin Donvil