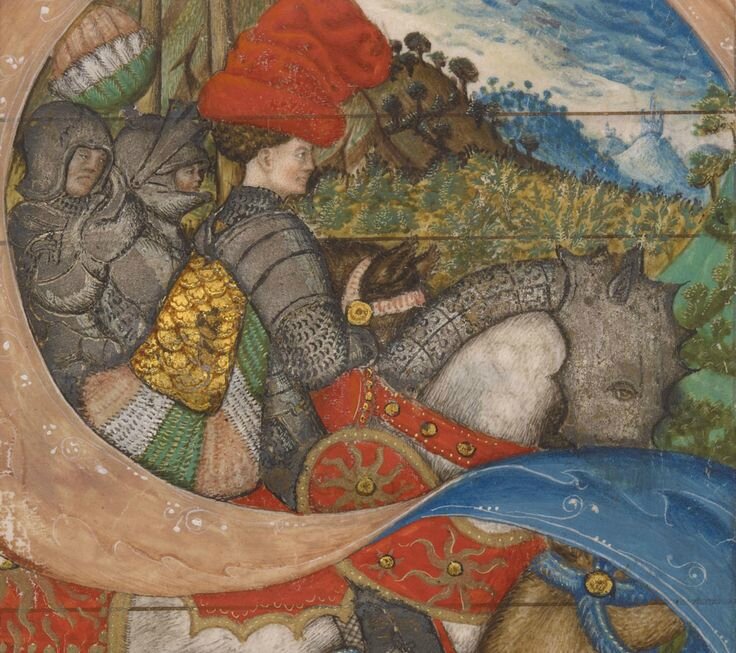 Initial S: The Conversion of Saint Paul (detail), cutting from a gradual, probably northern Italy, attributed to Pisanello and the Master of the Antiphonal Q of San Giorgio Maggiore, about 1440-50. The J. Paul Getty Museum. © J. Paul Getty Trust
LOS ANGELES, CA.- Drawn largely from the Getty Museum's exceptional permanent collection of Italian art, and major loans from private collections, Renaissance Splendors of the Northern Italian Courts is on view March 31–June 21, 2015 at the J. Paul Getty Museum, Getty Center.

The Renaissance courts of northern Italy were among the wealthiest and most sophisticated in Europe. Patrons at courts in these regional centers—including Milan and Ferrara—valued novelty and magnificence, and patrons living there commissioned innovative artists to create objects of remarkable beauty and refinement. Some of the most brilliantly and elegantly illuminated manuscripts emerged from this courtly context.
Initial A: Pentecost, cutting from an antiphonal, Lombardy, attributed to Stefano da Verona, about 1430–35. The J. Paul Getty Museum. © J. Paul Getty Trust
Renaissance Splendors of the Northern Italian Courts brings together 25 works—illuminated manuscripts, paintings, a drawing, and an album of drawings—including seven significant objects acquired over the past decade for the Getty's manuscripts collection. At the same time, in the spirit of international collaboration, the Archivio Storico e Biblioteca Trivulziana in Milan will display an exhibition of the same title in their galleries ("Splendori rinascimentali nelle corti dell'Italia settentrionale").

"The Getty Museum has made great strides in recent years to form a collection broadly representative of the major schools of Italian manuscript illumination, and in the past decade we have added significantly to our holdings with works by artists who were active in Lombardy, Ferrara, the Veneto, and surrounding areas," said Timothy Potts, director of the J. Paul Getty Museum. "As visitors to this exhibition will see, the relationship between these artists and their courtly patrons resulted in some of the most elegant and visually stunning illuminations of the period."
Initial E: David Lifting Up His Soul to the Lord (detail), leaf from the Antiphonal of Cardinal Bessarion, Italy, Franco dei Russi, about 1455–60/63. The J. Paul Getty Museum. © J. Paul Getty Trust
As an extension of the gallery exhibition, a special online presentation has been developed in collaboration with libraries, archives and museums in the Italian cities of Ferrara, Mantua, Milan, Venice and Verona. This online exhibition, which includes select objects on display at the Getty and Italian institutions, will allow visitors to view over 100 additional illuminated manuscripts and paintings by artists active in the northern Italian courts as well as items owned by various patrons who lived there.

Artists such as Pisanello (by 1395 - about 1455), Andrea Mantegna (about 1431-1506), Girolamo da Cremona (active about 1450-1485), Taddeo Crivelli (active about 1451-1479), Franco dei Russi (active about 1453-1482), Cristoforo Cortese (active 1390-1445), the Master of the Murano Gradual (active about 1430 -1460), and Stefano da Verona (1374-after 1438) created beautiful and refined works on panel or on parchment for the princes, courtiers, and other high-ranking citizens of the wealthiest and most sophisticated cities in Renaissance Europe. Patrons provided the painters and illuminators with favorable contracts and accorded them a certain level of social prestige in exchange for the lavishly and intricately decorated panels and books. These works prominently displayed the patrons' own scholarly learning, religious devotion, and elite social status, in combination with the artists' talents and the patrons' tastes.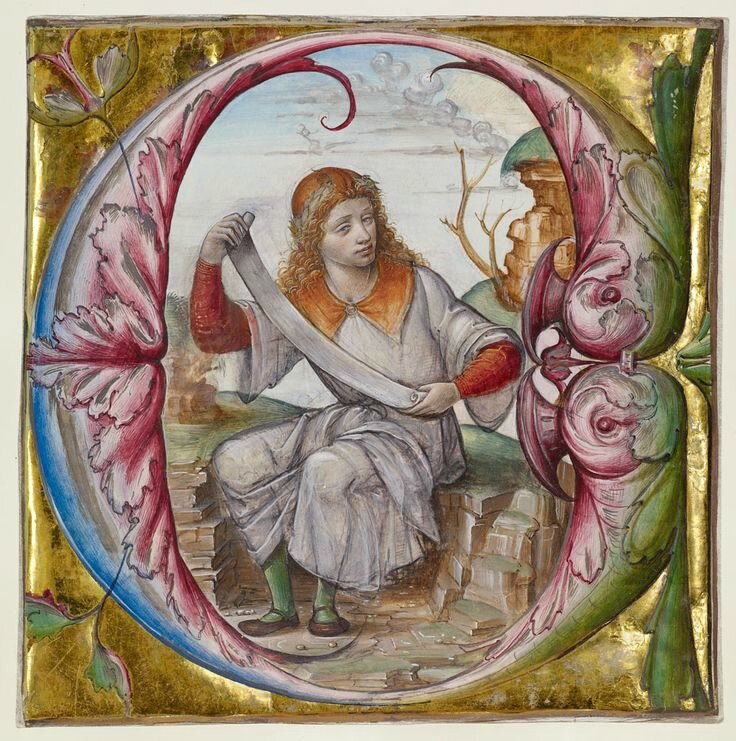 Initial E: Saint John the Evangelist, cutting from an antiphonal, Lombardy, Master B. F., 1500s. The J. Paul Getty Museum. © J. Paul Getty Trust
Bryan Keene, assistant curator of manuscripts for the J. Paul Getty Museum, said: "In the exhibition, we sought to celebrate the relationships between court centers, as well as the connections between magnificent illuminations and drawn or painted objects through pairings that provide not only a glimpse of courtly life, but also an array of visual riches fit for the highest ranking members of Renaissance society."

The in-gallery exhibition at the Getty and the online exhibition are arranged in three sections: Court Artists, Court Patrons and Court Style.
The Annunciation, Gualenghi d'Este Hours, Ferrara, Taddeo Crivelli and Guglielmo Giraldi, about 1469. The J. Paul Getty Museum. © J. Paul Getty Trust
Court Artists
Artists at court were frequently kept on retainer by their patrons, receiving a regular salary in return for undertaking a variety of projects. Their privileged position eliminated the need to actively seek customers, granting them time and artistic freedom to experiment with new materials, techniques, subject matter, and styles.

Court artists were often held in high regard not only for their talents as painters or illuminators but also for their learning, wit, and manners. Some artists maintained their elevated positions for decades. Their frequent movements among the Italian courts could depend on summons from a wealthier patron, or dismissal if their styles were outmoded. Consequently their innovations—among the most significant in the history of Renaissance art—spread quickly throughout the peninsula.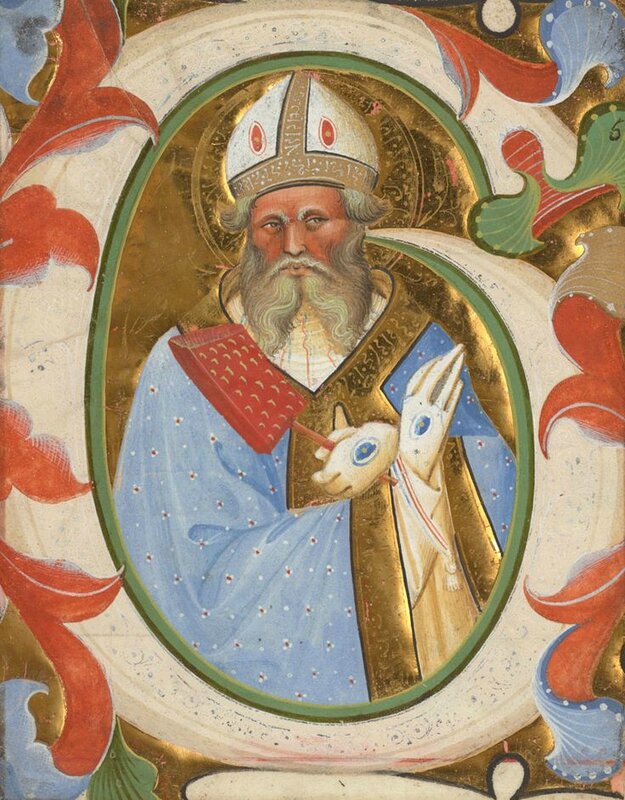 Initial G: Saint Blaise, cutting from a gradual, Northern Italy, Master of the Murano Gradual, about 1450-1460. The J. Paul Getty Museum. © J. Paul Getty Trust
Court Patrons
Social standing, religious rank, piety, wealth, and artistic taste were factors that influenced the ability and desire of patrons to commission art for themselves and for others. Frequently a patron's portrait, coat of arms, or personal emblems were prominently displayed in illuminated manuscripts, which could include personal prayer books, manuals concerning moral conduct, humanist texts for scholarly learning, and liturgical manuscripts for Christian worship.

Patrons sometimes worked closely with artists to determine the visual content of a manuscript commission and to ensure the refinement and beauty of the overall decorative scheme. Rulers not only employed artists at their courts but also spent time and money trying to draw popular painters from other centers and evaluating foreign artists' unsolicited applications for work. Altogether these patronly activities reveal the social politics behind the artistic culture at court.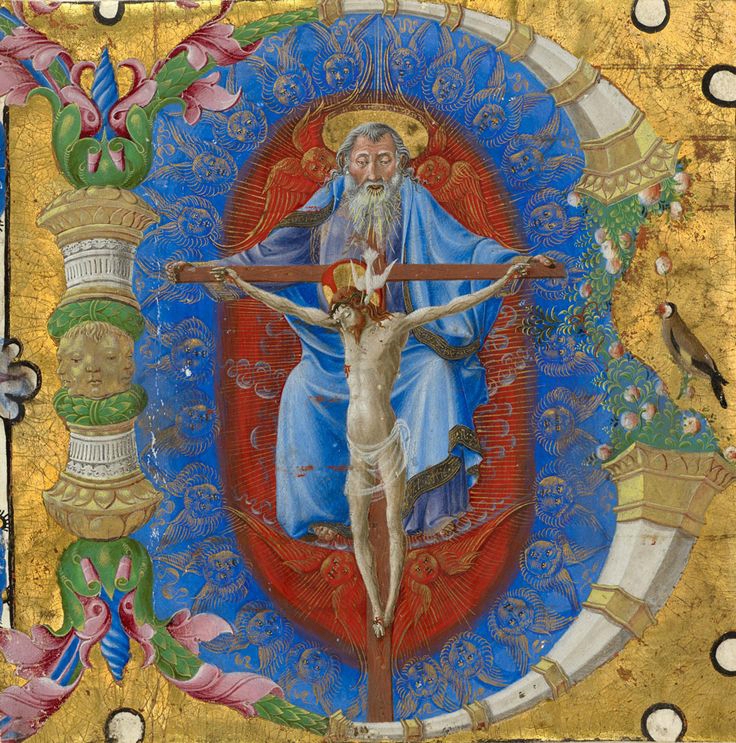 Initial B: The Trinity, cutting from a gradual, Ferrara, Taddeo Crivelli, about 1460–70. The J. Paul Getty Museum. © J. Paul Getty Trust
Courtly Style
Artists, patrons, and works of art circulated among the northern Italian courts at an unprecedented rate during the Renaissance, spreading artistic ideas and tastes. Consequently, paintings on panel and parchment share certain characteristics that suggest a so-called courtly style, or manner of representation desired by royals, nobles, and others at court. Many of the works on view exhibit these traits, which include finely graduated bright colors deployed in harmonious combinations, sophisticated figures that gesture and move elegantly across the page, the lavish embellishment of surfaces, and above all, a sense of visual splendor and refinement filling the composition from edge to edge.

Renaissance Splendors of the Northern Italian Courts is on view March 31–June 21, 2015 at the J. Paul Getty Museum, Getty Center. Accompanying the exhibition is a revised edition of the publication Italian Illuminated Manuscripts in the J. Paul Getty Museum.

The exhibition is co-curated by Christopher Platts, former graduate intern at the Getty, and Bryan Keene, assistant curator of manuscripts at the J. Paul Getty Museum. The online exhibition is curated by Keene, designed by Robert Checchi, senior designer at the Getty Museum, and produced in collaboration with colleagues at the following institutions in Italy: Abbazia di San Giorgio Maggiore, Venice; Archivio e Biblioteca Capitolare di Sant'Ambrogio, Milan; Archivio Storico Civico e Biblioteca Trivulziana, Milan; Archivio Storico Diocesano, Mantua; Fondazione Giorgio Cini, Venice; Musei Civici di Arte Antica, Ferrara; and Museo di Castelvecchio, Verona.