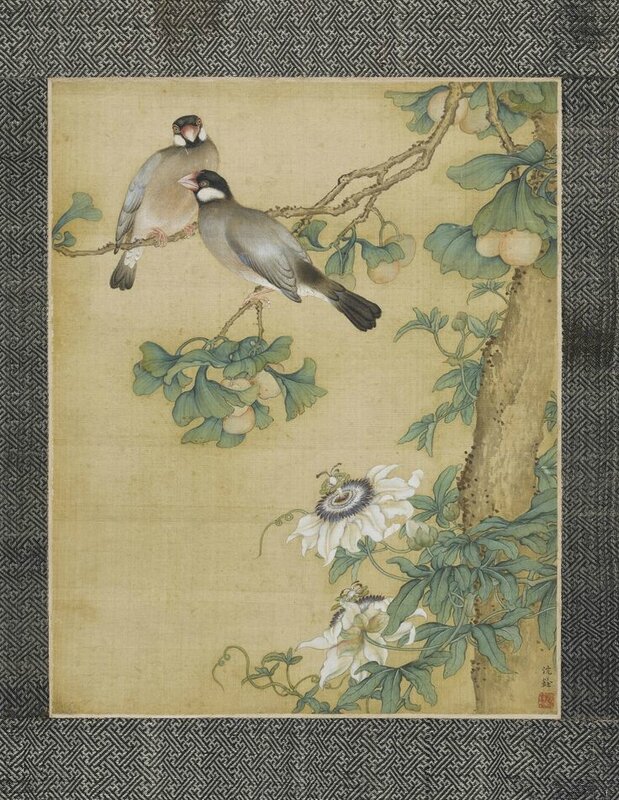 Lot 3106. Two Imperial bird paintings by Shen Quan, Qing dynasty, Qianlong period (1736-1795); 34.3 by 27.5 cm., 13 1/2 by 10 3/4 in. Estimate 1,000,000 — 1,500,000 HKD. Lot sold 1,500,000 HKD (193,500 USD). © Sotheby's
ink and colour on paper, signed Shen Quan with seal of the artist, delicately painted with two auspicious birds perched on realistically rendered jagged rockwork below overhanging pine trees and bamboo shoots, their plumage picked out in precise detail, the background accentuated with cresting waves; signed Shen Quan with additional seal, similarly depicted with two small red-beaked birds perched on thin fruiting branches bearing clusters of leaves and issuing from a realistically rendered tree trunk, above scrolling foliage bearing two large white floral blossoms coiling the tree trunk below, both with colophons dated May 1912, with one seal reading Luo shi chao han jian cang, and a colophon by Luo Chaohan, signed Yun Zhang.
Provenance: Collection of Luo Chaohan (1868-1935).
Note: Shen Quan (1682-1762), zi Hengzhi, hao Nanping, was a native of Deqing, Zhejiang province. Shen was particularly adept at bird and flower painting and often painted auspicious subjects. He was skilled in various brushwork techniques, and his use of colour subtly reflected a sense of elegance and freshness. He adhered to the Song dynasty court painting style with a special emphasis on realsitically capturing elements of the natural world.
Shen Quan grew up in a humble family, where he and his father had to make small handcrafts in order to survive. Shen later studied paintings with Hu Mei (active before the Yongzheng period) and subsequently started his career as a professional painter. His paintings were selected as tribute for the Imperial court, and his Baima tu ('The Painting of A Hundred Horses') was particularly favoured by the Japanese Shogun. Shen Hao was also a great teacher. During the Yongzheng period, he was invited to teach painting at Nagasaki. His students included the famous artists Sō Shiseki (1715-1786), Kigyoku Kurokawa (1732-1756), Roko Mamura (1755-1795). Shen was regarded as the best amongst all foreign painters. When he returned to China, Shen Hao selflessly gave away all the earnings he had made in Japan to his friends and continued teaching. He had many students and followers such as Tong Heng (active during Qianlong period), Wu Qi (active during Qianlong period), and altogether, they formed the Naping painting school, and it was particularly influential to the painting traditions of southern China and Japan.

The two paintings are relatively small in size, but are precisely structured and richly composed with great attention paid to the details. One depicts two auspicious birds standing firmly on rocks with the crashing waves smashing underneath. The presence of the vigorous overhanging pine tree and the bamboo shoots substantially enhance the sense of elegance, as well as endowing a powerful dominating force to the two birds. The elements in the background are also meticulously finished. The sky has been lightly washed with a touch of red; the rocks are masterfully painted with various texture strokes and brushed with light ink.

The other painting depicts two small birds perched on a fruiting tree. The artist has skillfully drawn the outline of the birds in light ink, and then delicately filled them with colours to indicate the texture and the different layers of the feather. The tree is full of ripe fruits that pressur the branch downwards; in response, an elegant white flower blossom is depicted issuing from the ground and flourishing upwards. The overall composition of the painting is ingeniously well structured with a high level of refinement and a sense of archaism.
Amongst all the extant works of Shen Quan, there are only a few small paintings like the current works. See an example from the British Museum, Hanxiang tu ('Painting of the Winter Scent'), ink and colour on silk, 38.4 by 48.2 cm., an inscription to the right reading Nanping Shen Quan fa yuanren biyi ('Following the sense of the Yuan by Nanping Shen Quan'), Comprehensive Illustrated Catalogue of Chinese Paintings, vol. 2, Tokyo, 1998, pl. E15-073.

Luo Chaohan (1868-1935), zi Yunzhang, master of Duyilou, was a native of Shanyin, Zhejiang province. He later resided in Beicang in Tianjin. Luo was proficient in painting nature subjects. In addition, he was also an avid collector with a substantial collection of painting and calligraphy. In 1904, he established the Tianjin Telegram University. Later, he was appointed as the director of the Beijing Telephone Bureau.

Reference: Zhou Jiyin and Hidemi Kondō, Shen Quan yanjiu, Jiangsu meishu chubanshe, 1997.
Teisuke Toda and Ogawa Hiromitsu, Comprehensive Illustrated Catalogue of Chinese Paintings, Tokyo, University of Tokyo Press, 1998.
Sotheby's. Imperial Porcelain and Works of Art from a Hong Kong Private Collection, Hong Kong, 07 april 2015