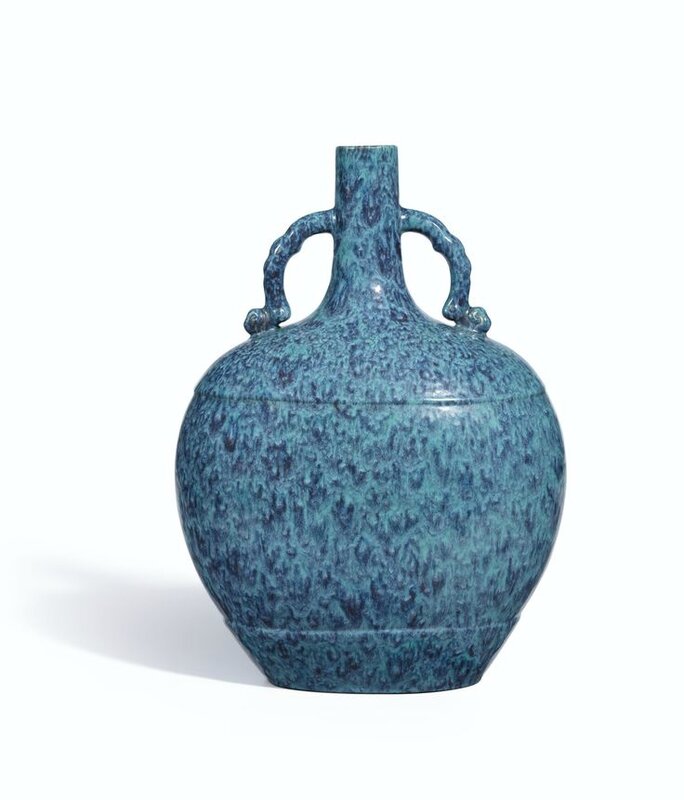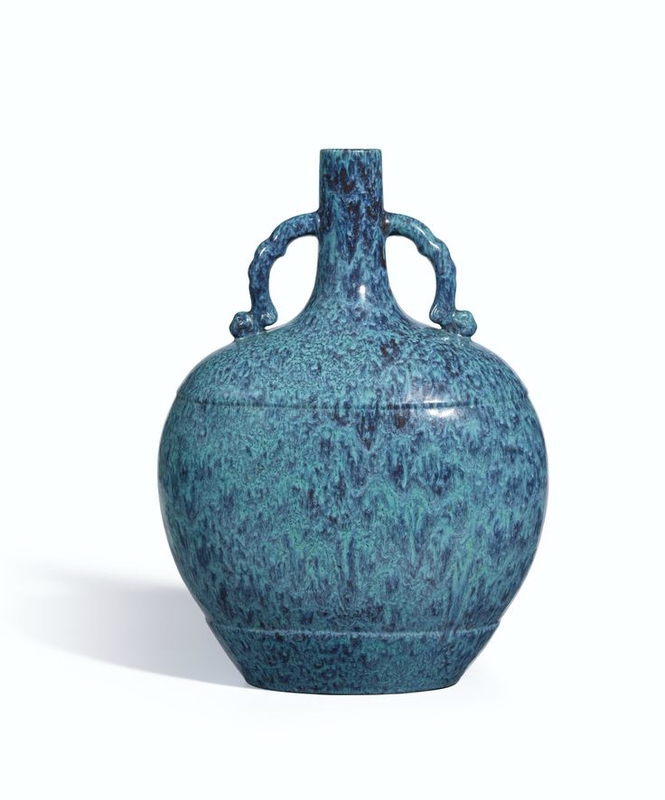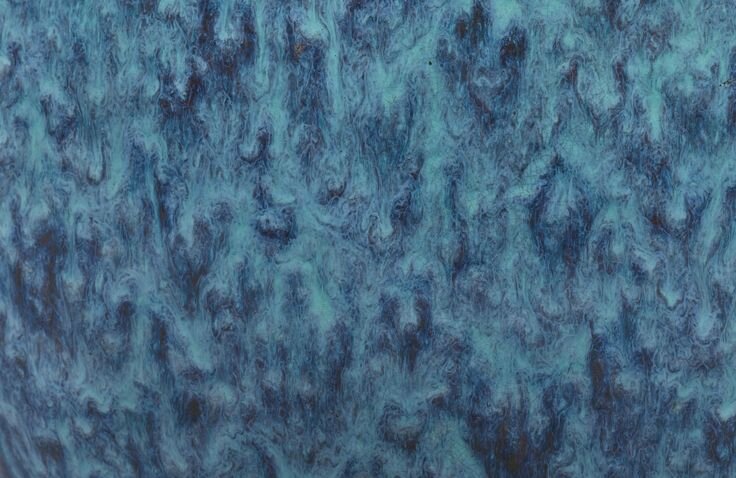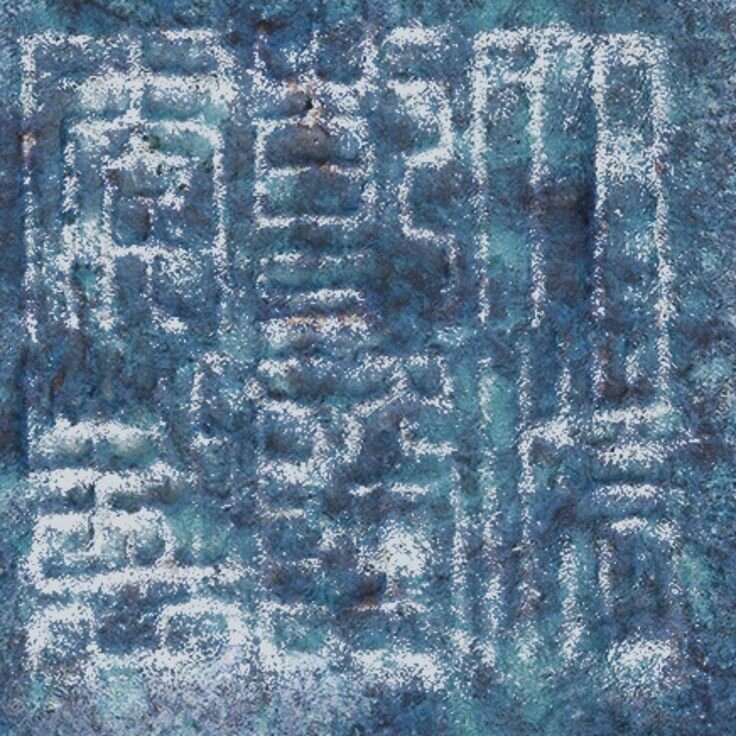 Lot 3627. An extremely fine and brilliantly enamelled robin's-egg glazed moonflask, Incised seal mark and period of Qianlong (1736-1795); 33.1 cm., 13 in. Estimate 10,000,000 — 15,000,000 HKD (1,290,000 — 1,935,000 USD). Lot sold 12,080,000 HK (1,558,320 USD). © Sotheby's
sturdily potted with a ovoid body sweeping to a broad shoulder and a slender cylindrical neck, the neck flanked by a pair of ruyi-shaped loop handles, the body centred with a slightly indented broad band, the exterior vividly applied with a turquoise-blue glaze of robin's egg type suffused overall with finely mottled lavender and dark blue .
Provenance: Sotheby's Hong Kong, 29th October 1991, lot 85.
Christie's Hong Kong, 26th April 1999, lot 543.
Christie's Hong Kong, 7th July 2003 (originally April), lot 582.
Note: 'Robin's egg' glaze represents a significant technical innovation of the Yongzheng period (1723-35) attributable to Tang Ying (1682-1756), the greatest porcelain superintendent in Chinese history. The Yongzheng Emperor, who initiated many revivals of earlier ceramic techniques, was particularly enamoured with the variegated Jun glazes of the Song (960-1279) and Ming (1368-1644) dynasties. In order to have the glazes recreated or imitated Tang Ying sent his trusted assistant from the imperial kilns in Jingdezhen, Jiangxi province, on study trips to the Jun region in Henan province to learn from the local potters and even went as far as having ceramic raw materials mined in the Jun area transported over thousands of kilometres to Jingdezhen. Among the many types of glazes derived from those efforts are mottled purple ones such as the flambé variety, and mottled turquoise ones such as 'robin's egg', which Tang Ying termed lu Jun or Oven Jun, i.e., a Jun glaze fired in low-temperature ovens instead of high-temperature kilns (Jingdezhen Institute of Ceramic Archaeology et al, The Cultures of Porcelain Superintendents and Jingdezhen, conference volume, Nanchang, 2011).
The 'robin's egg' glaze is mentioned on a stele in Jingdezhen, inscribed by Tang Ying, as one of the major types of ceramics that he succeeded to fire and proposed as suitable for regular delivery to the imperial court. Its colour is described as intermediate between the glazes of the Shiwan kilns of Foshan, Guangdong, and those used by the Yixing kilns in Jiangsu for their zisha tea pots, but having a better and more beautiful flow.
A court painting showing a boy with a blue flower vase may depict a 'robin's egg' vase of the same form from the imperial collection now in the National Palace Museum, Taipei; and a Yongzheng court record of 1729 from the workshops of the Imperial Household Department, which mentions "a flower holder in form of gourd with three sockets … to be positioned on a lacquer stand and protected in a wooden box" may refer to another 'robin's egg' vase in the National Palace Museum, illustrated in Chen Yuh-Shiow ed., The Enchanting Splendour of Vases and Planters: A Special Exhibition of Flower Vessels from the Ming and Qing Dynasties, National Palace Museum, Taipei, 2014, cat. no. II-05.
Porcelain with 'robin's egg' glaze was produced only in small numbers, and moon flasks with this glaze are exceedingly rare. The elegant form of the present flask follows prototypes of the early Ming dynasty that were inspired by metal wares of the Middle East. However, with its elongated neck and body compared to other moon flasks of the Ming and Qing (1644-1911) periods, the present piece appears to be the only recorded example not only with a 'robin's egg' glaze but with any kind of glaze. Only one other 'robin's egg' moon flask of Qianlong mark and period appears to be recorded, an example of slightly shorter and broader proportions, sold in these rooms, 21st May 1979, lot 105, and again at Christie's Hong Kong, 28th November 2006, lot 1305, and included in An Exhibition of Important Chinese Ceramics from the Robert Chang Collection, Christie's London, 1993, cat. no. 48.
Compare also two moon flasks with rounder body from the Yongzheng period, one sold in these rooms 20th May 1986, lot 84, the other illustrated in The Tsui Museum of Art. Chinese Ceramics IV: Qing Dynasty, Hong Kong, 1995, pl. 33 and sold at Christie's Hong Kong, 20th March 1997, lot. 100. Ruyi-shaped handles are commonly seen on Ming and Qing porcelains though the present flask is special in its details. A Qianlong vase with crackled Ge-type glaze and comparable handles is illustrated in the exhibition catalogue Ethereal Elegance: Porcelain Vases of the Imperial Qing - The Huaihaitang Collection, Art Museum, Chinese University of Hong Kong, Hong Kong, 2007, cat. no. 43. For a prototype of this moon-flask shape from the Yongle period (1403-24) of the Ming dynasty, compare a blue and white porcelain example from the former collection of the Ottoman sultans in Istanbul, fitted with an Ottoman silver-gilt rim mount, in Regina Krahl, Chinese Ceramics in the Topkapi Saray Museum, Istanbul, vol. II, London, 1986, pl. 613, and a similar one sold in our London rooms, 9th November 2005, lot. 291.
The 'robin's egg' glaze is more commonly seen on Qianlong period lantern vases, see Regina Krahl, Chinese Ceramics from the Meiyintang Collection, London, 1994-2010, vol. 2, no. 923, exhibited at the British Museum, London, 1994, and sold in these rooms 4th April 2012, lot 6. A similar Qianlong 'robin's-egg' vase is also illustrated in Qing Kang Yong Qian ming ci tezhan / Catalogue of the Special Exhibition of K'ang-hsi, Yung-cheng and Ch'ien-lung Porcelain Ware from the Ch'ing Dynasty in the National Palace Museum, Taipei, 1986, cat. no. 93; and one from the Grandidier collection in the Musée Guimet, Paris, in Oriental Ceramics: The World's Great Collections, New York, 1980-82, vol. VII, fig. 184. A Yongzheng lantern vase was sold in these rooms, 8th April 2014, lot 3089, with another Qianlong piece, lot 3091. The 'robin's egg' glaze continued to be produced after the Qianlong period, although on later examples it tends to look less vibrant; see a Jiaqing period (1796-1820) lantern vase in the National Palace Museum, Taipei, in Qingdai danse you ciqi tezhan [Special exhibition of monochrome glazed porcelain of the Qing dynasty], Taipei, 1981, cat. no. 56, and one in Zhou Lili, Collection from the Shanghai Museum: Qing Dynasty Imperial Porcelain from the Yongzheng to Xuantong Period, Shanghai, 2014, pl. 3-92.
A Yongzheng flowerpot stand copying the famous 'numbered Jun' ware shape of the early Ming period, but with a 'robin's egg' glaze, is exhibited in Selection of Jun Ware: The Palace Museum Collection and Archaeological Excavation, Beijing 2013, cat. no. 309. For a Qianlong period Yixing teapot with 'robin's egg' glaze, but made from reddish stoneware clay, see The Complete Collection of Treasures of the Palace Museum: Monochrome Porcelain, Hong Kong, 1999, pl. 189.
According to research conducted at the Victoria & Albert Museum, London, and Oxford University, 'robin's egg' glazes are high-lead, low-temperature enamel-type compositions fired in oxidation and are coloured largely with copper and opacified with lead arsenate to achieve their extraordinary beautiful effect; see Nigel Wood, Rose Kerr et al, 'An evaluation of the composition and production processes of Chinese "robin's egg" glazes', in International Symposium on Ancient Ceramics, Shanghai, 2002, pp. 337-353.
Sotheby's. Important Chinese Works of Art, Hong Kong, 07 avr. 2015