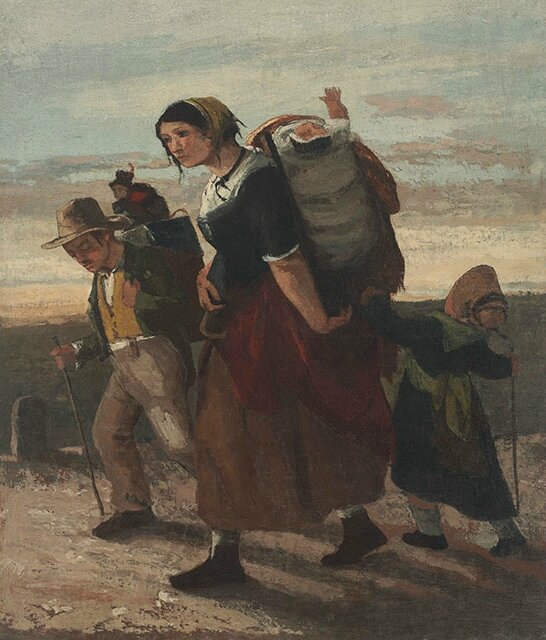 Gustave Courbet (French, 1819-1877), La Bohémienne et ses enfants, oil on canvas. Painted in 1853-1854. Estimate: $1,800,000 – 2,500,000. Photo: Christie's Images Ltd 2015.
NEW YORK, NY.- Christie's announces the spring sale of 19th Century European Art on April 28. This carefully curated auction boasts a superb selection of paintings by Federico Zandomengeghi, Gustave Courbet, and Joaquín Sorolla y Bastida, among others as well as a strong collection of Barbizon, French Academic, Victorian, Orientalist and Maritime pieces. The sale is primarily sourced from private collections, with additions from the Art Gallery of Ontario and the Seattle Art Museum.

Highlighting the sale is an important Gustave Courbet rediscovery, La Bohémienne et ses enfants. Begun by Courbet in 1853, La Bohémienne et ses enfants is mentioned in letters from the artist to Alfred Bruyas as a continuation of his 'Highway' series. Because of the pressures to complete the monumental L'Atelier du peintre (Musée d'Orsay) for an exhibition, Courbet stopped his work on this very large canvas and told his assistants to clear the studio at which point his neighbor in Ornans offered to house La Bohémienne et ses enfants. In order to save space, the painting was kept under the floorboards of the neighbor's attic. It remained there, forgotten until it was discovered in 2001. The painting was taken to the Courbet Museum in Ornans where the curator of the Museum and the son of the author of Courbet's catalogue raisonné, confirmed its authenticity.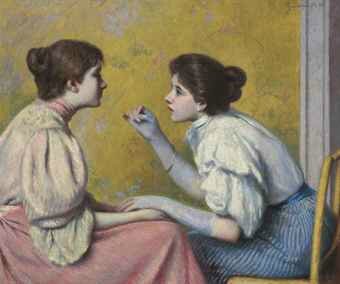 Federico Zandomeneghi (Italian, 1841 – 1917), Conversazione interessante, oil on canvas. Estimate: $700,000-1,000,000. Photo: Christie's Images Ltd 2015
Never before offered at auction, this trademark painting encapsulates all the qualities for which Zandomeneghi is most highly prized: delicacy of touch, an acute sense of observation which draws the viewer in to the private world of women, and a unique palette which brings the scene vibrantly to life. Few paintings in the artist's oeuvre better exemplify his ability to capture nuances of gesture: the curl of the fingers, the gentle craning of the figures' necks and their carefully angled gazes brilliantly convey the intimate, yet animated nature of their conversation.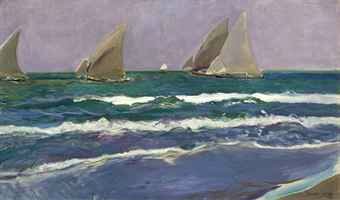 Joaquín Sorolla y Bastida (Spanish, 1863-1923), Velas en el mar, Valencia, oil on canvas. Estimate: $600,000-800,000. Photo: Christie's Images Ltd 2015
Fresh to the market, Velas en el mar, Valencia belongs to a series of paintings the artist executed in the summer of 1908 depicting beaches with boats and quantities of figures. Sorolla was at the height of his artistic powers. He had acquired such speed and dexterity that he was generally successful at any sea view he chose to tackle. Boasting a complete and distinguished provenance, the painting was purchased directly from the artist and was exhibited in New York at the wildly successful 1909 Sorolla exhibition at the Hispanic Society, which then traveled on to Buffalo, New York and Boston, Massachusetts.
ART GALLERY OF ONTARIO
The sale will also feature works with distinguished museum provenance including a group of seven paintings from the Art Gallery of Ontario (AGO), deaccessioned to benefit further art purchases at the AGO. A highlight of the group is Fishing Boats at Sea by the Dutch artist Henrik Willem Mesdag (1831-1915), which portrays the seascapes that were the basis of his work (lot 26, estimate: $70,000-90,000) and is a fine example of Mesdag's fluid Impressionistic style and a testament to his overriding interest in capturing the effect of light on water and sky. Among the other works sold by the AGO are five paintings by Henri Fantin-Latour and a collaborative work by Herman Johannes van der Weele and Willem Bastiaan Tholen.