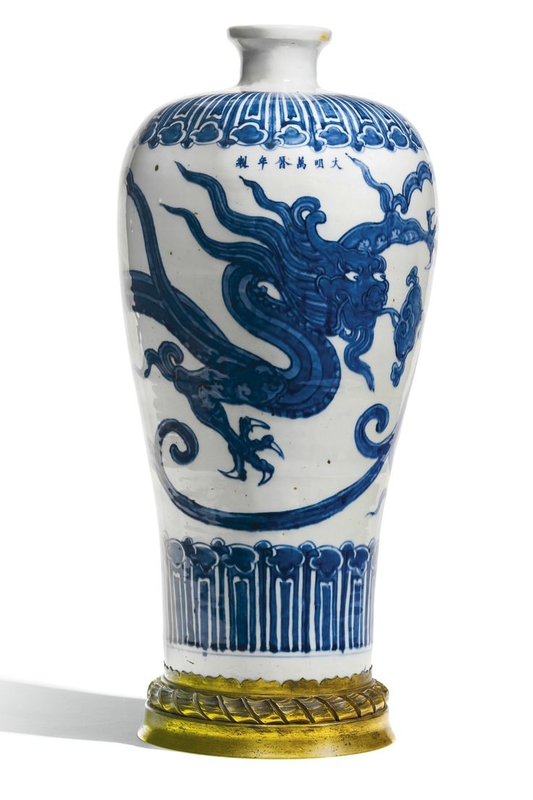 Lot 118. A fine gilt-bronze mounted blue and white 'Dragon' meiping, Wanli mark and period (1573-1619); 56cm., 22in. Estimate 250,000 — 300,000 GBP. Lot sold 389,000 GBP. Photo: Sotheby's.
sturdily potted with high rounded shoulders rising to a short waisted neck and lipped rim, boldly painted in rich cobalt-blue tones with a ferocious four-clawed dragon grasping a sprig of lingzhi in its mouth, the sinuous scaly body with trailing flame-like extensions, the head detailed with whiskers and a long mane, all between lappet bands around the shoulder and the foot, inscribed with a six-character reign mark, mounted with a gilt-bronze base.
Note: Meiping painted with a large dragon like the present vase are very rare and with its lappet bands around shoulder and foot is very similar to those recovered from Dingling, the mausoleum of the Wanli Emperor (r. 1573-1620) near Beijing, implying a strong association with the Ming royal family.
During the Song and Yuan periods (960-1368) meiping vases were used as wine containers, while in the Qing dynasty (1644-1911) meiping were used primarily as flower vases or display items. In the Ming dynasty (1368-1644) they had a special extra function, as a sort of ritual vessel and were placed in the tombs of Emperors, princes, aristocrats and high ranking generals across China. Eight large meiping vases with covers from the Jiajing (15 22-66) and Wanli periods have been recovered from the Dingling tomb. The inclusion of Jiajing pieces in the Wanli tomb documents that they represented items not specially made for burial but valued by the Emperor family during their lifetime. The eight meiping from Dingling include four from the funeral chamber of the Wanli Emperor, and two from those of his two Empresses. Three of these, with dragons amongst flower scrolls, with lotus lappet bands around shoulder and foot very similar to the present piece, and bearing the Wanli reign mark, are illustrated in Zhongguo chutu ciqi quanji [Complete Collection of Ceramic Art Unearthed in China], Beijing, 2008, Beijing volume, pls. 164-165; one of these is also illustrated in Zhongguo wenwu jinghua daquan. Taoci juan [Gems of China's Cultural Relics, Ceramics Section], Hong Kong, 1993, pl. 789. Many meiping vases have also been unearthed from the cemetery of the Ming Prince of Jingjiang in Guiling, Guangxi, and these span the Ming dynasty in dates, see Jingjiang Princes' Heritage: The Blue and White Plum Vases of Ming Dynasty Collected by the Guilin Museum, Shanghai, 2000. These vases, together with meiping from museum collections or archaeological discoveries all over China, were the topic of a large symposium held in Guilin 2000, organized by the Chinese Society of Ancient Ceramics based at the Palace Museum, Beijing, see Researches on Ancient Chinese Ceramics, Vol. 6, Beijing, 2000.
Compare also two closely related vases in the Shanghai Museum, illustrated in Lu Minghua, Mingdai guanyao ciqi [Ming imperial porcelain], Shanghai, 2007, pls 3-97 and 3-98; a slightly smaller example published in Mayuyama. Seventy Years, vol. 1, Tokyo, 1976, pl. 952; one from the Sir Percival David collection and now in the British Museum, London, included in theIllustrated Catalogue of Underglaze Blue and Copper Red Decorated Porcelains, London, 1976, pl. 669; another vase in the British Museum, illustrated in Jessica Harrison-Hall, Ming Ceramics in the British Museum, London, 2001, pl. 11:32; and a smaller example sold at Christie's New York, 26th March 2010, lot 1356. Vases of this form are also known painted with phoenix amongst clouds between similar borders; see a meiping included in the Oriental Ceramic Society exhibition Ming Blue and White Porcelain, London, 1946, cat. no. 60, sold in these rooms, 8th July 1958, lot 13; one sold in these rooms 16th May 2007, lot 469; one sold in our Hong Kong rooms, 2nd May 2005, lot 646; and another sold at Christie's London, 15th May 2007, lot 223.
Meiping vases of this type closely follow the Xuande period (1426-1435) prototype; see for example a large vase painted in underglaze blue with a similar four-clawed dragon grasping a sprig of lingzhi, recovered from the Xuande stratum of the imperial kilns at Jingdezhen, included in the exhibition Imperial Porcelain of the Yongle and Xuande Periods Excavated from the Site of the Ming Imperial Factory at Jingdezhen, Hong Kong Museum of Art, Hong Kong, 1989, cat. no. 88.
Sotheby's. Important Chinese Art, Londres, 13 mai 2015, 11:00 AM