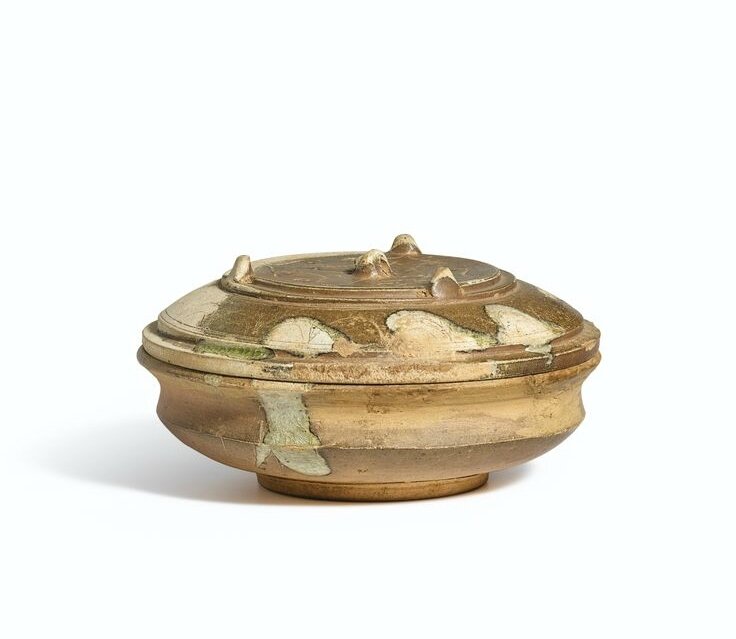 Lot 3. An incised green-glazed pottery box and cover, Han Dynasty; 19.2cm., 7 5/8 in. Estimate 1,357- 2,713 EUR. Lot sold 139,390 GBP. Photo courtesy Sotheby's.
of circular form, the stepped domed cover set with a loop final and three raised struts, the raised central medallion incised with a stylised ruyi floral medallion, all encircled by incised overlapping lappets, the exterior unevenly applied with a glassy green glaze eroded to a rust-brown tone and revealing the buff-grey body in parts. Quantité: 2.
Provenance: Mayuyama & Co. Ltd., Tokyo.
Exhibition: Chūgoku bijutsu 5000 nen ten [Exhibition of the 5000 years of Chinese art], Osaka Art Museum, Osaka, 1966, cat. no. 4-13.
Chūgoku bijutsu ten. Kandai no bijutsu [Chinese art exhibition. The art of Han dynasty], Osaka Art Museum, Osaka, 1974, cat. no. 1-54.
Tokubetsu tenji go. Higashi Asia no futamono [Special exhibition box and cover. Eastern Asian box and cover], Kuboso Memorial Museum of Arts, Osaka, 1984, cat. no. 7.
Bibliography: Fujiō Koyama, ed., Sekai tōji zenshū. Chūgoku jodai hen [Collection of world ceramics: Ancient China], vol. 8, Tokyo, 1961, pl. 15.
Ryūsen Shūhō. Sōgyō shichijū shūnen kinen/Mayuyama: Seventy Years, Tokyo, 1976, vol. 1, pl. 47.
Masahiko Sato, Chūgoku tōji shi [The history of Chinese ceramics], Tokyo, 1978, pl. 27.
Note: This box belongs to a group of green-glazed wares incised with various geometric designs; see two jars and a tripod censer with similar stylised lappets in the Palace Museum, Beijing, included in the Compendium of Collections in the Palace Museum, vol. 1, From the Neolithic Age to the Han Dynasty, Beijing, 2013, pls 178, 180 and 185; and a bottle vase in the Metropolitan Museum of Art, New York, illustrated in Suzanne G. Valenstein, A Handbook of Chinese Ceramics, New York, 1989, pl. 37, where the author notes that this group of wares were produced in the southernmost parts of China (see p. 4 3).
The graceful design of petals on the cover of this piece is also found on numerous lacquer and jade boxes unearthed from Han dynasty tombs, such as a lacquer box excavated near Tianchang, Anhui province and now in the Anhui Provincial Museum, Hefei, illustrated in Zhongguo qiqi quanji [The complete works of Chinese lacquer], vol. 3, Fuzhou, 1998, pl. 232; and a jade box, unearthed in Xiangganshan, Guangdong province, now in the Museum of the King of Nanyue, Guanzhou, included in the exhibition The Search for Immortality. Song Treasures of Han China, Fitzwilliam Museum, Cambridge, 2012, cat. no. 165.
Sotheby's. The Soul of Japanese Aesthetics – The Tsuneichi Inoue Collection, Londres, 13 mai 2015, 10:00 AM