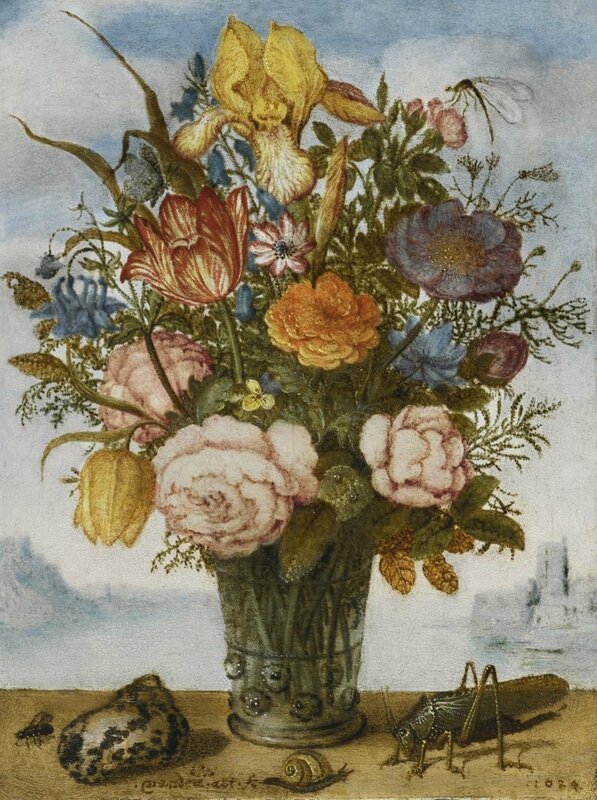 Balthasar van der Ast (Middelburg 1593/94 - 1657 Delft), Flower bouquet on a ledge, together with a shell and a grasshopper, a panoramic landscape beyond. Signed lower left .vander.ast.f. and dated lower right: 1624; oil on copper; 5 1/4 by 4 in.; 13.3 by 10.2 cm. Estimate 600,000 — 800,000 USD (533,599 - 711,465 EUR). Photo Sotheby's
Provenance: Anonymous sale ("The Property of a Lady"), London, Christie's, 10 July 1981, lot 7;
David Koetser, 1985.
Exhibition: David Koetser Gallery, 1 - 16 December 1983;
Amsterdam, Kunsthandel K. & V. Waterman, Masters of Middelburg: Exhibition in Honour of Laurens J. Bol, 1984, no. 13 (on loan);
David Koetser Gallery, 1985, no. 50, reproduced;
New Orleans 1997, cat. no. 2;
Washington, National Gallery, From Botany to Bouquets: Flowers in Northern Art, 31 January- 31 May 1999, no. 4;
Baltimore 1999, no. 2.
Notes: In this refined and jewel-like copper, Balthasar van der Ast pays direct homage to his brother-in-law and likely teacher, Ambrosius Bosschaert. That van der Ast so specifically references the elder Bosschaert in this small scale copper is not entirely surprising, but it is an extremely rare, if not unique, example of such an overt homage. In particular, this work appears to draw from two larger compositions by Bosschaert, his Bouquet of Flowers on a Ledge formerly in the Carter collection (fig. 1; 1619, Los Angeles County Museum of Art, acc. no. M.2003.108.7), and his Vase with Flowers (circa 1618-19, Mauritshuis, The Hague). The most striking of the similarities between van der Ast and Bosschaert's work is the former's employment of the expansive cloudy landscape set behind the still life. Bosschaert's own use of this device must have made a significant impact not only van der Ast, but on the entire painting community in and around Middelburg. Van der Ast's use of such a landscape is a clear acknowledgment of its success from the moment of its development. Furthermore, as Ingvar Bergström correctly observed, van der Ast quotes specific flowers from the Mauritshuis Bosschaert, such as the crowning yellow iris and striped tulip.2
Ambrosius Bosschaert the elder, Bouquet of Flowers on a Ledge. 
Digital Image © 2015 Museum Associates / LACMA. Licensed by Art Resource, NY.
Despite these fascinating connections between the two artists, van der Ast also makes a conscious effort to differentiate himself from his brother-in-law by including his own inventive and highly distinctive iconographic elements. Notably, he introduces a characteristic grasshopper, snail, shell and fly along the foreground ledge. Additionally, the relative softness of van der Ast's outlines and color combinations depart from Bosschaert's more brightly lit and crisply drawn flowers.
1. Bosschaert married van der Ast's sister, Maria, 1604. Ambrosius Bosschaert's three sons, Ambrosius the Younger (1609–1645), Johannes (ca. 1612/13-1628 or later), and Abraham (1606-1683/84) were trained by van der Ast upon the death of their father in 1621.
2. Private correspondence to David Koetser, 1982.
Sotheby's. The Weldon Collection. New York, 22 avr. 2015, 10:00 AM