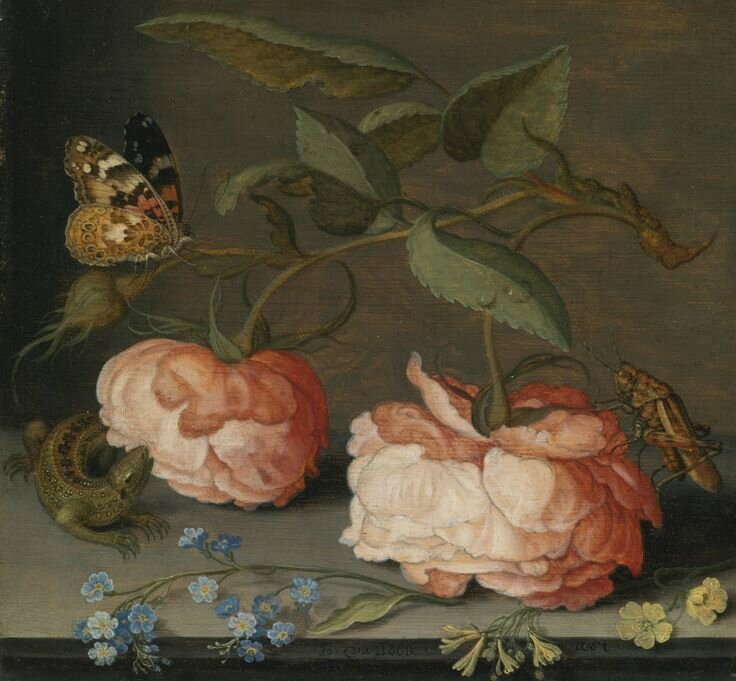 Balthasar van der Ast (Middelburg 1593/94 - 1657 Delft), Roses with a butterfly and a grasshopper, together with forget-me-nots, primroses and a sand lizard on a stone ledge. signed bottom center and right, along the ledge: .B van der. / .ast.; oil on panel; 6 3/8 by 6 7/8 in.; 16.2 by 17.7 cm. Estimate 400,000 — 600,000 USD (355,733 - 533,599 EUR). Photo Sotheby's.
Provenance: Possibly with Schaeffer Galleries, New York (according to an old inscription on the reverse);
Anonymous sale, London, Phillips, Son & Neale, 9 December 1986, lot 65;
David Koetser, 1987.
Exhibition: New Orleans 1997, no. 3:
Baltimore 1999, no. 3.
Bibliography: New Orleans 1997, pp. 7-8, cat. no. 3, reproduced;
Baltimore 1999, pp. 6-7, cat. no. 3, reproduced.
Notes: This simple but beautifully observed still life is a wonderful example of Van der Ast's virtuosity on a small scale: two roses on a branch together with some other delicate flowers, animated with a few little animals. Although the objects may seem casually arranged, they are, in fact, carefully placed to create a balanced and naturalistic impression. The vantage point is quite low and the front edge of the table, cast in shadow, is placed close to the picture plane. This technique cleverly enhances the immediacy and realism of Van der Ast's still life, which is further emphasized by illusionistic motifs such as the forget-me-nots and yellow buttercups hanging down over the ledge in the foreground. In this, Van der Ast is showing off his superb skill in drafting a composition with simple yet steadfast lines and a lovely mix of color— pinks, greens with touches of blue and yellow. Some skillful traces of underdrawing can be discerned in the panel, such as in the outlines of the rose petals. Here the thinly applied paint is adeptly used to model the flowers.
Van der Ast was a most careful observer of nature, and in the Weldon picture he depicts not only elegant flowers, like the soft pink Provins roses, delicate forget-me-nots, and yellow primroses, but also some skillfully rendered insects including a Red Admiral (Vanessa atalanta), a well-known colorful butterfly still found in temperate zones in Europe, Asia and North America. The grasshopper is most probably a Rufous Grasshopper (Gomphocerippus rufus), present in most of Europe, and on the left we see a Sand Lizard (Lacerta agilis) biting into the rose. The lizard was one of the artist's favorite motifs, and this charming half-turned one finds its place in many of Van der Ast's flower still lives, either twisted to the left or to the right as here in the Weldon picture. It recurs for example in another signed work, sold, London, Sotheby's, 3 July 2013, lot 12.
Unfortunately, too few of Van der Ast's paintings are dated to enable us to construct a chronology for small-scale works such as this. Securely dated examples range only from 1617 to 1628, and after 1630 no dated works are known. The Weldon painting has variously been dated to circa 1630-1640 (see N.T. Minty, in 1997 and 1999); the 1630s (RKD photofiles); and, most recently, to circa 1630 by Fred G. Meijer, based on first hand inspection. Regardless of the precise dating, the inventiveness of the composition, the subtlety of lighting and its unified tonality all point to this work having been painted before 1632 when Van der Ast was still living in Utrecht; he moved to Delft and joined the guild of St Luke there in June 1633 where he continued to live and work until his death in 1657. Van der Ast painted a number of comparable compositions in the late 1620s and early 1630s, where the same elements appear. Segal has noted that around 1623 the species of the Batavian rose was replaced in Van der Ast's repertoire by the Provins rose, visible here in the front of the Weldon picture, further suggesting a date after that for this painting. 1
Van der Ast was trained by his brother-in-law, Ambrosius Bosschaert the Elder (1573-1621), and had learned from him the fundamentals of painting, in particular the accurate depiction of flowers, fruits, shells, insects, bas­kets, and Chinese-export ceramics - the subjects of his paintings. He may also have learned from Bosschaert the art of making drawings or watercolor studies of flowers, fruits, and shells to use as models that could be variously combined. The elegant pink rose depicted upside down, for example, can be found in a number of Van der Ast's compositions. A clear difference, however, exists between the two artists. Whereas Bosschaert's blossoms are crisp and their colors vivid, Van der Ast softens his forms with diffuse contours and more muted colors. Light no longer plays evenly over the surface, but selectively highlights the central core of the composition, creating a more dynamic image than any comparable painting by Bosschaert.
A stylistically very similar picture, also in its simple subject matter, is a Still life of a Rose, a Lizard, a Butterfly and a Caterpillar, recorded in a German private collection.
1. S. Segal, in Flowers and Nature. Netherlandish Flower Painting of Four Centuries, exhibition catalogue, Osaka, Tokyo and Sydney 1990, p. 190, under cat.no. 35.
Sotheby's. The Weldon Collection. New York, 22 avr. 2015, 10:00 AM