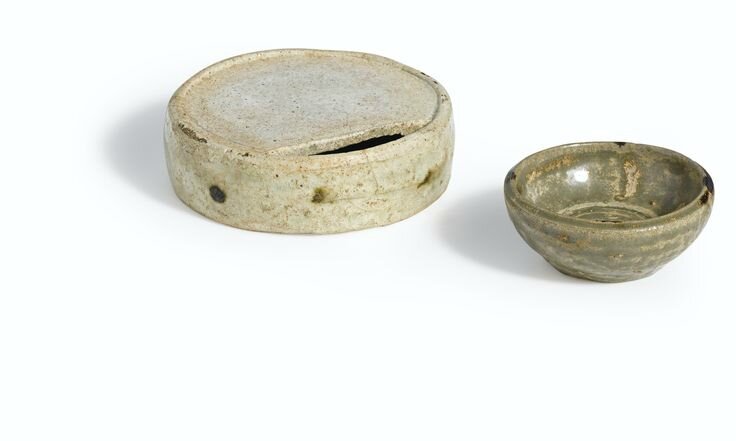 A stoneware inkstone, Six Dynasties (AD 220-589). Estimate 1,500 — 2,000 GBP (2,035 - 2,713 EUR). Photo courtesy Sotheby's.
of circular form, the flat top pierced with a crescent-shaped opening to the flat well, the sides covered in a clear greyish-blue glaze, Japanese wood box; together with an iron-splashed celadon bowl, Eastern Jin dynasty (317-420), Japanese wood box.
Quantité: 4 - 7.7cm., 3in.
Exhibition: Iron-splashed celadon bowl:
Tokubetsu tenji inki: hai, wan, taku [Special exhibition ceramics for drinking: Cups, bowls and saucers], Kuboso Memorial Museum of Arts, Osaka, 1989, cat. no. 41.
Sotheby's. The Soul of Japanese Aesthetics – The Tsuneichi Inoue Collection, Londres, 13 mai 2015, 10:00 AM