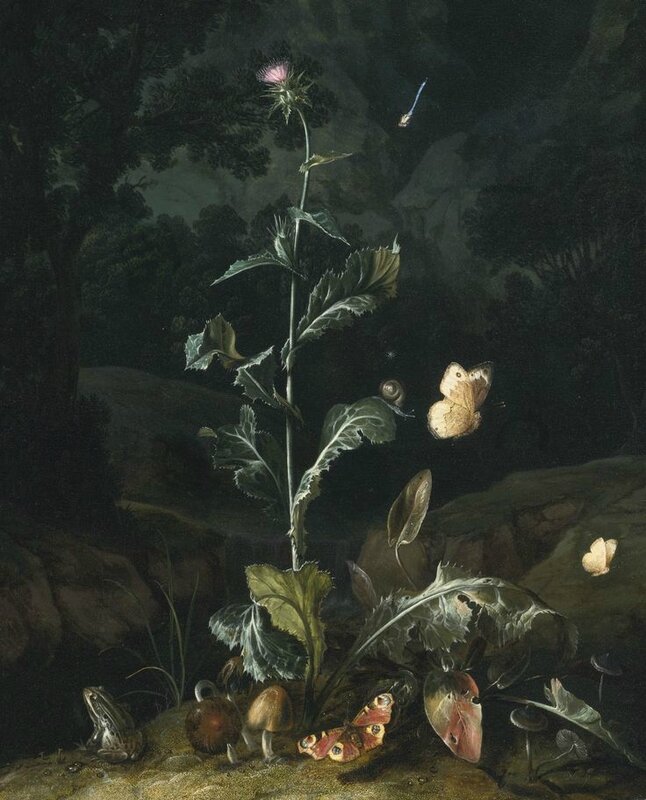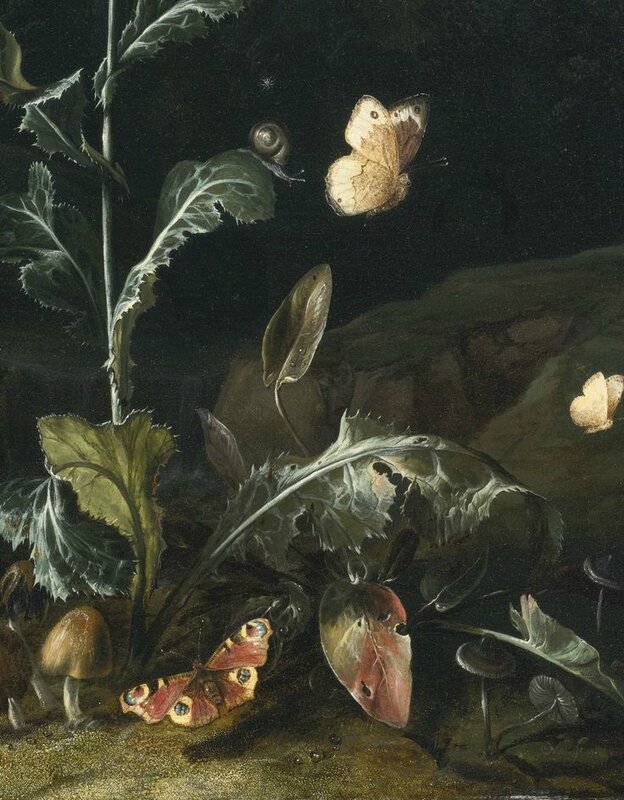 Otto Marseus van Schriek, called Snuffelaer (Nijmegen 1619/20 - 1678 Amsterdam), Nocturnal forest floor still life with a thistle, butterflies, mushrooms and a frog, indistinctly signed and dated lower right: OMar S(eus)? .S. 1671 (OM in ligature), oil on canvas, 23 1/4 by 18 5/8 in.; 59.1 by 47.3 cm. Estimate 80,000 — 120,000 USD. Lot sold 87,500 USD. Photo Sotheby's.
Provenance: Abraham Fontanel, Montpellier;
From whom acquired by Jacques Joseph de Boussairolles (1741-1814), Montpellier, 10 Feb 1805 (for 240 frs);
Count de Saporta, Aix-en-Provence;
Private collection, Switzerland;
Anonymous sale, New York, Sotheby's, 11 January 1996, lot 72;
David Koetser, 1996.
Exhibition: New Orleans 1997, no. 50;
Baltimore 1999, no. 49.
Bibliography: J.J. de Boussairolles, L'Etat des Tableaux, before 1814, under cat. no. 19;
A. Chevalier, La collection de tableaux de Jacques-Joseph de Boussairolles, 1741-1814: un collectionneur du début du XIX siècle à Montpellier, PhD Dissertation (Sorbonne), Paris 1984, p. 49, cat. no. 64, reproduced p. 84;
New Orleans 1997, pp. 129-131, cat. no. 50, reproduced p. 130;
Baltimore 1999, pp. 116-117, no. 49, reproduced p. 117;
S. Steensma, Otto Marseus van Schrieck: Leben und Werk, Hildesheim 1999, p. 199, cat. no. B4.100 (incorrectly identified with cat no. B1.73).
Notes: Otto Marseus van Schrieck was one of the leading innovators of the Dutch forest floor-still life. In this work, he has focused meticulous attention on a thistle, a single pink flower, and a handful of forest dwellers, all of which glisten vividly against a darkened background. Working at a time of increased interest in the natural sciences, he is highly renowned for his detailed and dramatically lit nocturnal scenes that depict flora, moss and denizens of the forest. His nicknameSnuffelaer, or ferreter, undoubtedly reflects his excursions into the forest underbrush to examine different specimens—sometimes even bringing them back to his vivarium, where they were further cultivated and studied. Much admired during his lifetime, his works were imitated by number of artists, including no less distinguished a talent than Rachel Ruysch (see lot 59).
Between 1648 and 1657, Otto Marseus van Schrieck left Amsterdam to embark on several extended sojourns to England, France, and—most notably—Italy. During his time in Florence, he worked for the Grand Duke Ferdinand II de Medici of Tuscany, for his works complemented the family's collection of flora and fauna in both painted and physical form. A number of Marseus van Schrieck's still-life paintings can be found in the Uffizi Gallery in Florence today.
Sotheby's. The Weldon Collection, New York, 22 avr. 2015